Olympics Inspired Cocktails
The Olympics are such an exciting time and definitely call for some Olympics inspired cocktails!
It's when the world comes together to watch the best of the best compete for the Gold, Silver and Bronze and an incredible moment in history where a true pocket of peace exists globally. Now what could be better to raise a glass to than that?
Let me know your favorites in the comments below or what favorites you have that aren't on the list!  Can't wait to hear what's in your glass… Cheers to an incredible 2016 Olympics!
Caipirinha
Opening Ceremony calls for a Caipirinha – The National Cocktail of Brazil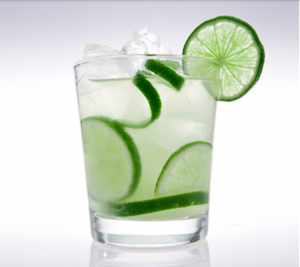 Try this super easy recipe that only takes 5 minutes to transport you to Rio:
Ingredients in The Leblon Caipirinha Cocktail:
2 tsp Sugar
Half Lime, cut in wedges
2 oz Leblon Cachaça
Garnish: 1 Lime wheel
Glass: Rocks
How to make The Leblon Caipirinha Cocktail:  In a shaker, muddle the lime and sugar or simple syrup. Fill with ice and add the cachaça. Shake vigorously and pour (unstrained) into a rocks glass. Garnish with a lime wheel. Recipe courtesy of www.liquor.com Read more here

Brazilian Lemonade
© Natasha's Kitchen
When life gives you lemons, make lemonade – Beyoncé told you so. And with the spotlight firmly focused on Rio, there's no better time to give it a go. Your non-drinking guests will thank you for it. Found on www.sofeminine.co.uk, get the recipe here.
Brazilian Sunrise
© awesomeon20.com
This South-American take on the classic Tequila Sunrise replaces the Mexican spirit with the rum of Brazil – cachaça – and is guaranteed to warm your soul when the Great British Summertime strikes. Found on www.sofeminine.co.uk, get the recipe here.
Blackberry and Cabernet Caipirinha
© chowhound.com
Cultures collide in a glass as Spain meets Brazil thanks to the combination of Sangria and Caipirinha in this sweet treat. Found on www.sofeminine.co.uk, get the recipe here.
Pineapple Mojito
© freutcake.com
Nothing says Brazilian summer quite like an ice-cold glass of white rum and pineapple, muddled with generous amounts of fresh mint. Found on www.sofeminine.co.uk, get the recipe here.
Don't miss out on all of the fun summer celebration tips yet to come!  Sign up here:
Recommended