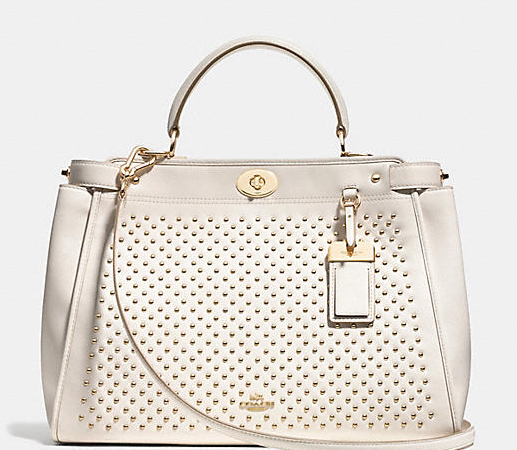 Back to School – Mom's Survival Guide
While Back to School is a happy time, can be a lot to manage with drop-offs, pick-ups, packing lunches, homework tasks and keeping track of everyone's schedules so I worked with the Mall at Millenia to put together a "survival kit" of sanity-saving items for Mom to help manage the all the steps of the day in organized and enviable style.
Organization is the Key to Success:
I always think starting with an organized bag sets my day up for success because I can easily access everything I need. I pack my bag the night before to make sure I don't forget anything in the rush of trying to get out the door. I love these two stylish options from Coach to keep you in style and successfully on-the-go:
Gramercy Satchel in Studded Leather, $795. Coach
Neutral light gold and chalk leather to coordinate with any outfit. Inside zip, cell phone and multifunction pockets plus option to carry by handles or as a crossbody bag.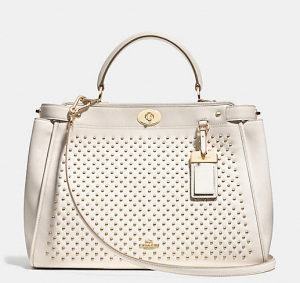 Crossbody Pouch in Lacquer Rivets Pebble Leather, $175. Coach
I love carrying a smaller bag within my carryall bag so if I have to quickly run into a store I don't have to take everything with me. This coordinating crossbody pouch in a neutral blush tone leather is a perfect match to hold the essentials of your credit cards, money and cell phone.
Tech Treasures to Keep You on Track:
iPad Mini 3, $399. Apple
Weighing less than one pound, the iPad Mini is small and light enough to put in your purse without the weight of a laptop. It allows you to not only stay connected all day, have your calendar at your fingertips and the ability to facetime with your family but the new Family Sharing feature lets up to six people in your family share movies, books, music, and apps for a multifunctional on-the-go solution for everyone.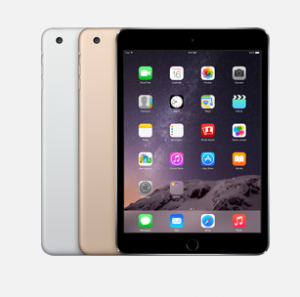 Classic Nylon Stripe iPad Mini Folio Case, $70.00 Kate Spade
A fashionable case to keep your ipad safely covered with a spark of personality.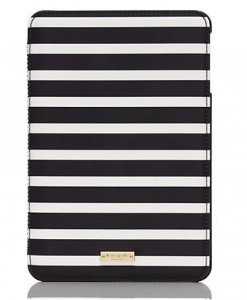 Logo Battery Wallet, $148. Michael Kors
Never sacrifice convenience for style again—this must-have battery wallet lends signature chic to your everyday and will save you from losing power at any time. Impeccably crafted, the organized interior pockets feature a battery for your recharging needs.
*Tech Tip: Try Cozi the free must-have iPad app and website (www.cozi.com) for families to help manage the chaos of back to school and everyday life. It allows you to:
• Keep track of everyone's new schedules and activities, all in one place
• Create and share shopping lists, chores and more in real time
• Store all your recipes and quickly add ingredients to your grocery list
• Access and update from any mobile device or computer
Take it To-Go:
Chef'n To Go Tea Tumbler, $24.95. Williams Sonoma
This all-in-one infusion tumbler is great for on the go. Just add loose-leaf tea or tea bags to the infuser, fill the insulated tumbler with hot water, then twist on the lid. When tea has brewed to your liking, simply rotate the infuser to stop the brewing process. Holds up to 2 cups of your favorite teas and the locking lid allows for easy sipping without messy drips or spills.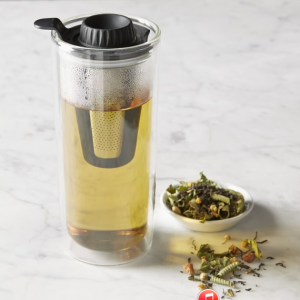 Kusmi Tea Boost Tea, $16.50. Bloomingdales
With its blend of caffeine-rich maté, green tea, cinnamon and ginger, Kusmi's Boost tea is the perfect companion for busy moms who need a quick pick-me-up during the day.
Mickelberry Garden Tonic, Relax, $11.99. Williams Sonoma
On the flipside and if you need something to help ease the stress of the day, this gentle, all-natural elixir uses raw honey and natural herbs to relax the body. The thick, rich syrup is both sweet and tangy with a hint of lavender. Stir into warm water or tea.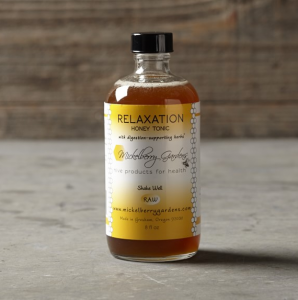 Savvy Slip-on Style Solutions:
When you are in charge of getting everyone ready and out the door, it doesn't leave much time for yourself but that doesn't mean you can't look pulled together (and comfortable) with these savvy "slip-on" style solutions:
Super Soft loafers, $69. AEROSOLES
This stylish shoe comes in 8 different colors, is detailed with a metal horsebit and tassle design and is lined with memory foam insoles designed for comfort! I love the on-trend light blue or you can never go wrong with a gold metallic as a foundation neutral that adds a touch of glam to any outfit.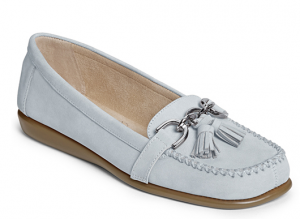 Diane von Furstenberg Elizabeth Lace-Sleeve Wrap Dress, $468. Neiman Marcus
An icon wrap dress from Diane von Furstenberg is not only comfortable, easy to throw on but looks put together and can take you from day to night with simply the change of a shoe or necklace. I adore this black short-sleeved wrap dress with hints of lace so you could go from early morning drop off to an evening function in a snap.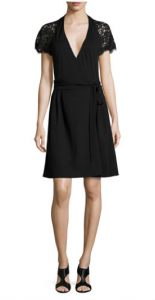 Recommended