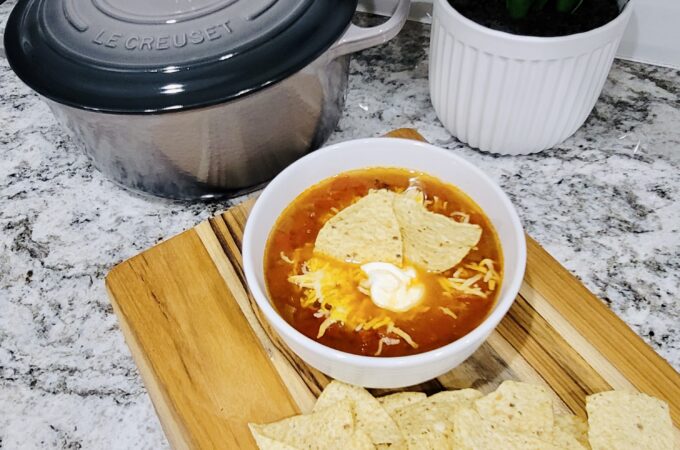 Easy Chicken Tortilla Soup Anyone Can Make!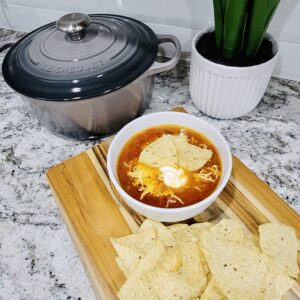 Since life is always busy, I'm passionate about easy and quick recipes that you can stretch into multiple meals so this is a go-to recipe for me. If you love Chicken Tortilla Soup as much as I do, this super easy recipe is for you!
I actually doubled the recipe and made an extra large pot because this soup freezes really well for a quick weeknight dinner after a busy day.  It's basically a dump and simmer recipe that I make in my Le Creuset 5.5 quart Dutch Oven. It's also a great go-to because you don't have to stand in the kitchen for hours or be an expert chef to make it but I guarantee you will love it and so will anyone else you treat to lunch or dinner.
If you make it, please share a photo in the comments below or and tag me @JamieOandCo if you post to Instagram as I would love to see AND if you make any great adjustments to the recipe, definitely share, I'd love to learn from you too!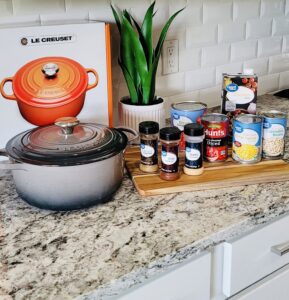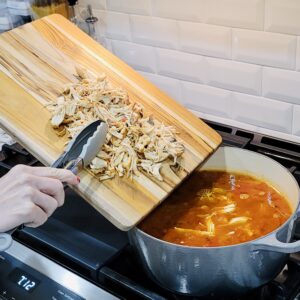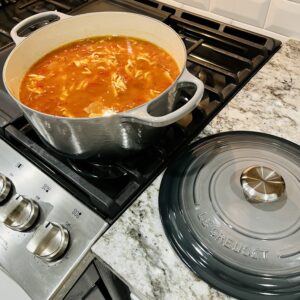 Chicken Tortilla Soup
Serves 6
Ingredients:
2 Boneless Chicken Breasts Shredded (You can use rotisserie chicken as a short cut)
1 can of Cannellini or Black Beans Drained (I prefer the Cannellini beans in my soup)
1 can of Diced Tomatoes with green chilies if you want a kick but I like to use fire roasted tomatoes
½ White Onion Chopped
1 can of Corn Drained
2 cups of Chicken Stock
1 Tsp Chili Powder
1 Tsp of Cumin
½ Tsp of Garlic Powder
½ Tsp of Granulated Chicken Boullion Powder
Dash of Salt
Garnish:
Tortilla Chips
Shredded Cheese
Sour Cream
Directions:
Add all of the ingredients and stir together. Let it simmer on medium-low heat for 30 minutes and then check the taste to adjust the seasoning. When you have the seasonings to taste, let simmer another 15 – 20 minutes, then serve in a bowl, top with shredded cheese, tortilla chips and a spoon of sour cream and enjoy!
DOUBLED RECIPE: Instant Pot Tortilla Soup:
2 Boneless Chicken Breasts Shredded (Can use rotisserie chicken as a short cut)
1 Can of Cannellini or Black Beans Drained
1 Large Double Can of Diced Tomatoes
1 Regular Can of Fire Roasted Diced Tomatoes
½ White Onion Chopped
1 can of Corn Drained
4 cups of Chicken Stock (one full box)
2.5 – 3  Tsp Chili powder
2.5 – 3  Tsp of Cumin
2 Tsp of Garlic Powder
1 Tsp of Chicken Boullion Powder
Dash of Salt
Garnish
Tortilla Chips
Shredded Cheese
Sour Cream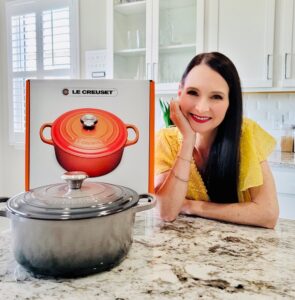 Recommended