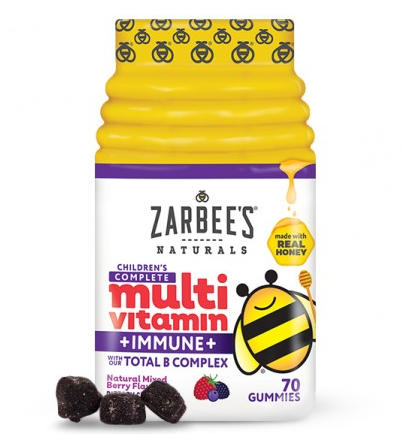 Keeping Kids Healthy Heading into Fall
Fall means schedules get busier and life gets more hectic so here are a few easy tips and finds for Moms to help keep kids focused on staying healthy and adding into their routines.
Sneak Attack Snacks – Healthy Grab and Go:
Prebiotics! Sneak attack snacks are the easiest way for Moms to sneak prebiotics into kid's diets along with fruits and veggies to help nourish naturally occurring good bacteria to support their overall wellness. A healthy grab and go option like GoGo squeeze happy tummyZ and GoGo Big squeeZ are a great option for school lunch boxes since they are wheat, dairy, gluten, egg and nut free plus don't need to be refrigerated. Super affordable and easy to find at Amazon, Target, Walmart, $3.49-$5.99
Set a Vitamin Routine:
Fall is the perfect time to start and help kids participate in creating a vitamin routine. Use an easy download for kids to check off taking their vitamins each morning so they actively take part in starting and sticking to a healthy routine. *Tip, try a gummies vitamin option versus a pill form as an easier to take solution like Zarbee's Naturals Children's Complete Multivitamin + Immune that includes 13 essential vitamins and minerals including A, C, D3, Zinc, total B complex and real elderberry extract for immune support. Amazon, CVS, Target, $14.99
Vitamin Routine Sheet Download  *Tip, laminate the sheet and use wipeboard markers to reuse the sheet again and again!
Eye Health – Goodbye Glasses:
Good vision is key for students to be able to see the board and participate in schoolwork and activities. If glasses aren't going well, MiSight is an amazing new solution for kids 8-12 years old. It's the first and only FDA-approved soft contact lens that corrects vision and is proven to slow the progression of myopia/nearsightedness, which can have a significant impact on a child's vision and everyday life. www.coopervision.com
"Maskne" and Skin Protection:
Encouraging kids to wear masks is still so important but it can be challenging if the masks are irritating their sensitive skin. An easy solution to help their skin stay hydrated, healthy and soft is simply spraying the inside of their masks with Skineez Skin Reparative Garment Replenishing Spray. It infuses ingredients like shea butter, apricot kernel oil, vitamins A and E and rose hip oil to soothe and nourish skin. Once it starts wearing off simply wash their mask in cold water, turn the wet mask inside out and spray generously to reapply.  www.myskineez.com, $19.99
Recommended