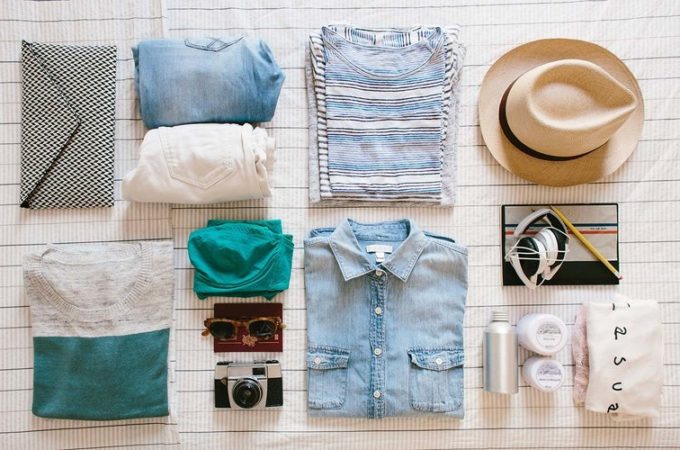 15 Packing Hacks for Summer Travel
School is almost out and that means Summer Travel and packing stress are right around the corner. Don't worry, after traveling to forty countries, here are my favorite travel-pro packing hacks to help make your vacation prep easier, faster and lighter!
Preparation
Keep a Packing Checklist
Keep an ongoing list in your phone of essentials to pack for every trip (charger, cleanser, bathing suit, daily sunscreen, etc.). It makes last-minute packing a lot less stressful because there's always a checklist for reference.
Packing Clothing

Use Packing Cubes or Large Ziplock Bags
This will help you organize your outfits by day or to organize by type of clothing so you know exactly where everything you brought is as soon as you unzip your suitcase. Plus, you can very easily move your packing cubes or outfits into the drawers of your hotel dresser and instantly be done unpacking and ready to go. LeanTravel Compression Packing Cubes
– $29.99
Pack in a Color Scheme and by Outfit
Packing in a color scheme allows you to mix and match to pack less pieces but still have multiple outfits for your trip. Also, it helps you bring a limited number of shoes like one pair of flats, one heel if needed, a pair of sandals and a pair of sneakers.
Roll, Don't Fold Your Clothes
I am a roll-don't-fold devotee. It allows you to pack your suitcase more efficiently and also helps resist wrinkles.
Packing Jewlery
Use these easy Dollar Store Pack Hacks to organize your jewelry.
Pill Case Jewelry Organizer – Keep Track of Earrings/Rings
Use pill case compartments to organize and keep track of your smaller jewelry, like rings and earrings.
Tangle-Free Necklaces
Arriving at your final destination to find your necklaces tangled or broken can ruin the best of vacations. Unlatch your necklaces, string half the necklace through a drinking straw and re-clasp on the outside, then pack in a ziplock bag. No more tangles! Assorted Bright Colors Jumbo Smoothie Straws, Pack of 100 Pieces
Separate Jewelry Clingwrap or Tissue Paper
Buy 'snack size' plastic bags for packing necklaces. To prevent tangling, give each one its own bag and fasten the clasp. Or, set your jewelry between two sheets of plastic wrap to prevent it from moving around and tangling inside your bag.
Toiletries:
Contact Lens Cases
Use contact cases to store liquid makeup like foundation, face lotion, toothpaste. It saves space and product.
Use Plasticwrap to Prevent Liquids from spilling in your bag
Unscrew the top of your travel bottles and , place a sheet of plasticwrap on top of the opening. Screw the top back on and it will secure your liquid so if the cap pops open or comes loose, the liquid won't spill out.
Keep your favorites pre-packed in a travel kit of travel-sized bottles
Instead of relying on hotel shampoos and soaps, pack your favorite products. Nalgene has a cheap, simple travel kit that allows you to fill a few bottles with your own body wash, shampoo, and other toiletries. It's TSA-approved, spill-proof, and comes in a translucent carrying bag, so you don't need to worry about getting through security. This means I can just grab my toiletries and go, with no risk of forgetting some crucial cream or spray. Miamica TSA Compliant Travel Bottles and Toiletry Bag Kit
– $11.75
Have a Ready-to-go Health Kit
If you are going on international adventures I've learned to always pack a small medical kit. I keep a toiletry bag ready to go stocked with Band-aids, Neosporin, pain relievers, cold medicine, medicine for stomach trouble, itch relief ointment, antibiotics and ear plugs. Better to have what you need then not feeling well and trying to navigate a foreign pharmacy. First Aid Only All-purpose First Aid Kit, Soft Case, 299-Piece Kit
– $14.88
An Oven Mitt for Hot Hair Tools
What do you when you're in a rush but need to pack your piping-hot curling iron? An oven mitt to the rescue! Rachael Ray Pot Holder & Trivet With Silicone Grip, Red
Carry-on Tips
Pack In-flight Essentials in a Separate Pouch
Pack a small zippered pouch to keep in your carry-on bag with all the things that you want to keep with you on a flight (headphones, earplugs, EmergenC, phone, wallet, etc.). That way when you board, you can just pull that pouch out, toss it into your seat and then place your carry-on in the overhead bin without holding up the plane or having to get up and dig the things you forgot to pull out of your bag. BUBM Double Layer Electronic Accessories Organizer
– $14.99
Valuables or Extra Money
Use a Floss Container or an Empty Chapstick Tube
Remove the floss or chapstick easily and stow valuables or emergency money in your suitcase.
Pro Travel Tips:
Use Dryer Sheets to Stay Fresh
Put Bounce dryer sheets between items of clothing in your suitcase to keep everything fresh. Bounce Fabric Softener Sheets
Be Prepared for Wet Swimwear
I always pack a plastic grocery bag to stash a wet bathing suit in for the return home.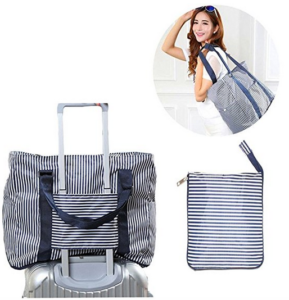 Foldable Tote Bag
Pack a think foldable tote bag in your bag so when you are out exploring, shopping through the  market or enjoying a day at the beach, you have a bag you can throw all of your items into for the day. Waterproof Folding Travel Pouch
– $12.99
Pack the heavy items near the wheels of your suitcase
When you pack your bag lying down, you may not keep in mind what will happen when you stand it up on the wheels. Keep the heavy things near the wheels and even angle things to stay upright when it's rolling.
Travel Guides
Traveling to Orlando this Summer?
If you are heading to Orlando, Florida this Summer, here is my two minute Orlando Weekend Travel Guide with insider tips on how to enjoy the your trip like a local! Orlando Weekend Travel Guide
Ask me any of your travel questions in the comments below and I'll be happy to answer them! I wish you all the best Summer adventures and safe travels!
xoxo
J.
Recommended