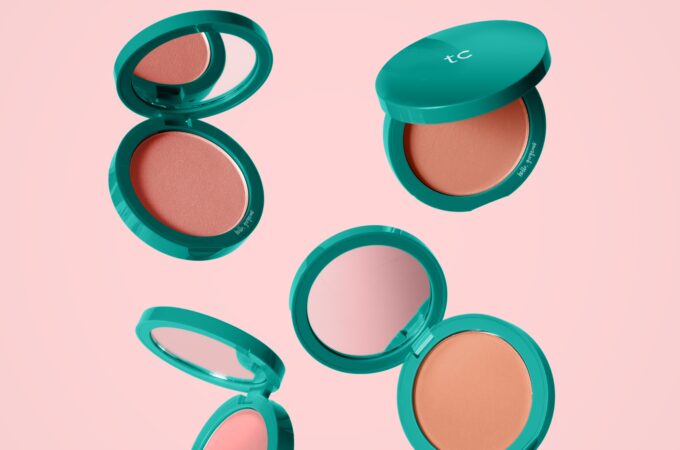 Back to School Finds & Must Haves for 2023
Sharing all the "must have" products to help you kick off your Back to School routines in ease and style!
Back to School: Health & Beauty Finds
THRIVE CAUSEMETICS DREAM CHASER REVIVING POWDER BLUSH
Beauty that Gives Back for Back to School. A talc-free ultra blendable blush in 6 shades, 5 matte and 1 shimmer. Hyaluronic Line Smoothing Solution and superfine powder pigments melt into skin to provide natural looking color that is buildable and longwearing. A great brush to pair is the Diffusing Dome Blush Brush specifically designed to diffuse and deposit color seamlessly onto the skin for that lit from within glow. Thrive Causemetics is luxury beauty that gives back. For every product purchased, Thrive Causemetics donates to help communities thrive. One of their key giving pillars is Education and since 2015 they have donated to more than 50 education related nonprofit organizations across the country totaling over $14 million in products and cash donations.
ThriveCausemetics.com, Dream Chaser Reviving Blush, $30 / Diffusing Dome Blush Brush, $25
SECRET WEIGHTLESS DRY SPRAY
Stay Dry During this Hectic Time. Provides 48-hours of sweat and odor protection. Goes on with an instantly dry feel – no waxes, no alcohol, no residue. Redesigned fragrance experience for freshness that lasts. Ergonomic grip bottle designed for easy, targeted application for less cloud and more product where it's needed most. Secret Weightless Dry Spray is available in Wild Rose, Vanilla, Waterlily and White Peach with new scents of Tropical Hibiscus, Relaxing Lavender, Nurturing Coconut and Refreshing Berry for 2023.
Available at Major Retailers Nationwide, Starting at $6.95
OLAY HYALURONIC BODY WASH & OLAY HYALURONIC BODY LOTION
Back to School Skin Routine Essentials. Infused with Hyaluronic Acid, both products in the premium regimen are formulated with moisturizing ingredients like Petrolatum and Vitamin B3 Complex that 10 layers deep hydrating to replenish and strengthen the skin barrier from within. Give this duo a try for your Back to School skin routine to look and feel your best.
Body Wash, $7.99 / Lotion, $9.99, Major Retailers Nationwide like Walmart, Target, Walgreens, CVS, Family Dollar
Back to School Skin Routine Essentials
DR. TEAL'S Eucalyptus & Spearmint Body Wash, Aluminum Free Deodorant and Almond Oil Shea Sugar Scrub
Eucalyptus & Spearmint Body Wash gently cleanses and moisturizes skin while natural essential oils relax and rejuvenate the mind. Almond-Oil Sugar Scrub gently exfoliates and polishes for glowing skin and smells amazing. Eucalyptus & Spearmint Aluminum Free Deodorant is clinically tested and proven for all day protection. Fights odor and helps absorb Wetness All Day with natural essential oils. From the brand's iconic Pure Epsom Salt Soaks to Shea sugar Body Scrubs and Body Lotions, Dr. Teal's products are formulated with restorative ingredients and natural essential oils that have made the brand a household name for wellness.
Walmart and Walmart.com, $4 – $6
LAIRD SUPERFOOD PREBIOTIC DAILY GREENS
Perfect Way for Parents to Take Care of Themselves During Back to School Season. Tasty way for parents to take care of themselves during the busy Back to School season. Contains prebiotic fiber, adaptogens and fruits and vegetables to support and maintain a healthy gut. Available in single-serve packets you can take anywhere, just add water. Each serving contains 8 spinach leaves, 5 kale leaves and 2 baby carrots. Has a light citrus-y flavor with pineapple and lemon. Excellent source of vitamins and good source of fiber. The company was founded by surfer Laird Hamilton and his wife Gabby Reece, former professional beach volleyball player.
LairdSuperfood.com, Amazon, Walmart, Whole Foods
cbdMD
Easy Solution to Help Ease Temporary Muscle and Joint Pain During this Hectic Time. CBD Freeze combines the instant cooling relief of menthol with the soothing power of Superior Braod Spectrum hemp extract in a unique, award-winning CBD topical. Whether you are sore from a rigorous workout or a rough day at the office, this gentle, fast-drying CBD roll-on helps ease temporary muscle and joint pain so you can relax and unwind. And, it is also one of Kate Moss' things she can't live without.
cbdmd.com, $39.99 – $59.99
Back to School: Dorm & Home
NEW FEBREZE MOOD COLLECTION
Air Freshener is typically sold based on how you want your space to smell, but a NEW collection of Febreze products is focusing on how you want your space to feel!  Febreze's NEW Mood Collection allos you to define the modd of a space, and for good reason, scent is scientifically tied to emotions, memories and mental health. Febreze helps college students set the moddo in their dorm room for an intense study session with Refresh & Energize or relaxation time with Soothe & Restore.
Available Nationwide at Target, Walmart, $3.30 each
NINJA WOODFIRE OUTDOOR OVEN
Enjoy the Cooler Fall Weather and an Easy Way to Get Dinner on the Table During Back to School Season. Packed with power and versatility the Ninja Woodfire™ Outdoor Oven is the perfect solution to get Back to School Meals on the table and enjoy some cooler Fall weather outside. The 8-in-1 versatility of this    electric outdoor oven, thanks to its wider temperature range of 105-700°F, can make dinner easier with "3-minute* no-turn pizzas, high-heat roasting for delicious vegetables or low and slow BBQ smoking with 100% natural woodfire flavor It's the Fall and Back to School Must Have this season.
NinjaKitchen.com $399
Back to School: Tech & Connect
TICKTALK 4
Peace of Mind: Stay in Connected with a Kids Smartwatch. Add the safest kids' smartwatch for ages 5+ to your back to school checklist this year. All the positives of a cell phone without the typical distraction of internet, games or social media. TickTalk 4 combines video and voice calling, in app messaging, location tracking and more to provide peace of mind by staying in touch with your child at a moment's notice. TickTalk 4 includes a free SIM card for an affordable, pay-as—you-go, no contract TickTalk Wireless Plan starting at $9.99 per month.
MyTickTalk.com, $189.99
PINWHEEL PHONES FOR KIDS AND TEENS
Parent Monitored Smartphone for Kids and Teens that Encourages Healthy Technology Habits. Pinwheel Smartphone designed for kids and teens that give them the features and functions they want, like texting, photo sharing and fun apps but with age-appropriate guardrails (no browser or social media) and parental monitoring tools that encourage healthy technology habits from the start. Allows parents to customize the settings to meet their child's current needs, then unlock features and hundreds fo apps as their child grows into an independent young adult who manages technology well. Pinwheel's App Library includes in-depth saftey ratings so parents know which ones are age appropriate. Only kid phone that allows you to choose your own cell carrier and only one to offer the Pixel phone.
Pinwheel.com, Amazon, $329 + Monthly Subscription Fee of $14.99 for Parental Controls + Portal
Back to School: Snacks & Nutrition
BEECH-NUT
Perfect Snack Solution for Younger Kids. Beech-Nut Nutrition Company helps families get their pantries ready for lunchbox season with a variety of snacks. Dino Biscuits with Hidden Veggies and Dino Biscuits with Prebiotics are crowd pleasers among the preschool and kindergarten set who will be super psyched to find these dinosaur-shaped herbivores in their snack bags. Beech-Nut Mini Waffles with Hidden Veggies are toasted waffle crisps with real veggies and fruit in every bite, fueling little ones throughout their day of learning and play. Available in flavors: Blueberry or Banana Yogurt, Pumpkin & Cinnamon or Butternut Bliss and Pumpkin or Apple & Cinnamon.
Beechnut.com, Walmart, Local Retailers, $3.49
NATURE'S GARDEN ORGANIC TRAIL MIX SNACK PACKS AND HEALTHY TRAIL MIX SNACK PACKS
Single Serve Snack Packs Perfect for Lunch Boxes or Office Drawers. Bite size versions of Nature's Garden's THREE best sellers: Heart Healthy Mix, Omega-3 Deluxe and Cranberry Health Mix. Each 24oz bag contains 24 single serve snack packs perfect for lunch boxes or keeping in an office desk drawer for a quick pick me up. Powered by Nature, they use the finest vegetarian ingredients just as nature intended with delicious combinations of nuts, seeds and dried fruit that are packed with vitamins and nutrients.
NaturesGarden.com, Costco, Amazon, $12.89 – $22.99
NATURE'S GARDEN PROBIOTIC STRAWBERRY YOGGIES
Delicious, healthy fruit snack for Back to School. Coated in creamy yogurt, these real fruit strawberry bites are infused with Probiotics – the friendly bacteria that helps support digestion and gut health. Yoggies contain 2 billion live Probiotic cultures, 3 grams of fiber and only 80 calories per serving.  This 21oz bag contains 30 single snack packs perfect for lunch boxes or office desk drawers. Packages is recyclable
Costco Stores, $12.89 /  NaturesGarden.net, $26 plus free shipping
COUNTRY ARCHER ROSEMARY TURKEY MINI STICKS & 5 COUNT BEEF JERKY SNACK PACKS
Perfect Snack Solution for Kids of All Ages. Now Available at Sprouts Farmers Market Stores, they are the perfect snack solution for kids of all ages. Bite-sized meat snacks can be conveniently stashed in lunchboxes, backpacks, gym bags or eaten on-the-go. Guilt-free, high-protein snacks crafted from all-natural turkey breast and 100% grass-fed beef, completely free of preservatives, artificial sweeteners, nitrites, MSG and gluten making  
CountryArcher.com, Sprouts Farmers Market, Amazon, $15.99 each
POPCORNOPOLIS NEARLY NAKED POPCORN
Light Snack Perfect for Lunch Boxes, On-the-Go or After School. Delicious snack perfect for lunch boxes, on-the-go or after school snack. Light and made with premium gluten-free and non-GMO popcorn it's popped in coconut oil for a butter-like taste. The Nearly Naked line is available in three flavors: Perfectly Salted, White Cheddar and Jalapeno Lime. 35-50 Calories per cup and fulfilling their mission of bring joy with every bite.  
Popcornopolis.com, Sam's Club, Kroger, $27.99 / for (8) 4.5oz bags
GOODWHEAT PASTA
Better for You Pasta the Your Kids and Family Will Love to Eat. Made by pasta lovers for pasta lovers. GoodWheat tastes amazing and it's better for you. Contains 4x the fiber of traditional wheat pasta and is made with just one simple ingredient – USA farm grown wheat. Made with the proprietary GoodWheat grain that is naturally higher in fiber and there is nothing else added. One serving of GoodWheat Pasta has 8g of fiber, 9g of protein, is non-GMO Project Verified and only wheat pasta that is American Heart Association Heart-Check Certified. GoodWheat Delivers same amount of fiber in one serving of delicious pasta as TWO servings of broccoli.
EatGoodWheat.com, Find Locally at Raley's Supermarket, Bel Air Market, Amazon, $3.99 everyday price. Watch for promotional pricing – 2 for $5 – at Raley's August 30-Sept12, just in time for Back to School
Back to School: Style
HEART BLASTER
Teens and Tweens Can Head Back to School in Style. Heart Blaster is a kids and young adult fashion brand that sells both boys and girls clothing as well as a variety of accessories. Whether in need of a backpack, clothes or any new back to school essentials, Heart Blaster's got everything in one spot. From eccentric hats and t-shirts to must have lip products, water bottles and more, teens and tweens can count on Heart Blaster to go back to school in style with a visual representation of love, friendship and equality in their clothing and inspiring youths to take action in ther community.
HeartBlaster.com, $12-$48
Back to School: Getaway for Parents or Families
Plan the Perfect Couple's Retreat or Fall Family Getaway
OCEAN EDGE RESORT & GOLF CLUB
Is an award-winning resort on the coast of Cape Cod, spanning 429 acres, With the kids back in school it's a great time to plan a couple's retreat with spacious rooms with fireplaces, an on-site spa, tennis, pickleball, bikes, the Cape's only Nicklaus Designed golf course and firepits along the resort's private beach to rekindle the romance. Or, if you want to plan for a family getaway, there are two-and three-bedroom villas available and kiddos with love the heated pools, variety of on-site restaurants, croquet on the Front Lawn and ongoing programming with the Director of Fun.  
OceanEdge.com, Fall Rates starting as low as $135/night
Recommended