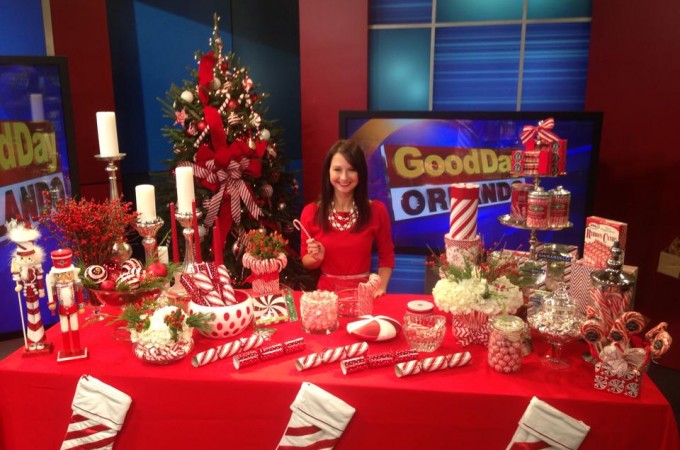 Ho-Ho-Ho Holiday Decor!
I went with a bit of nostalgia this year and designed a look that takes a classic and makes it new again plus some money saving tips on how to choose decorations that last beyond the holidays!
Candy Cane and The Nutcracker
I love the nostalgia of the holidays and the tradition of going to The Nutcracker growing up so Lee Forrest Design and I designed a look that is classic, elegant and easy to recreate to bring back those happy memories!
The key to this décor is keeping it in the simple color scheme of red and white with some accents of silver. Sometimes the simplest color schemes are the most impactful and elegant.
You can find tons of red, white or red and white striped décor at stores like Target, Hobby Lobby and Michaels – so pick some of your favorites and build your look from there.
Tip: Purchase pieces you can reuse in your home decor after the holidays such as mercury glass candleholders or all white or all red- (festive for the holidays but still useable in your home decor after the holidays)
DIY Decor
This is such an easy theme that lends itself to so many easy and cost effective centerpiece ideas you can DIY for your table or an upcoming party. Give these a try:
Wrap a vase with double stick tape and then put a rubberband around the vase.  Slip the candy canes under the rubberband with the hook part facing out.  Stick the candy canes to the tape and use the rubberband to hold it all in place.  Line the entire outside of the vase with candy canes. Once you have finished that, use a ribbon to tie around the vase of candy canes and cover the rubber band.  Add some gorgeous flowers like white hydrangea or red roses and voila.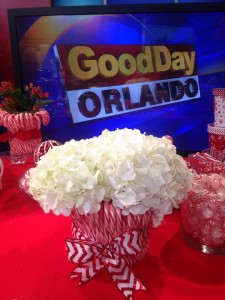 Take a larger clear glass cylinder vase and then insert a smaller one of the same shape inside it. Between the two vases fill it with peppermint candies. Add some flowers and evergreen to top the look off. (You can use this tip for any holiday by adding spring flowers between the vases, leaves for a Fall look, heart candies for valentines day – anything you want!)
Fill a square glass vase with cranberries or redhot candies and then add flowers and evergreen. If you line the center of the table with these vases you'll have a super elegant and really festive look. Mix in some low votive candles in clear vases and your guests will adore it.
Peppermint Topiaries – You can purchase a round styrofoam ball from Michaels and glue peppermint candies to cover it, use a styrofoam base inside a flowerpot and connect the two with a dowel rod.  Add some evergreen to the top of the flower pot and some red and white stripped ribbon to finish it off!
Wrap some white candles with red and white striped ribbon to add a splash of color and theme.  So simple and easy to do!
Purchase some inexpensive clear glass candleholders or dessert dishes from the dollar store, a .99 can of white spray paint from Home Depot and some red taper candles for a great centerpiece. I used five glass candleholders ($5) plus five taper candles ($3) and it cost me less than $10 for a statement piece. You can stagger them across the table or place them inside of a table wreath for a gorgeous look.  Or, try this look below by spray painting a clear dessert dish white and setting a clear hurricane vase inside the dish. Then add some evergreen and a candle plus a red and white striped ribbon tied around the hurricane vase and you'll have an adorable centerpiece that was super easy to make and super cost effective!
Christmas Tree and Gift Packaging
It's also fun and extremely elegant to carry your theme through to your Christmas Tree and your Gift Packaging too. Try to find some candy cane striped giftwrap, bags and boxes. Use red and white ornaments and traditional candy canes on your tree. Your guests will be impressed at how coordinated everything is from décor to distinctive gifts!
If you are throwing a party, I recommend investing in a focal piece such as a floral piece designed by Lee Forrest Design www.leeforrestdesign.com
Happy Designing for a truly Happy Holiday Season!  For even more ideas and tips check out my Ho-Ho-Ho Holidays Board on Pinterest at https://www.pinterest.com/JamieOandCo/

Recommended