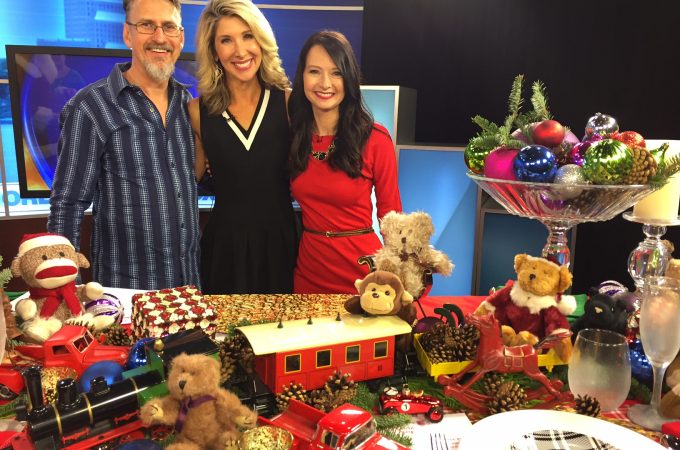 Holiday Table Design Like a Pro
Each year I pick a theme as the inspiration for my holiday table design and this year I was inspired by a Special Delivery Christmas Mailbox that conjured up visions of Santa's Workshop, toys and notes to Santa…
Santa's Workshop Theme – I love the stories of Santa's Workshop building toys for all the girls and boys, so I designed a look that is fun and easy to incorporate on your table!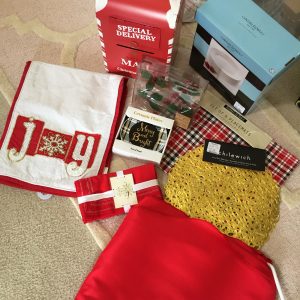 Color Scheme:
The key to this holiday table design décor is keeping it in the simple color scheme of red with accents of gold and black. Sometimes the simplest color schemes are the most impactful and elegant. You can find a red tablecloth, plaid placemats with gold or festive accent plates at a big box or home décor store.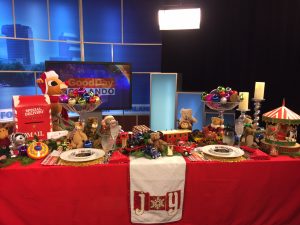 *Quick Tip: Purchase classic or solid color decor pieces you can reuse in your home after the holidays or use as a base and change the overall design in future years.
Décor Items:
Linens and Placemats: For an impressive dining table, start with a foundational red tablecloth as a base to work from and build your look. I then layer textural patterns to give the table interest and dimension like adding plaid placemats as a base and layering a metallic cut out placemats on top to bring some shine and glamour.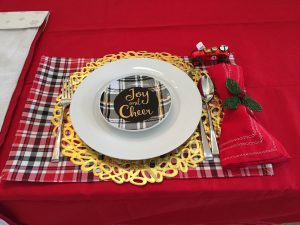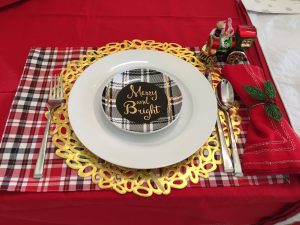 Plates: I generally use a set of (8) plain white plates that cost me $16 from Homegoods for all my tables and then add a fun colored salad plate for additional design and visual interest. I purchased these gold and black plaid holiday plates touting "Joy and Cheer" or "Merry and Bright". A set of (4) plates was $10 at Homegoods so a small investment for a unique design impact and some holiday glam.  Or, try these  Pfaltzgraff Winterberry Melamine Salad Plate, 9-Inch, Set of 4
from Amazon.
Personalized Placecards / Naughty and Nice List: I used Personalized Postcards to Santa as Placecards at each seat. These are a great momento if you have guests fill them out and keep them in a scrapbook to look back on each year. I loved these digital downloads from Amuse Invitations. Purchase the digital download file for $5 and then print as many as you'd like at home. Super easy and cute! (Don't forget the Naughty and Nice List you can also download and print – then write the names of your guests in next to the blank checkboxes for some extra fun!) Find them here
Centerpieces: Take pieces of evergreen and line them down the center of the table for an evergreen garland. Fill footed bowls with simple pinecones or ornaments or use square glass vases with cranberries or redhot candies and filled with flowers and evergreen for your centerpieces. Mix in some low votive candles in clear vases and some toys to bring the Santa's workshop theme to life!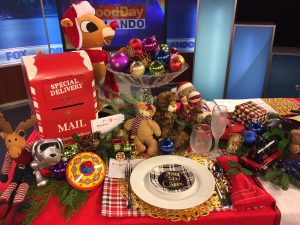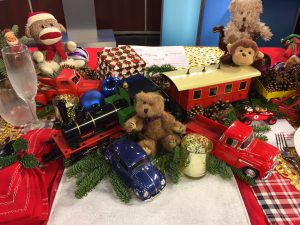 *Quick Tip: Think of designing your table in terms of fashion. Always start with a foundational piece and then add amazing accessories for an overall look.
DIY Tips and How-to: This is such an easy theme that lends itself to so many easy and cost effective centerpiece ideas you can DIY for your table or an upcoming party. Give these a try:
Snowy Designer Glassware:
Upgrade your table with designer glassware you dream of from the department stores for that extra glam touch! Not in the budget? No worries, create this sparkling snowy set with basic $1 champagne and wine glasses plus a $7 can of craft white glitter spraypaint. Use a sheet of typing paper to cover the top half of the glass so the spraypaint doesn't adhere near to where guests drink. Spray the bottom half of the glass and the stem to create that sparkling snowy designer look. Let dry and then cover the top half with paper again and seal with the clear spray. I recommend hand-washing the glasses so the spray stays in tact for many more uses.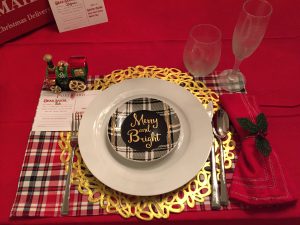 Candleholders:
Purchase some inexpensive clear glass candleholders from the dollar store, a .99 can of white spray paint and some silver or blue taper candles for a great centerpiece. I used five and it cost me less than $10 for a statement piece. You can stagger them across the table or place them inside of a table wreath for a gorgeous look.
Resources:  If you are throwing a party, I recommend investing in a focal piece such as gorgeous rental linens from www.nuagedesigns.com and a statement floral centerpiece for your holiday table design from Lee Forrest Design www.leeforrestdesign.com
Recommended