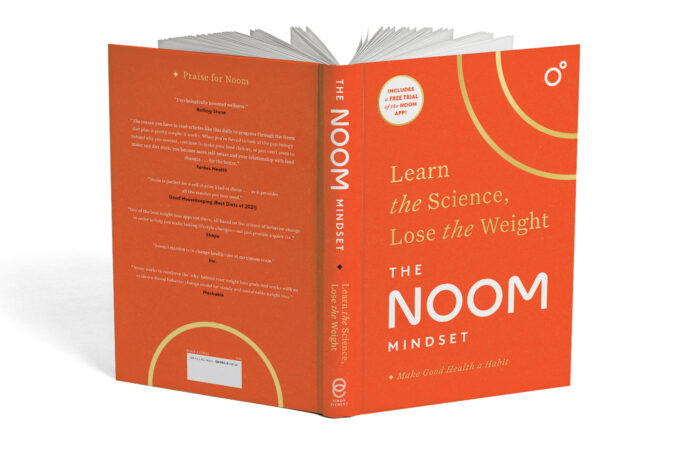 Jan-NEW-ary – New Year, New You
Ready to kick off a New Year, New You routine? I'm sharing some top tips and favorite finds on how to kick off the new year with everything from eating and feeling better to living better.
Healthy Choices for a New Year, New You
HLTH CODE COMPLETE MEAL
Looking for healthier choices to kick off the new year HLTH Code Complete Meal Shake is a great option to add to our new year routines. Formulated by a leading metabolic scientist, HLTH Codde is a quick, delicious, nutritiously complete meal shake to help optimize your metabolism and get you lean. Has the right combination of protein, healthy fats and other nutrients at the right ratios and potencies to help improve your metabolism, brain and gut health. Plus it tastes amazing and comes iin two flavors: Chocolate Macadamia and Vanilla.
GetHLTH.com, $59.95/bag or via subscription for $49.95, 10% Discount CODE: ATLANTA10
"THE NOOM MINDSET" BY NOOM
Learn to build healthy habits just in 2023 with "The Noom Mindset" by Noom. You'll learn skills that can apply to any behavior you want to change, habit you want to break or life you want to create.
Order the book now on Noom.com/book, $28.99
DRIPDROP AND DRIPDROP ZERO
DripDrop is a doctor-developed electrolyte powder that provides superior dehydration relief and works faster and more effectively than water alone. The sticks are a perfect on-the-go solution for everyday use to combat dehydration caused by exercise, travel, cold weather, ect and unlike most electrolyte drink mixes, it tastes great. Want to cut back on sugar in the New Year? Try DripDrop's new Zero Sugar formula with the precise levels of sodium electrolytes you need, plus five key vitamins and minerals to support your overall health.
DripDrop.com, $9.99/8 Stick Box | $35.99/32 Stick Pouch
TAPOUT
TapouT is an advanced performance drink that focuses on all three levels of physical support: activation, hydration and recovery, resulting in increased endurance and performance. TapouT has all clean ingredients, no artificial junk. The zero calorie, no sugar formula hydrates in a clean approach without synthetic colors, sugar or artificial ingredients. TapouT has partnered with the NFL great Drew Brees as an ambassador to advance the brand in youth sports initiatives and innovative formula developments for athletes.The all-natural flavors are fantastic and come in Cherry Lemonade, Orange, Citrus, and Peach Mango. 
TapouT.com, Publix, Winn Dixie, Amazon, $1.79 / bottle, $20 / 12 Bottles
LEELA QUANTUM TECH
Leela Quantim Tech is leading the way in natural health innovation, combining science and quantum energy healing into an elegant and simple-to-use collection of products for everyday use. Leela Quantum Tech's collection of holistic products like their Leela Quantum Water Bottle and Leeela Quantum H.E.A.L. Energy Capsules that you can wear around your neck or take in your pocket are designed to encourage natural balance, boost resilience and neutralize EMF radiation by shifting energy at the quantum level for better improved health, deeper level of meditation, natural healing and positively balancing mood and health.
Leelaq.com, $99 – $145, 10% Discount – CODE: PHOENIX10
JOHNSON WELLNESS & FITNESS: BODYCRAFT VR400 PRO ROWING MACHINE & MATRIX TF30 FOLDING TREADMILL
The Matrix TF30 Folding Treadmill is a great way to start or refresh a Wellness journey with a folding design, interactive touchscreen, heavy-duty frame, extra thick deck and industrial grade cushions for miles of performance. And, for those who love to change up their fitness routine and capitalize on the latest fitness craze, the Bodycraft VR400 Pro Rowing Machine is a perfect choice featuring ultra-smooth industrial grade bearings, friction free rollers, a contoured seat and more it provides one of the best "out of water" rowing experiences available. Johnson Fitness & Wellness is THE Home of Fitness with fitness equipment for every body, budget, space and fitness goal.
JohnsonFitness.com $1399 – $3000
NINJA WOODFIRETM OUTDOOR GRILL
Enjoy worry-free BBQ smoking without the guesswork. As the first electric outdoor grill that can also BBQ smoke, air fry, and so much more with 100 percent real woodfire flavor all-in-one, the Ninja Woodfire™ Outdoor Grill goes beyond grills currently on the market. With just a half cup of pellets, achieve BBQ bark and authentic woodfire flavors in less time than traditional smoking. The Ninja Woodfire™ Outdoor Grill smokes slow and low to develop deeper, woodier flavors as it tenderizes large cuts of meat up to 40% faster and with 80% less pellets than the Traeger 780. 
NinjaKitchen.com and Major Retailers, $269-$399
Beauty Finds for a New Year, New You
DAX HAIR WAX & POMADES
These tried and true Wax Pomades let you sculpt, hold and shine, no matter your hair or skin type. great for both men's and women's classic and trendy hair styles – as well as setting eyebrow. Try DAX's Red Tin for Serious Maximum Hold, their Orange Tin for Medium Hold and Blue Tin for Serious Shine. Made in the USA and a great find for smart shoppers as one tin can potentially last up to one year. Made in USA 
DaxHaircare.com, Under $19, 25% Off First Order + Free Shipping. CODE: ATL25
SNOW ADVANCED WIRELESS TEETH WHITENING KITS
Whiten teeth up to 12 shades in just 21 days with SNOW's Advanced Teeth Whitening Kit. Dentist developed; this kit includes everything you need to start whitening hassle-free. The LED mouthpiece enhances the serum for lasting results, while also providing dual-light therapy settings – blue light for whitening and red for gum support for an oral care and teeth whitening routine that works.  
TrySnow.com , $199
HERBAL ESSENCES BIO:RENEW JOJOBA OIL SMOOTHING AIR DRY COLLECTION
Item Detail: Put down the hot tools and kick off 2023 by embracing your natural hair and saving some time in your hair care routine with the newest addition to Herbal Essences bio:renew line the Jojoba Oil Smoothing Air Dry Collection. The shampoo and conditioner duo nourishes hair with 100% pure Jojoba Oil to calm and reduce frizz as your hair dries, leaving it looking smooth and feeling soft.  
All Major Retailers, $5.99-$6.99
VIVISCAL HAIR GROWTH PRODUCTS
New year, new hair care routine!  Viviscal best know for their Hair Growth Supplements, just launched a new line of hair growth products including a Thicking Shampoo & Strengthening Conditioner, Exfoliating Scalp Scrub and Thickening Serum that will nourish the hair and encourage growth from the inside out. Iviscal's suite of clinically proven products can help you create a haircare regimen that will strengthen hair, reduce breakage and promet gorgeous, healthier hair in as little as three months.
Shop new products at Viviscal.com and Major Retailers, $13-$15
THE QUATELA CENTER FOR PLASTIC SURGERY
The Quatela Center creates uplifting experiences that change people's lives with their carefully personalized, transformative procedures for each patient. The Quatela Center for Plastic Surgery is home to five board certified and internationally renowed surgeons in their respective fields of practice and offer body, breast and facial plastic surgery as well as hair restoration to help you achieve your personal refresh in 2023.
For more information visit Quatela.com
Fashion and Function Finds for a New Year, New You
MODERN PICNIC
Modern Picnic provides women with a chic alternative to the traditional lunchbox. They offer a variety of shapes and sizes like their two top sellers. The Large Luncher features an insulated interior and vegan leather exterior and the Tote comes with a removable insulated pouch – so you can bring your food in style and no one would ever know what's inside. Female founded brand focused on functionality, sustainability and style makes it easy to save money, eat healthy and look good.   
ModernPicnic.com, $189 – $250
LU & ELLE
Add a splash of style and culture to your wardrobe with Lu & Elle. Globally inspired handbags that evoke a carefree look with a playful wanderlust style. Founded by clothing designer Kendall Zundel and inspired by textiles she had collected through her travels and vintage shopping. This women-owned business is mindfully made with an eye on giving back. They donate to meaningful charitable organizations each year such as Baby2Baby. 
LuAndElle.com, Starting at $34
COCOBOWLZ
An eco-friendly kitchenware line that is all-natural by repurposing coconut shells to create a durable and stunning sustainable alternative to artificially made utensils. Also offer a line of candles that are hand-poured into these beautiful repurposed coconut shells. A women owned brand made in Australia.
CocoBowlz.com, $6.95-$11.95
Great Getaways in 2023 for a New Year, New You
ARUBA MARRIOTT RESORT & STELLARIS CASINO
Paradise and the One Happy Island are a quick flight away at the Aruba Marriott Resort for the perfect getaway in 2023. This award-winning property welcomes couples, families, and groups of friends with an endless list of amenities and sun-kissed experiences. Soak in the sun and sip pool side cocktails, test your luck at the casino or relax at the Mandara Spa. Not to be missed is Atardi the resort's signature, toes-in-the-sand restaurant, specializing in fresh seafood and spectacular views.  Also perfect for wellness seekers or those looking to jump start their New Year's resolutions, the resort recently launched a new Desert Bathing experience for peace and tranquility on the desert side of Aruba.  
ArubaMarriott.com
CORAZON CABO RESORT & SPA
Item Detail: Corazon Cabo Resort & Spa is the newest luxury property in Cabo San Lucas, located right on the beach. The resort offers the perfect balance when it comes to comfort and style. The glamourous property was designed to celebrate Mexico's rich history.Home to Rootop 360, a chic and versatile ninth-floor bar, restaurant, lounge offering unmatched views of Cabo's most famous landmark – Land's End and city skyline, plus infinity pools, brunch, lunch and cocktail options for the perfect getaway.  
CorazonCabo.com
Recommended