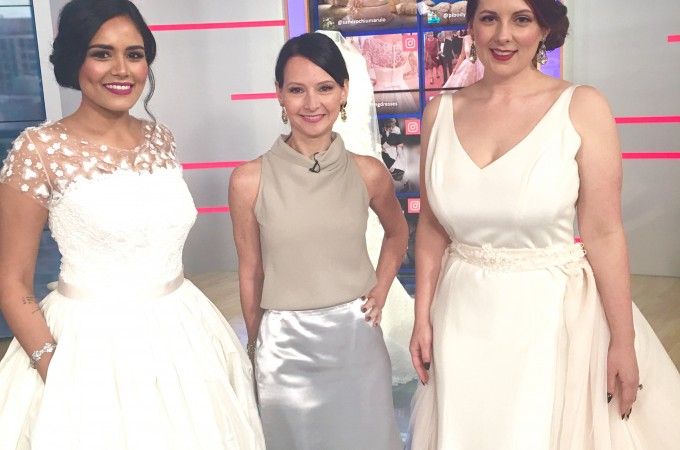 Top Wedding Dress Trends 2016
Want to know latest Bridal trends coming off of the runways? I have the latest from New York Bridal Fashion Week and some Tips on Planning your Perfect Wedding Look!
Find even more wedding day ideas and inspirations on my Instagram at @JamieOandCo and Pinterest at @JamieOandCo
Top Wedding Dress Trends:
Detachable Overskirt: Removable Dramatic Overskirt and Sleek Form-Fitted Gown for "Two Looks in One" giving the option of a more traditional style for the ceremony and a sexier style for the reception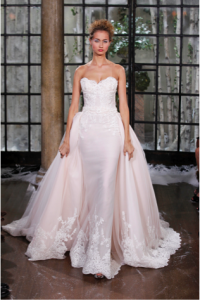 Ines Di Santo – Barcelona Train $6375
Art Deco Inspired design made in luxurious Silk Tulle and Organza with soft Petal Pink underlay and elegant beaded lace appliqués throughout the hemline.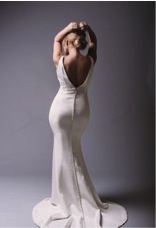 Designer: Ines Di Santo – Femme $3145
Silk Crepe sheath gown with sweep train with buttons extending to tip of train.
Modern Princess: A modern twist of glam on the classic princess ballgown featuring A-line skirts with illusion tops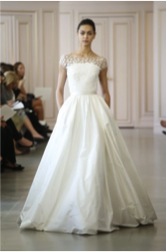 Oscar De La Renta – Ella $8490
White taffeta ball gown with floral lace bodice and fleur sequin embroidered tulle overlay
White ribbon embroidered sandal
Textured Gowns: Additional detail added to the gown offering a 3-D look in the flowers or appliques.
Oscar De La Renta – $9490
Ivory Chantilly leaf lace sweetheart gown with cascading snowflake lace applique. The lace applique over the Chantilly lace takes over 100 hours to be placed in each gown.
Statement Accessories: Investing in beautifully crafted and bold statement accessories that can be worn again and passed down in the family as heirloom pieces.

Maria Elena accessories, they are all Swarovski pieces made with Rhodium platting. All the pieces are available in silver, rose gold and antique gold. They are additionally all handcrafted in Miami.
Find gowns and accessories at Solutions Bridal: www.solutionsbridal.com or on Instagram at @SolutionsBridal
Tips for Creating the Perfect Wedding Look:
Choosing the Perfect Gown:
First set a budget: Tell your bridal salon your honest budget number so they can help you stay within that number and only pull dresses that fall within your range. That way you don't fall in love with a dress that will break your wedding bank!
Think about your wedding and reception locations: You probably don't want to wear a huge ballgown for a beach wedding so taking your locations into account will help you narrow down a style you'll be most comfortable in and also help tell the story of your day.
Start shopping the earlier the better: It really does take 4-6 months for bridal gowns to come in and 2-3 months for bridesmaid dresses to arrive to the salon so plan accordingly to avoid any rush fees and unnecessary wedding stress.
Look through bridal magazines and online sites to pick some styles that you love: That will be helpful for your stylist when you go to a salon to try on gowns. *Tip: And, it's ok if you aren't sure what you want, it can be equally helpful for a stylist to know what you definitely don't want.
Keep an open mind: Go ahead and try on some gowns that your Bridal Stylist recommends. They know how the dresses fit and will get a sense of your personality… You may just be pleasantly surprised!
Go by how you feel: You really should get that "You just know" feeling. The minute I see that smile and glow when brides put on that perfect dress, I know they've found the right one. And, usually anyone with them can see it too… Trust that feeling and you'll glow on your wedding day!
Choosing the Perfect Hair and Make-up:
Have a Feeling in Mind for your wedding: What is the feeling you want for your wedding? Is it: Laid back? Formal? Princess? Rustic? Beachy? This is super important in how your hair and make-up will fit in with your overall look and a key thing to talk about with your Hair Stylist and Make-up Artist.
Look Like Yourself! Your wedding is an incredibly important day and having a professional do your hair and make-up is key to feeling and looking your best but don't think that means you have to look different than you normally do! You are beautiful and having your hair and make-up done should simply enhance how beautiful you already are – not change you! ☺
Your Make-up Should be Believable in Person: There are many different types of make-up styles such as make-up for editorial shoots designed to last a few hours under harsh lights and make-up that will photograph beautifully under natural light but also lasts all day. This is one of the things Master Make-up Artist Simone Rosas from Makeover Station and I work really hard at in making sure the bride and bridal party look "Naturally Beautiful". This means that you look believable in person, under natural light so when your groom and guests see you up close, you don't have streaks of contour or are lost under heavy eye make-up but rather glowing and believable.
How to Achieve a Naturally Beautiful Look:
Airbrush Makeup
Individual Customizable Lashes to Enhance Your Own
Hair that isn't too Controlled or Stiff
Pop of Color for Your Lips to Brighten Your Face
For More Make-up Tips: Find and Follow Simone Rosas of Makeover Station at www.makeoverstation.com and on Instagram and Facebook @MakeoverStation
Recommended