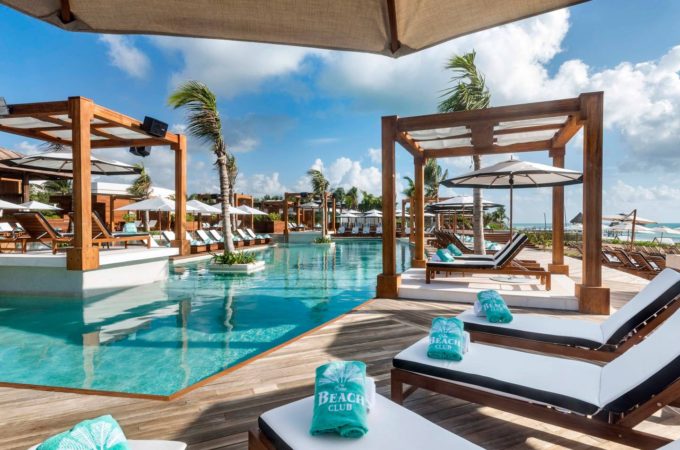 Easy Vacations: 5 Tips for a Last Minute Trip to Cancun, Mexico
I'm all for last minute trips! My motto is if you find a great fare or are needing an adventure, go for it! But, if you find yourself hesitating because you aren't up for planning all the details for a get-away, don't worry, I've already done it for you. Follow these 5-steps for an easy and affordable escape to Riviera Maya, Cancun, Mexico.
This trip is planned with the perfect mix of lounging on the beach with a drink in hand along with some historical adventure including one of the 7 Wonders of the World for those memorable Instagram shots!
*PLUS – I've even included an insane hotel discount at a 5.0-star private resort (almost 60% off) just for my online tribe – I mentioned fab and affordable, right? 😉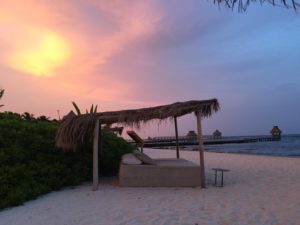 This last-minute getaway to Riviera Maya, Cancun, Mexico checks off:
A stamp in your passport
An international adventure
Gorgeous beaches
Historic tours
Snorkeling
Great umbrella drinks
And, my favorite food… Tacos!
Ready to go? Follow these quick steps and you'll be jetting off to paradise in no time…
1. Getting There – Cancun Airport (CUN)
The airport to fly into is Cancun Airport (CUN). As far as international airports go, Cancun Airport is a breeze to navigate so don't feel intimidated if you haven't been there yet. Terminal 3 is the International Terminal / Terminal 2 is both Domestic and International / Terminal 1 is Freight.  Once you land you'll follow the path to the baggage claim, pick up your bags and then head to customs. The line at immigration usually moves quickly.
One unique element from other international airports is that you'll be asked to press a button before you pass through. It will either show a green or red light.  Don't worry if you get red, it just means that you'll be asked to submit to a random check of your bags before you are cleared to go through. This has happened to me before and they simply open your bag and ask you a few questions.
Travel Tip: Once you pass through immigration, you may be approached by timeshare reps trying to sell you vacation tours at a discounted cost. My experience is that it is best to skip what they have to offer and make your own tour arrangements. Doing so will save a lot of time and headache of having to sit through timeshare presentations in order to get your discounts.
2. Getting to the Hotel – Transportation in Cancun
Check to see if your hotel offers free transportation to their property before you leave for your trip. The hotel I chose asked for my flight number, arrival time, number of guests in my party and number of bags prior to my trip so they could have transportation ready for me at the airport. It was so easy and took that stress of finding a taxi off our shoulders once we arrived. They emailed me a confirmation letter which I printed out before I left for my trip. Having that figured out in advance allowed me to walk out of the airport and slip into full vacay mode.
Travel Tip: I recommend indulging in an ice cold cerveza at the food truck parked directly outside of the airport doors and they take American Dollars.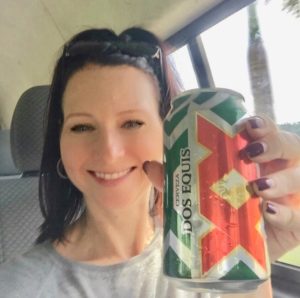 Taxi Tip: If your hotel doesn't have transportation, call them before you leave and ask what the cost of a taxi would be from the airport to their property so you know in advance. For us on the way back from the resort the taxi price was a set fee of $530 pesos which equaled about $28 USD. ($1 = 19 Pesos)
3. Choosing a Resort – Vidanta Riviera Maya Resort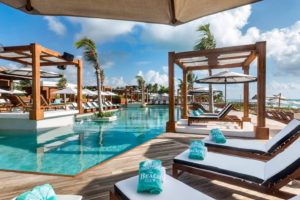 Vacation Paradise! I hadn't stayed here before because it is a private vacation ownership resort and isn't open to the public but I got lucky and was able to book a week at Vidanta through a rare timeshare exchange thanks to my family. (Thanks Mom!)
Vidanta Riviera Maya is a 5.0-star private gated resort complex situated on over 1000 acres of lush foliage, featuring pristine pools and a magnificent private beach. And, with more than 15 world-class bars and restaurants, a Jack Nicklaus-designed golf course, lavish spa and fitness center, onsite entertainment, including access to Riviera Maya's resident Cirque du Soleil show—JOYÀ you definitely don't have to leave unless you want to explore the cities outside of the resort.
Attention to Detail and Guest Service:
The attention to design detail is spectacular and the guest service was excellent as you'd expect from a 5.0-star resort. The staff were trained as well as Disney cast members in guest excellence and were impeccably dressed in perfectly tailored and themed uniforms throughout the property.
Onsite Transportation:
Vidanta hosts five different resorts within the property but getting around is easy with their onsite shuttle system that takes you from your resort to the beach, main pool, spa, golf, other resorts and restaurants and back.
Travel Tip: If you are trying to get your steps in, put on your fitbit and take the wooden walking paths through the protected jungle areas surrounding the resort to enjoy nature with your exercise.
My Personal Vacation Goal:
My personal goal for this trip was beach, food, drinks and relaxation so I found my way to the impressive resort main pool which offers a plethora of beach loungers as well as private palapas that you can reserve for 250 pesos (about $13).
Travel Tip: the cost of the palapa is put against any food you order so it's a win-win.
The Private Beach:
On the other side of the pool is a gorgeous beach that reminded me of a view in Bora Bora with piers jutting out into the ocean and capped off with thatched buildings sitting over the water. The chairs on the beach are free and first come first serve so I never had a problem finding a great spot to relax to the sound of ocean waves. Waiters for food and drinks also service the beach so you can sit and enjoy without having to go in search of refreshments. That's an A+ element in my book!
Resort Specials – Get the App!
Tip: If you download the resort's app, you can look up which restaurants and bars have specials and happy hours for the day. Since there are so many dining and bar options on property and at the pools, there is always a happy hour special to enjoy. For snacks or in-room food swing by Jade, the onsite convenience store, to pick up some groceries like bread, sandwich meat, chips, juice, soda, beer or spirits to stock your mini-fridge.  The best part is that they are sold at normal prices versus typically inflated resort pricing so you won't have to go off property for a grocery store.
Travel Tip: It's a no cash property so everything gets charged right to your room with a quick signature.
Bonus: NOT All-Inclusive
Another plus for me is that Vidanta is one of the only Cancun resorts that is not an all-inclusive property. I prefer to stay at properties that are not all-inclusive because I never feel like I eat or drink enough to make the typical $150-200 per person/per day worth it – especially if I spend an entire day out on a tour. I find all-inclusive adds a lot of extra cost to your trip that I could have spent in more beneficial ways. To prove my point, after taking advantage of all of the daily food and drink specials, I ended up only spending $250 after a week of food and drinks for two people!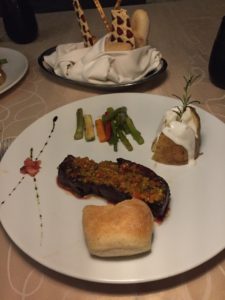 The Salum
One of my favorite places on property was a newly opened area called The Salum. It's a beachfront entertainment and restaurant area where I migrated everyday after I was done lounging on the beach. You can go dressed up or right off the beach, whatever you'd like for your trip. It is home to 7 restaurants and bars designed with sandy spaces, wooden walkways, hanging chairs, hammocks and comfortable couches under palapas. Plus, waiters who come to you so you can continue in full beach slug mode while sipping on ice cold Cheladas.
See The Salum! Click Here for a Video Tour
Travel Tip: If you haven't had a Chelada, it will become your new favorite summer sip: a salt rimmed glass of ice with fresh lime juice in the bottom and then an ice cold Dos Equis or Corona poured over the top.  Don't miss Waves and Tacos for their happy hour from 5 – 6pm and $3 tacos!
**Exclusive Vacation Deal**
Good News! I was given ten promotional certificates to share so my online tribe can stay at Vidanta Riviera Maya too! Message me if you would like one of the certificates to spend an amazing week in Cancun at this Private Resort for a discounted rate of almost 60% at $1250 for a week (8d/7n) in August 2018 or $1500 through the rest of 2018. Normally $430/night and $3010/week. Includes: all fees and taxes as well as a 2 for 1 Golf discount for the onsite Jack Nicklaus Championship Course.
I promised a fab and affordable trip, right? You can book any date in 2018 you would like to travel. Just email me at: jamie@jamieo.co or Book on: Airbnb
4. What to Do There – Chichen Itza and Isla Mujeres
After traveling through 40 countries, I've found that one of the least stressful ways to explore a new location and learn some true insider info from the locals is to book a tour. Since Chichen Itza is one of the 7 Wonders of the World it is definitely worth seeing, right? That's a yes in my book… However, since it's a 2 hour trip from Cancun and Riviera Maya to the Yucatan peninsula, booking a tour that chauffered us there and back was high on my list.
With some digging and reading reviews, I found a combo 2-day tour that included a full day visit to Chichen Itza with a swim in Ik-Kil Cenote and lunch at Mayaland Resort. Plus a second day that included sailing on a catamaran to Isla Mujeres that included snorkeling, shopping and lunch. The part I liked best was that the tour gave the option to go over two consecutive days or with a day to rest between each activity. Also the flexibility to choose if you'd like to visit Isla Mujeres first and then Chichen Itza, or vice-versa.
Travel Tip: From experience, I strongly recommend a day to rest in between because they are long days.
Day 1: Chichen Itza and Ik-Kil Cenote

Our driver picked us up in a Mercedes air-conditioned van at the gate of Vidanta and drove us to the central meeting point in downtown Cancun. We boarded another Mercedes air-conditioned van with our group of about 14 people for the 2-hour drive to the Yucatan. Our guide was incredibly knowledgable and explained the history of the area in perfect English.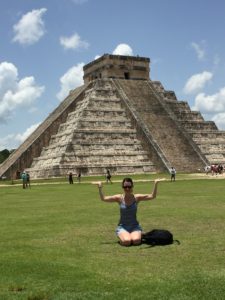 Chichen Itza is a UNESCO World Heritage Site and the city-cradle of ancient Mayans. During a 2-hour guided tour we learned about this archaeological site and saw the Pyramid of Kukulcan, the Great Ball Court, the Temple of Warriors (or 1,000 Columns) and the Observatory. We also learned about the dangerous game of pok-ta-pok played by warriors – one you definitely do NOT want to lose. We then had some free time to explore the site on our own and take pictures before heading back to the Mayaland Resort for a buffet lunch. I can be a picky eater but I was really impressed with not only the quality of the lunch but the amount of food options they offered.
Travel Tip: If you like tacos, definitely try the taco bar where they are making fresh tortillas and authentic tacos. Can I go back for more?
Travel Tip: The ticket cost is not included in your tour price and you will be required to purchase it upon arrival. They do not take credit cards so make sure to bring pesos to purchase your ticket. Adult tickets are $232 pesos (about $12 USD)
After lunch, we were transported to Ik-Kil, an underground natural cenote to view, swim or if you are really brave jump off of a 12′ high platform into the cenote. The grounds have bathrooms, lockers for your items and refreshments if you'd like a drink or snack.
Travel Tip: I'd recommend wearing your swim suit under your clothing so you can easily change when you arrive. Additionally, bring a few pesos if you want to rent a locker or life jacket for easy floating at the cenote. There is no bottom in the cenote so if you get in, you need to be a strong swimmer to stay afloat. After swimming you will want to have a towel, plastic bag to put your wet suit in and a change of under clothes so you don't have to sit in wet clothes for the 2-hour drive back.
Your tour ends with hotel drop-off in Cancun or Riviera Maya.
Day 2: Catamaran Tour to Isla Mujeres
Isla Mujeres is a beautiful island and town located just 8 miles (13 km) northeast of Cancun. Day 2 gives you a full-day in the sun and sea breeze with a cruise over the gorgeous Caribbean to Isla Mujeres. You can relax on the catamaran and enjoy unlimited drinks from the open bar on board. What could be better, right?
Along the way, crew will raise the spinnaker at the bow to glide along in the wind. Next, a stop at a coral reef to snorkel for 45 minutes exploring marine life in the warm, tropical water. Upon arrival at Isla Mujeres, the guide will accompany the group on a 1.5-hour shopping excursion downtown. After shopping, you'll head to the beach club for a buffet lunch, more selections from the open bar, and access to all the amenities – including swimming pool and lounge chairs.
The tour day ends with hotel drop-off in Cancun or Riviera Maya.
Viator Combo Chichen Itza plus Isla Mujeres Catamaran Tour, $128.50
5. Travel Accessory Must-Haves
Skyroam Solis
Any time I travel out of the country, I get that hint of anxiety about not having constant cell and wifi access. I realize this may be a sign I have a phone addiction and should seek help.  The Skyroam Solis has turned out to be my must-have travel accessory.  It's a mobile wifi hotspot that connects to the local cell phone tower network of wherever you are and allows you to have 24-hr access to wifi as long as there is cell service available. Even better, it allows you to connect up to 5 devices at a time so you can connect all of your travel companions or computer/tablet while you are on your adventure.
It has saved me by being able to pull up directions and maps when I'm lost. Or, connect in my room when my hotel had weak wifi service. It also allowed me to text, surf the internet or call over wifi and thankfully avoid all of those dreaded international cell phone charges. Bonus: It's also an external battery so you can plug in your phone and charge up when you are low. It really is my go with me on every trip travel accessory and I recommend it to everyone!  This is a travel saver must-have: Skyroam Solis: Mobile WiFi Hotspot & Power Bank
, $149
Travel Tip: It's $9/day to use but if you think about the fact that you don't have to add the international plan cost to your cell phone and neither do any of the people traveling with you, it's a major bargain!
Amazon Fire Stick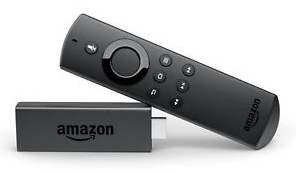 I'm a TV and Movie junkie and when I am traveling internationally, there is no guarantee that the TV channels will be familiar or even in English so I always pack an Amazon Fire TV Stick in my travel bag. Honestly I bring it everywhere with me, even when I travel home to my parents so I can watch my own shows in my room at night… Sanity can always be restored with a good episode of Southern Charm or Below Deck on BRAVO!, right?
The Amazon TV Fire Stick is super easy to use. You simply plug it into the HDMI port of the TV, connect to the wifi and voila, access to Netflix, Prime Video, HBO Go, Showtime, BRAVO! or if you are disciplined on vacation your fitness and yoga apps too…
Pro Travel Tips:
1. If you forget your remote at home (which I've done), you can download the firestick app and turn your cell phone or tablet into a remote.
2. Pack a longer power cable. I travel with a 10′ android power cord because sometimes the power outlets are farther away from the tv than the cord that comes with the Fire Stick will allow. If that happens, you can simply switch out the cable with the longer one and plug it in.
3. It's only $39 but if you keep an eye out you might find an Amazon sale…
I promise this will be your favorite travel must-have too… I literally own one that lives just in my travel bag: Fire TV Stick with Alexa Voice Remote | Streaming Media Player, $39
*My Favorite Thing – Discounts!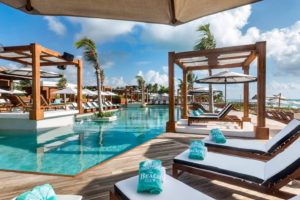 Good News! I was given ten promotional certificates to share so my online tribe can stay at Vidanta Riviera Maya too! Message me if you would like one of the certificates to spend an amazing week in Cancun at this Private Resort for a discounted rate of almost 60% for $1250 for a week (8d/7n) in August 2018 or $1500 through the rest of 2018. Normally $430/night and $3010/week. Includes: all fees and taxes as well as a 2 for 1 Golf discount for the onsite Jack Nicklaus Championship Course.
I promised a fab and affordable trip, right? You can book any date in 2018 you would like to travel. Just email me at: jamie@jamieo.co or Book on: Airbnb
Have Cancun Questions?
Ask me any of your Cancun or Travel questions in the comments below. I'll be happy to share any advice or information I have… Or, tell me your favorite vacation spots or places I should visit… I'd love to know!
Pack Hacks
Hate packing? Here are all my travel tips to make your packing easier, lighter and less stressful: 15 Packing Hacks for Summer Travel
Happy and Safe Travels!
xoxo
J.
Recommended
5 Comments