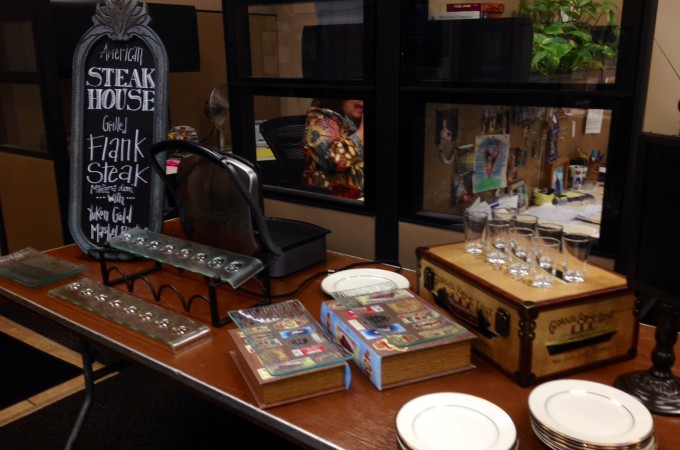 Holiday Party Planning Tips
Don't Panic – Here are some great tips on how to plan a low stress holiday party that your guests will love!
The 3 P's – Plan! Prep! Party!  With a little bit of planning and preparation, you will have a flawless party.

Plan

First take some time to think about what you want your party to be – Will it be a sitdown dinner or will it be a free-flow evening of guests coming and going at their convenience? Determine how many people and how you are going to serve food and beverages. Will you be serving dinner or just a buffet of finger foods for guests to enjoy?
Then plan your budget – this is so important!  It will help you stay on financial track and help you make decisions on your food and décor selections as you work with in your budgeted amount. I always use an excel spreadsheet to keep track of spending or proposed costs so I can easily determine where I may need to adjust.

Prep

If you are not hiring an event planner or caterer to assist, make sure to select as many food, beverage and décor items as possible that you can prep in advance so you aren't under a stressful timeline the day of your party.
Set your buffet table a few days in advance with your linens, high and low foundation pieces that allow you to add dimension on your table and your décor.
Prep food and beverages a day or so in advance and store them in your refrigerator so all you have to do is pop them in the oven or set them out right before your party
Try a "Make Your Own" Panini or Pizza Station so guests can customize their own dish and it takes the pressure off of you. I have found these stations work so well because it allows guests to eat whenever they are ready and encourages guest interaction as they are making their favorite Panini or Pizza!
Make a timeline for the day of your party.  It doesn't have to be elaborate but if you know the party starts at 7pm work backwards to determine when you need to have certain things completed by such as set the food at 6:50pm – Knowing it will take 20 minutes to warm up, you know you will need to pop the Thai Chicken Meatballs in the oven by 6:30pm and so on… When you work backwards, you will know exactly how you need to schedule your day to ensure you are ready and stress free to welcome guests!

Party

Enjoy Yourself! The goal is that you want to be able to be a guest at your own party and enjoy seeing friends and family that I am positive you do not see often enough so if you plan and prep well, then you'll be able to relax and enjoy your party with your guests.
Don't worry if it isn't perfect.  Focus on the parts that are going right because nine times out of ten the only person that knows it didn't go exactly according to plan is you so take a deep breath and keep going.
If things go wrong, simply have a Plan B and Turn any Negatives into Positives… Your guests are there to spend time with you and they want a happy you!  They won't care that you burned the rolls, laugh it off and your guests will laugh with you.  All they'll remember is that they had a great time spending time with you!
Quick hors d'oeuvres that you can make in advance and heat up before your party
Interactive Panini or Pizza Bar to take the pressure off the host of the party and encourage guest interaction

Set out bowls or platters of ingredients and let guests create their favorite version of a Panini or Pizza. Simply have someone manning the Panini press or oven to cook for your guests after they finish assembling and voila a custom dish that is hot and ready whenever each guest would like to eat!
You can even create suggested combinations of paninis or pizzas and put all the ingredients on one platter. You can use a chalkboard to display a custom name of the Panini you suggest along with the ingredients to add a bit of festive fun.
The hidden secrets of how to set a professional looking buffet table – Use books, decorative boxes, a wine rack as an example of items that can help you elevate your platters of food and add dimension to your table.  You can even use an empty plastic shoe box or books underneath your table linen to set food on… It's all about making a table beautiful and interesting with dimension.
Food in Good Day Orlando Segment on FOX 35 and Recipe provided by Arthur's Catering – www.arthurscatering.com
To hear more holiday party planning tips, view my recent appearance on Fox 35 News Orlando:

Recommended