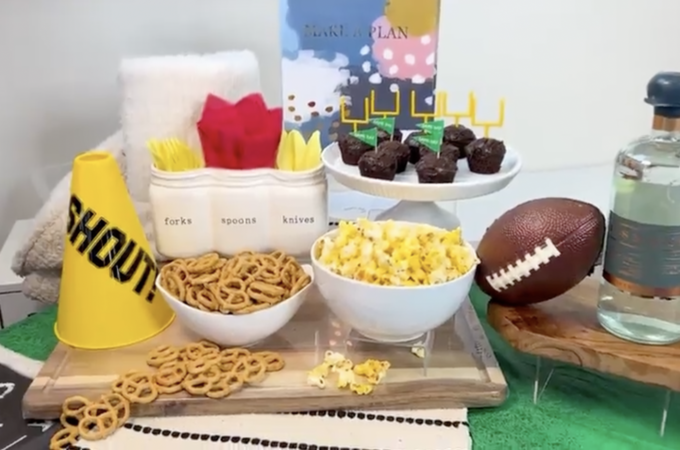 How to Prep and Enjoy the Big Game!
Sharing some tips on how to easily plan, prep and party for the big game with affordable solutions!
Plan and Prep
BURLINGTON
An Affordable Way to Prep for the Big Game, Burlington is the one-stop-shop for everything you need to make guests feel like an MVP! Incredibly low prices on a wide assortment of brand-named merchandise you know and love for all of your hosting and entertaining needs. Like dipping bowls for $2.99, planner for $5.99 and cozy blanket to watch the game for $16.99. Best part, new items are coming in every day and right now you can save big on clearance items with fresh markdowns just taken. Your deals are waiting!
Find a store near you at Burlington.com
LOS MAGOS SOTOL
Versatile Spirit to Share with Guests, Los Magos Sotol is masterfully smoked, fermented, triple-distilled and rested before bottling. Also made from 100% wild grown sotol that is sustainably sourced from the Chihuahuan Desert without additives and delivering complex notes of green herbs, vibrant citrus, black pepper and light smoke. Award Winning Blend is Versatile: Can be enjoyed straight or mixed in favorite cocktails like the classic Negroni, Espresso Martini or a morning Bloody Mary.
LosMagosSotol.com
Whiten While You Watch
SNOW ADVANCED WIRELESS TEETH WHITENING KITS
I love multi-tasking so here's a fun solution to whiten while you watch the big game! Whiten teeth up to 12 shades in just 21 days with SNOW's Advanced Teeth Whitening Kit. Dentist developed; this kit includes everything you need to start whitening hassle-free. The LED mouthpiece enhances the serum for lasting results, while also providing dual-light therapy settings – blue light for whitening and red light for gum support for an oral care and teeth whitening routine that works.  
TrySnow.com, $199
The Big Clean Up Tip
FINISH QUANTUM
In between the most exciting game night of the year and Valentine's Day is one of the biggest days of clean up. Monday the 13th is the pull between helmets and teddy bears. But there is good news! Take the Finish 24-Hour Challenge and let your dishes sit for 24 hours. If Finish doesn't remove dried-on stains, the meal is on Finish up to $20.
Find more information at FinishDishwashing.com/24-Hour-Challenge
Find Finish Quantum at Major Retailers
Recommended