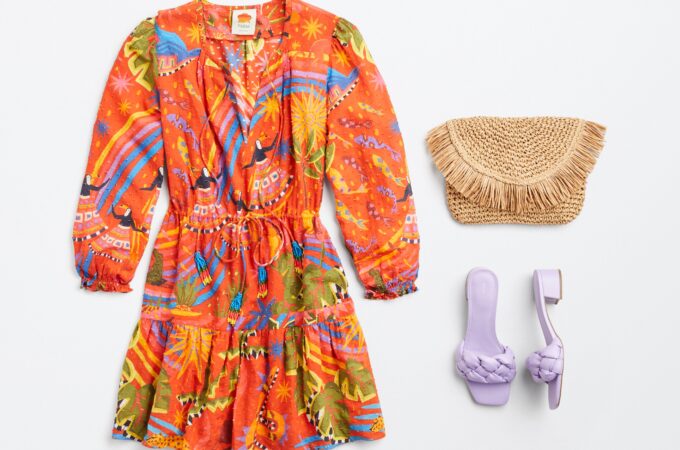 Summer Essentials – The Must Haves for Summer!
Some of my favorite Summer Essentials and must have items for the summer season…
Summer Beauty and Health
OLAY NIACINAMIDE + PEPTIDE 24 HYDRATING MOISTURIZER
Healthier Looking Skin this Summer. Olay's iconic micro-sculpting Cream is loved by millions and they just launched their newest red jar! It offers healthier looking skin with 99% pure Niacinamide. I love that this product hydrates while repairing my skin's natural moisture barrier for 2x stronger skin. This moisturizer provides 3-in-1 hydrating benefits, stronger skin, even complexion and visible wrinkle reduction.
Special Savings $8 off a 2-Pack of OLAY Niacinamide FM until 8/7 at local Sam's Club or SamsClub.com
OBAGI CLINICAL ENVIROMENTAL DEFENSE RADIANCE BOOSTING SERUM
Obagi Clinical's latest innovation. Environmental Defense is a summer essential. A daily, leave-on serum designed to defend against daily aggressors that can lead to early signs of skin aging like wrinkles and dark spots as well as combat dull and dry skin to provide a healthy radiance. Also features a soft, non-sticky texture, perfect for layering under makeup.
Obagi.com, $49
CLEARASIL STUBBORN ACNE EXFOLIATING ACNE FACE WASH
Perfect Summer Staple to Keep Your Skin Clear. Summertime means high temperatures and sweat, unfortunately the perfect breeding ground for acne, but with Clearasil's Stubborn Acne Exfoliating Acne Face Wash, you can keep skin clear by fighting five major stubborn acne problems: blocked pores, pimple size, acne scars, excess oils, blackheads. As founders in the industry Clearasil is specially formulated to help teens n the fight against acne by providing a variety of acne solutions from washes to medicated pads.
Amazon, Target, Walgreens, $9.99
NAKED SUNDAYS SPF 50+ HYDRATING GLOW MIST TOP UP + SPF 50+ GLOW BODY MIST
Protect your Skin this Summer. SPF 50+ Hydrating Glow Mist is the first of its kind for topping up your sunscreen you're your makeup. This non-sticky, non-greasy formula adds a luminous glow to your skin with full spectrum sun protection. Award-winning formula is completely invisible and packed with native Australian Botanical Extracts. It not only sets your makeup but also is filled with skin beneficial antioxidants to add a luminous glow to your skin and is a high-performance sunscreen actives SPF50+. Infused with hyaluronic Acid, antioxidant Watermelon Extract and Vitamin C-rich Kakadu Plum. It can be worn over your makeup or naked. Also vegan, cruelty free and leaves zero white cast.
NakedSundays.com, $35 – $39
ZARBEE'S® IMMUNE SUPPORT LINE
Immune Support for a Healthy Family This Summer. Immune support more important than ever as we look to keep our families healthy while enjoying summer activities. ZARBEE's Immune Support Line includes products for the whole hive. If your baby has a cough, soothe it with ZARBEE's Baby Complete Cough Syrup + Immune which is made with wholesome ingredients to support baby's immune system and is the #1 pediatrician recommended cough syrup brand for babies and children 12 years and under. For the rest of the family send your immune system a burst of support with ZARBEE's Elderberry Immune Support Gummies. Each gummy is chock full of essentials and sweetened with natural flavors.
Full Line Available in Stores and Online at Amazon, CVS, Walmart $8.99 – $16.99
DRIPDROP
Perfect Staple to Take On-The-Go this Summer. DripDrop is a doctor-developed electrolyte powder with a patented formula that provides fast and effective dehydration relief. The sticks are a perfect on-the-go solution for everyday use to combat dehydration caused by heat, exercise, travel, ect and are trusted by doctors, firefighter, elite athletes and the U.S. Military. The fast acting sticks come in delicious flavors like Fruit Punch, Lemon and Watermelon.
DripDrop.com, $9.99/8 Stick Box | $35.99/32 Stick Pouch
VEET GEL CREAM HAIR REMOVER
Must Have for All Your Summer Activities. Veet, the preferred hair removal brand around the world, provides a variety of convenient, fast and long-lasting hair removal solutions. From BBQing Poolside to Vacationing with Family, Veet hair removal solutions are here to help you feel your best and confident all summer long. Effectively removes even stubborn hair from legs and body gently in just a few minutes without causing any messiness. Enriched with Aloe Vera and Vitamin E that helps moisturize and soothe skin.
Amazon, Target, Walgreens, $10.29
BUG BITE THING
Perfect Summer Essential to Have on Hand All Summer Long. Amazon's #1 selling product for insect bite relief, Bug Bite Thing is chemical free, reusable and suitable for all ages from babies to kids and adults. The award-winning product has over 48,000 reviews and uses suction to extract insect saliva/venom from underneath the skin to alleviate the stinging, itching and swelling caused by insect bites and stings. Also just introduced cute travel bags, making it easy to carry it wherever you go this summer.
BugBiteThing.com, Amazon, Tool under $10 / Travel Bag $5
TRANSITIONS LENSES AVAILABLE AT GLASSESUSA.COM
Summer Solution that Gives You a 2 in 1 Design. A Must Have for Summer Season. Eyeglasses with Transitions® Lenses are most advanced light intelligent lenses, automatically adapting to changing light. The lenses darken when outdoors and return to clear when indoors so only need to carry one pair of glasses. Like 2 pairs in 1. GlassesUSA.com largest retailer in United States, offers Transitions® lenses on all frames including Grey and Brown hues as well as exclusive Pastel colors. Offering
SPECIAL DEAL Get 50% off lens upgrades with CODE: MORNING50 GlassesUSA.com
SMILEDIRECTCLUB'S CLEAR ALIGNERS
Straighten Your Smile This Summer. SmileDirectClub's doctor-directed aligners straighten teeth in as little as 4-6 months for 60% less than braces or Invisalign and the results are guaranteed for life with a Lifetime Smile Guarantee. There are two types of clear aligners – 22-hour wear aligners and Nighttime aligners. Every Smile Journey starts with two options: impressions of teeth at home or 3D scans that can be taken at a SmileShop or Partner Network location that offers aligners. The at home Impression process is an easy way get started from the comfort of home. 3D scans are another great option to determine eligibility for treatment in office.
SmileDirectClub.com, $2050 or less than $89/month
Summer Sips, Bites & Healthy Picks
LAIRD SUPERFOOD: ORIGINAL INSTAFUEL + HYDRATE COCONUT WATER
Fuel Your Day this Summer with Clean Superfood. Co-Founded by Athletic Icons Laird Hamilton and Gabby Reece and inspired by their active lifestyle and quest for the best clean foods. High-quality products made with functional plant-based ingredients to help elevate and fuel your day from morning coffee to afternoon hydration. Try Original Instafuel, perfect blend of premium coffee and superfood creamer for a delicious on-the-go energy boost and Hydrate Coconut Water all summer for an all-natural hydration solution with electrolytes and a delicious taste.
LairdSuperfood.com, Amazon, Sprouts Nationwide, $15.95 – $27.95
KOE ORGANIC KOMBUCHA
Summer Sip with Real Immunity Benefits. Koe is kombucha only better! Made with organic fruit juice and billions of live probiotics, it offers real immunity benefits. The fruity flavors don't have the traditional sour taste like other kombuchas. Recently rebranded cans and refreshed recipe that can now be found at select Walmart and Winn Dixie location throughout Florida. Shelf stable to take on the go and enjoy anytime. Fruit forward drink in summery flavors like: Mango, Tropical and Watermelon make the perfect beverage to drink poolside, beach front or summer BBQs.
DrinkKoe.com, Walmart, Winn Dixie, $2.49 / 12oz can
BORDEN MELTS
Perfect Summer Essential to Have on Hand. Borden Melts are made with real cream in every slice for a perfect melt every time. Perfect for quick and easy summer meals like cheeseburgers, grilled cheese, quesadillas and all things cheesy goodness. Smooth, gooey, creamy and delicious, Borden Melts are available in four craveable varieties including Extra Sharp Cheddar, Pepper Jack, Swiss and American Cheese. At 60 calories, 4g of protein per slice and 30% calcium per serving. Available in 16 slice packages in select stores.
Visit BordenCheese.com to find the store nearest you. Local Retailers, $3.49 – $3.99
NEWMAN'S OWN GARLIC VINAIGRETTE & MARINADE
2-in-1 Solution to Help Dine at Home and Save Money. Incredibly versatile, made with premium ingredients and 100% of profits go to helping kids. It's light and fresh and make with four forms of garlic for the ultimate zesty flavor whether dressing a salad or marinating a protein. It's gluten-free and has no artificial flavors, preservatives, colors or high fructose corn syrup.
Publix and Kroger, $3.99
SAVE A LOT
Summer Staples Bundle for Your Summer BBQ. Save A Lot is the perfect place to shop for your Summer BBQ! From brats and burgers to chips, root beer and farm-fresh fruits and veggies, this hometown grocer has everything you need for up to 40-50% less against national brands so summer celebrations don't have to break the bank. These are some favorites for the perfect summer sttaples bundle like J. Higg's Classic Potato Chips, Chiptastic Classic Cholcolate Chip Cookies, Tubz Root Beer, So Cheezy Deluxe Mac and Cheese and more!
SaveALot.com – $1.99 – $4.99
RIONDO PROSECCO
Affordable Refreshment to Enjoy the Rest of Summer. Perfect refreshment to enjoy the rest of the summer. A full Sparkling Spumante, this Prosecco balances acidity, softness, structure and bubbles and boasts aromas of Golden Delicious apple, pear and acacia blossom. Whether you are spending the afternoon outside or relaxing at home with family and friends, it's the perfect way to #TakeASecco to unwind.
Riondo.us or Online Retailers, $14.99
KETER COOL BAR
Summer Must Have for Outdoor Fun. The Cool Bar is a cooler and table all in one. Stylish outdoor side table features a hidden 7.5 gallon cooler for drinks and ssnacks. Keter makes stylish , durable outdoor furniture and storage solutions for our home. Also sustainable produced and made of 100% recyclable materials.
Amazon, $79.99
Summer Fashion Finds
AIRWALK FOR JCPENNEY
Affordable Summer Staple that will Stretch into Back to School. Airwalk for JCPenney has affordable fashion and footwear options that will carry kids from summer to back to the classroom this fall. JCPenney is a one-stop-shop for on-trend, affordable looks. As everyone is ready to get back out there and share experiences with family and friends, shopping an experience that can be enjoyed together.
JCPenney Stores and JCP.com, $40 and Under
STITCH FIX
Easy way to level up your Summer Wardrobe. Stitch Fix is the perfect shopping solution. Get styled based on what you are looking for from vacation-ready outfits to hopping on your favorite Summer Trends. It's a personalized shopping experience built just for you that blends the human touch of expert stylists with data science. Making it simple to buy what you look and feel best in. Through a Fix, your stylist will help you discover and shop hand-selected items that match your individual taste, size and setting. Your Fix is filled with five curated pieces to try on from the comfort of home. Shipping / Returns are always free and NO subscription required. Prices range $38 – $500 per item with more than 1000 brands like Good American, Kate Spade and Adidas. To get started with your personalized shopping experience, visit
StitchFix.com
JLO JENNIFER LOPEZ FREN SANDAL + GANDET SANDAL
Summer Sandals Perfect for Summer Plans. Perfect for a Pool Day or Sexy Night Out, JLO JENNIFER LOPEZ was created with global icon Jennifer Lopez and offers a range of show-stopping styles at compelling price points. Crafted under Jennifer's own design direction, each product is a promise and an affirmation of style, spirit and personal connection shared by Jennifer and her fans around the world.
Exclusively available at DSW or DSW.com, $69.99 – $79.99
MOON D'ELLE
Perfect Statement Pieces for Summer. Founded by world-traveling sisters Tabitha and Chandra Perkins, these comfortable, stylish leather shoes are handcrafted in Italy and are the perfect statement pieces for summer. The latest collection is inspired by a trip to Capri. All the materials are hand-selected in Italy with highly skilled shoemaking specialists in the Lombardy region. The shoes are meant to last through years of wear and are incredibly comfortable thanks to the long-lasting memory foam padding.
Moondelle.com, Raggio Desert Brezza / Spirale Dark Stella / Velato in Blue Cielo / Nebbiolina in Ice Glaciale – $360 – $530
Summer Fun + Development for Kids
CASSAROKIDS
Summer Essential for Kids Development. Eco-Friendly, heirloom-quality, indoor play sets and structures help encourage early development, movement, imagination and physical play for babies and kids ages 3 months to 5 years. Start with a Waldorf Rocker with a custom pillow to teach babies how to do a "back and forth" rock, which is a precursor to crawling and move on to ramps, slides, climbing triangles, towers and cubes as they develop strength and stamina and start learning to sit up, balance, reach, crawl, pull to stand, walk, run and climb.
Cassarokids.com
Recommended