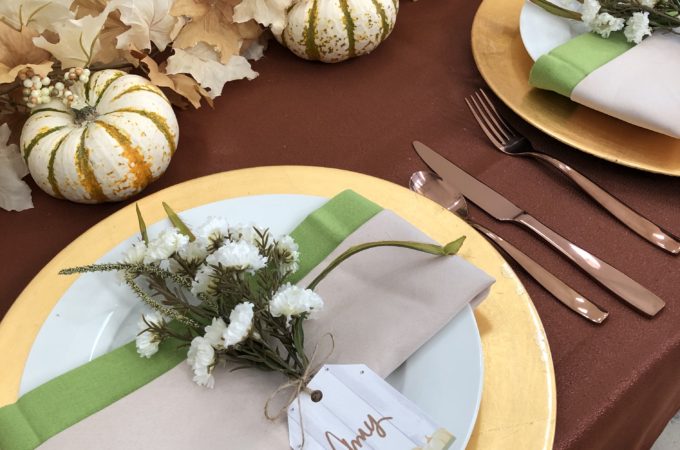 Easy (and healthier) Fall Entertaining Tips
Fall kicks off the start of many get togethers and can be a stressful time of hosting guests but don't worry, I shared some pro tips for easy (and healthier) entertaining on FOX Good Day Orlando to take you through the season!
Pantry Pals
Sometimes impromptu hosting happens and a great way to cut down on the stress of a last minute pop-up of people in your home is to keep some what I call "Pantry Pals" or go-to snacks in your pantry that you can quickly pull out, pour into bowls and serve at a moments notice.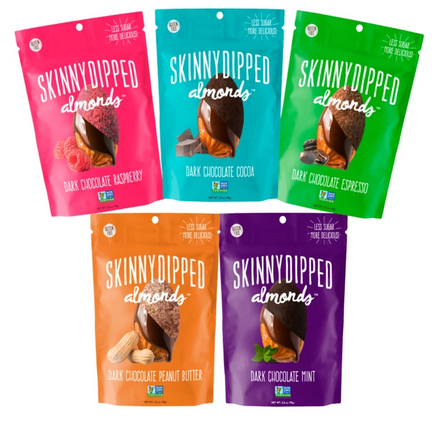 One of my favorites for Fall entertaining is keeping re-sealable packages of Skinny Dipped Almonds in a variety of flavors on hand. They are a healthier version of chocolate covered almonds and they are also gluten-free for any guests who have allergies. They feel like a lux snack to put out for entertaining that guests will love and you'll secretly love that you are serving a snack that is made with ethically sourced chocolate and is also high in protein and low in sugar. Flavor Options: Real Cocoa, Espresso, Peanut Butter, Pure Raspberry, Mint and Limited Edition Dark Chocolate Peppermint for the Holidays www.skinnydipped.com, 3.5oz Bag, $4.49 / 1.5 oz bag, $2.99, Target, Whole Foods, CVS
Drinks in a Dash: The Non-Alcoholic Trend
If you are hosting a party, I always look for neutral welcome drink that can appeal to anyone but can be made in a dash. Non-alcoholic beer has been a growing trend in the beverage industry this year and I love having the option to offer guests a healthier option while they are socializing without them feeling like they are missing out on any of the fun. Clausthauler has been a brewing and winning awards for their non-alcoholic beer for 40 years. Imported from Germany, the Clausthaler Classic is similar to a Stella Artois (without the alcohol) and the Clausthaler Dry-Hopped is an IPA (without the alcohol) and similar to a craft beer. It's perfect served cold straight from the bottle or can but I also love offering it as a welcome drink of a light and refreshing Fall Shandy. www.clausthaler.com 6 pack bottles, $7.49, Total Wine & Spirits, Whole Foods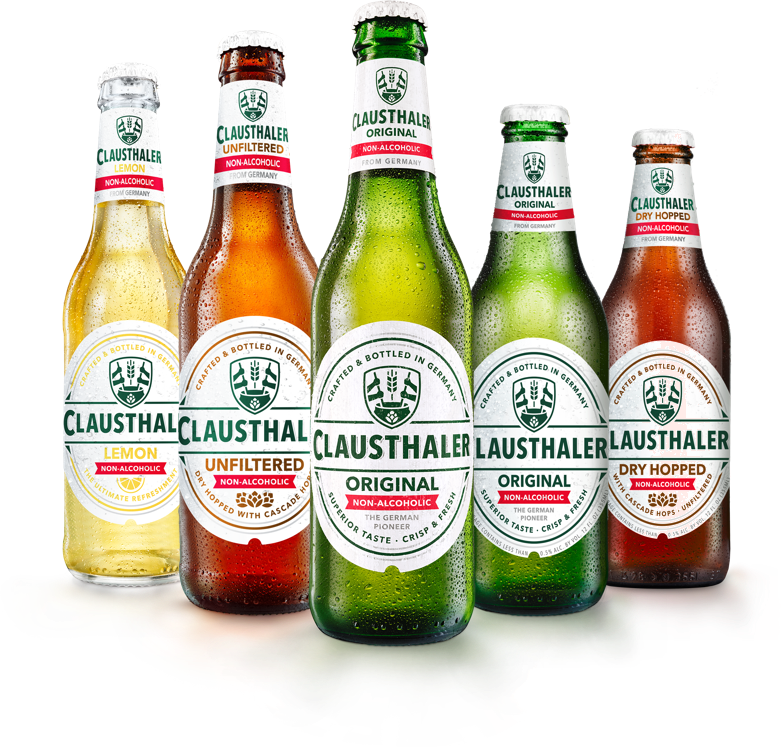 Fall Shandy: A great Fall welcome drink that you can make in two simple, no-stress steps:
Pour cold Clausthaler in half the glass. Top the other half of the glass with fresh Apple Cider.
It's a quick one, two drink that takes no time at all… Cheers!
Baking Buddies
If your family is anything like mine, you probably have to manage food allergies and who can eat gluten, who is dairy-free. It's daunting and we always end up having to make two turkeys, two sets of mashed potatoes, stuffing and vegetables so I was overjoyed when I tried Upfield's New Country Crock Plant Butters so I had to share!
These magical butters are real butter but made completely without the dairy. They are also gluten-free, vegan and kosher – it checked all the allergies off my list and my Fall entertaining problems were solved. They come in three options: almond plant butter, olive oil plant butter and avocado plant butter. You can use them to bake, cook or just enjoy on your toast because they taste just like dairy butter and are made with simple, natural ingredients.
This is definitely my fave find for the Fall Entertaining season and hopefully now all the guests at our tables can enjoy the same food with a healthier twist, right? Thank goodness! www.countrycrock.com Package 16oz sticks, $3.49 / 10 oz tubs, $2.49, Publix, Winn Dixie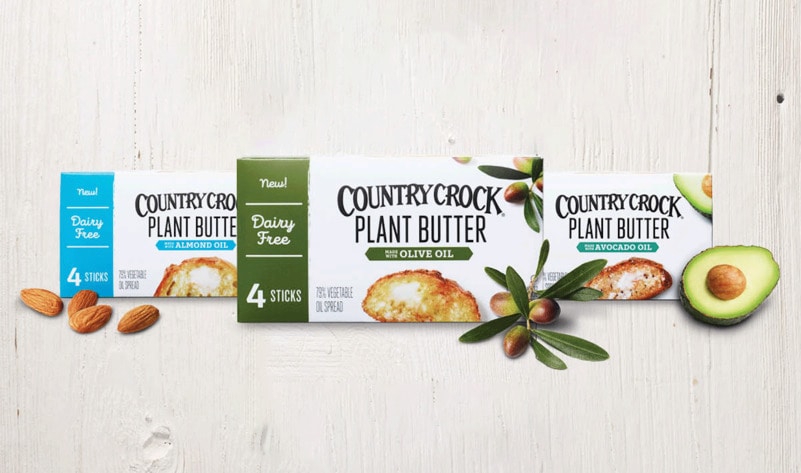 Give the almond butter a try for your baking or the olive oil butter for your pasta or vegetables. It's a dream come true for Fall entertaining and every day cooking…
Easy 3 Ingredient: Pumpkin Chocolate Chip Cookies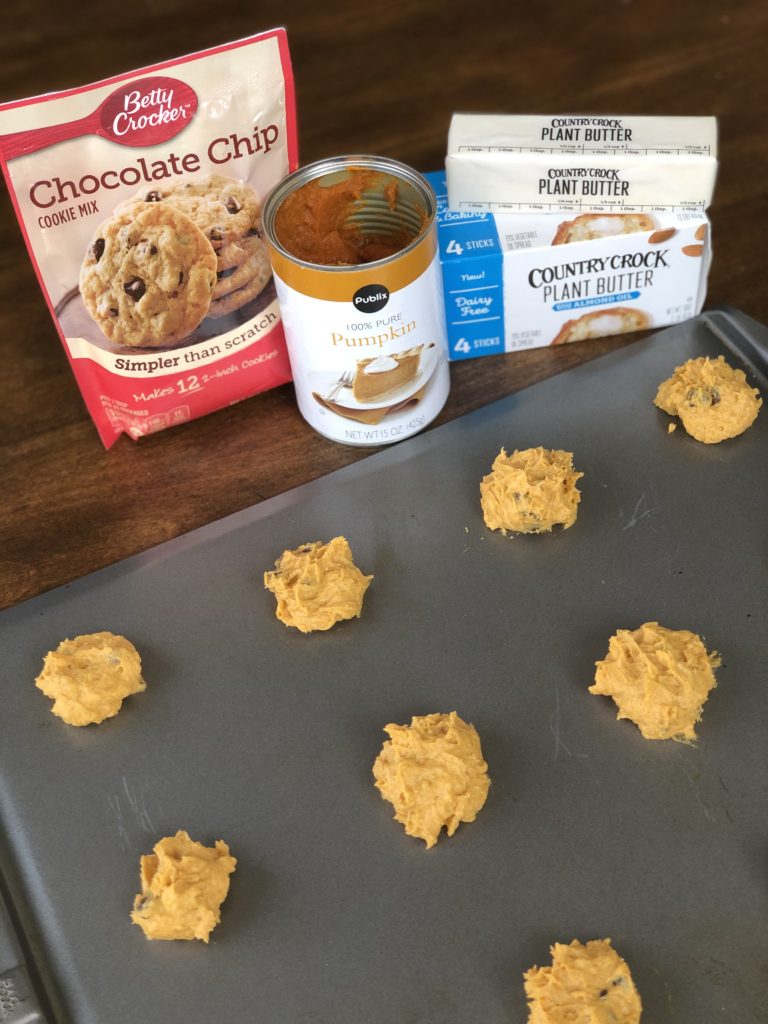 Package of Betty Crocker Chocolate Chip Cookie Mix
1/2 Stick of Almond Country Crock Plant Butter
1/3 Can of Pumpkin Puree (or pumpkin pie filling if you can't find the puree) in place of the water
Mix well and then spoon onto baking sheets
Bake at 350* for about 12-15 minutes until the edges are brown
Easy Elegance Fall Decor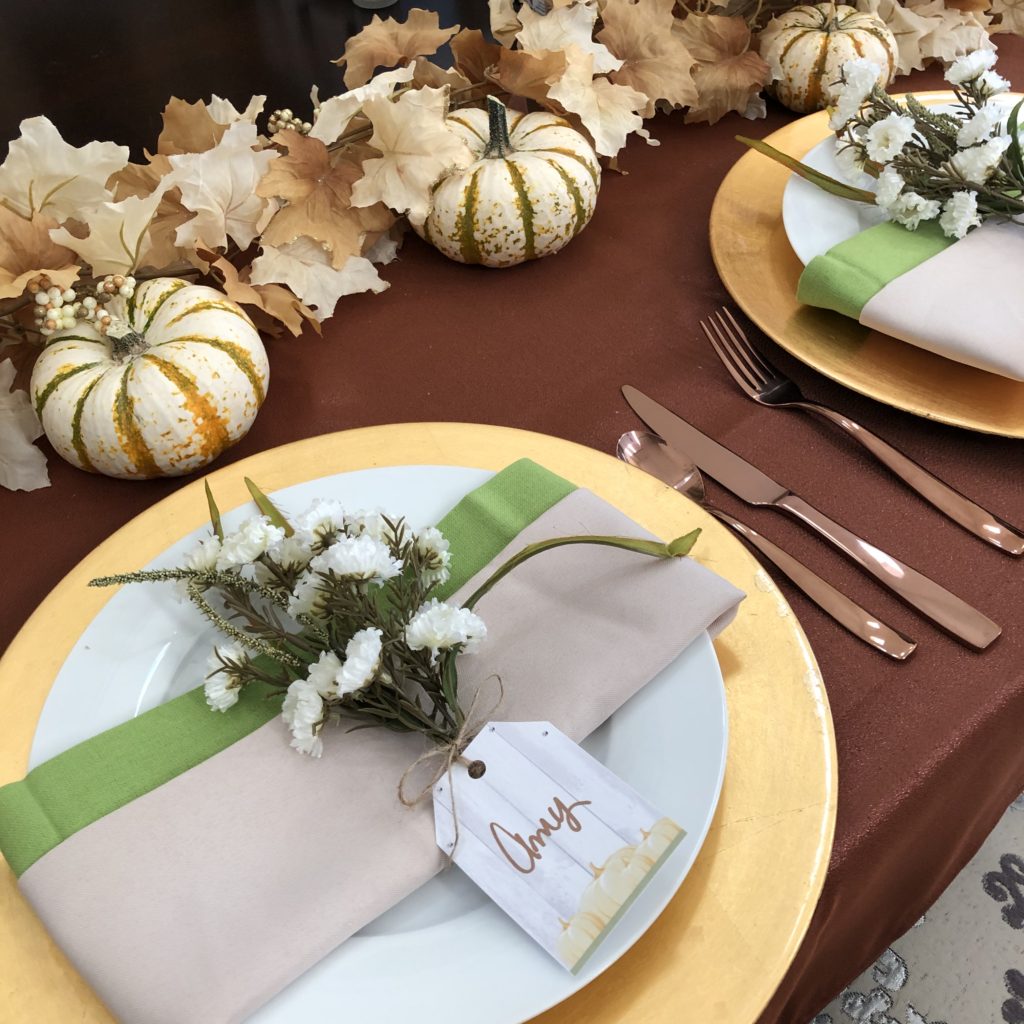 Table Design: I used a monochromatic palate to keep it simple and stress-free. I used a copper metallic tablecloth to give it an autumn inspired base and a more formal feeling. I focused on simple gold serving trays and chargers mixed with white drink tray and plates to keep the colors simple. I also added copper colored silverware to continue the monochromatic look from the table cover. I topped the white dinner plate off with a cream and spring green layered napkin to play off the accent colors in the centerpiece garland and in the pumpkins. And lastly, I tied a small bunch of faux flowers and whimsical grass together with natural jute twine and attached a personalized name card to the bunch to lay in the center of the plate on top of the napkin to make guests feel special.
DIY Centerpiece under $10: Keep it simple and monochromatic for an easy, affordable and elegant look for Fall entertaining. I added a cream colored leaf garland that I found at Michaels on special for just $5 ($15 originally) down the center of the table and nestled in a few white pumpkins with natural orange and green veining on them into the garland. The pumpkins came in a bag of three at Walmart for just $4 so a beautiful DIY centerpiece for under $10. It's really that simple!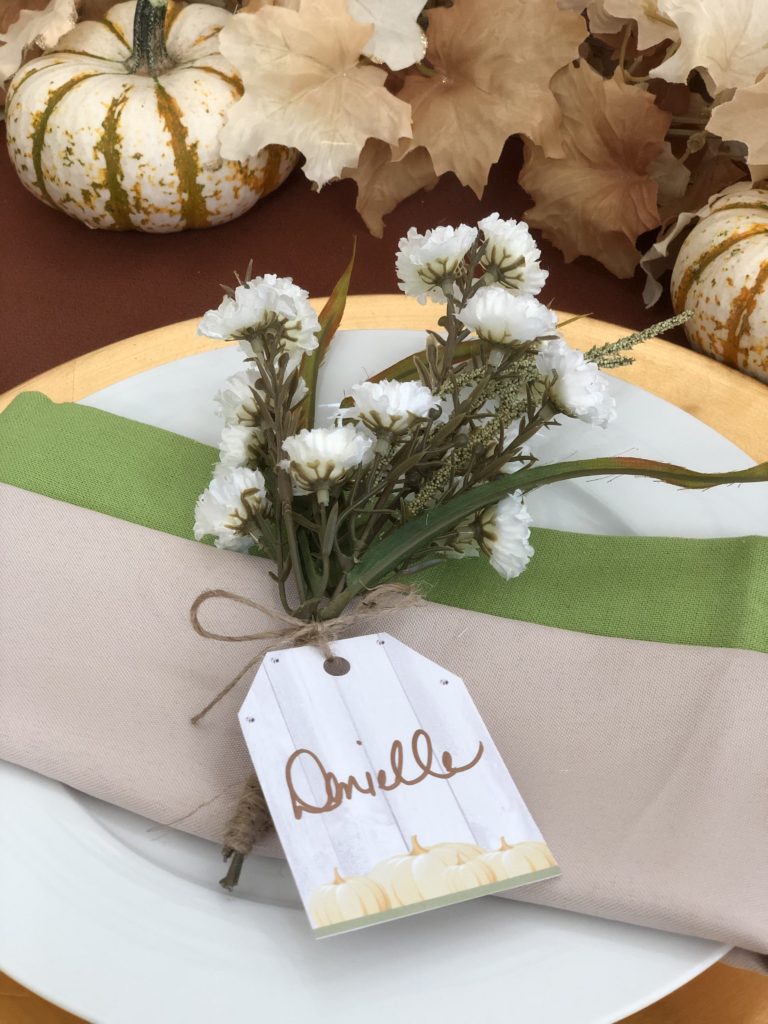 Menu and Name Cards Templates: Don't forget to add a cute name card at each pacesetting to make guests feel special and adorable menu cards to identify what you are serving if setting up buffet style. Don't stress about having to create them yourself, there are wonderful and affordable designs you can simply download and print on Etsy! Here are some adorable cards you can download from Beth Kruse Custom Creations on Etsy for around $5 and then use some white cardstock and print out however many you need on your own printer! Beth Kruse Custom Creations: https://www.etsy.com/shop/BethKruseCC?
Pro-Tips Fall Entertaining:
Table Design
I'm a fan of using what you have to set an elegant and creative table for Fall entertaining. Don't shy away from hosting a party because you don't have enough place settings that match. I actually love a mismatched table because it gives your table more interest and character.
I love "shopping my house" and pulling things from different rooms to create a fun look for my table. Dig through my cabinets for plates and bowls and pull candleholders and décor pieces from around the house. As long as you have a thread of consistency with the color or the texture or the material, it just works beautifully!
*Design Tip: Things don't have to be perfect or match to be beautiful. The key to making it work is to find a thread of consistency in a color, shape or type of material.
Music Selections
Playlists make picking and playing the perfect music a breeze! Choose music that is softer in nature and can play in the background as ambiance. Some of my favorite artists are John Legend and Michael Buble to create a really relaxed atmosphere for guests to enjoy.
*Fun Tip: You can also ask your guests to email you the name of their favorite song and design a custom playlist created from your guests themselves. They'll love hearing their favorites come on and they'll appreciate that you were a host with them in mind!
Recommended