Easy Homegating Ideas for Celebrating the Super Bowl at Home
We are still social distancing but that doesn't mean we can't be festive and celebrate with just the family in our house this year. Here are some Easy Homegating Ideas for the Super Bowl that are all super affordable and easy ideas to quickly set up your table and start the celebration!
Easy Decor Ideas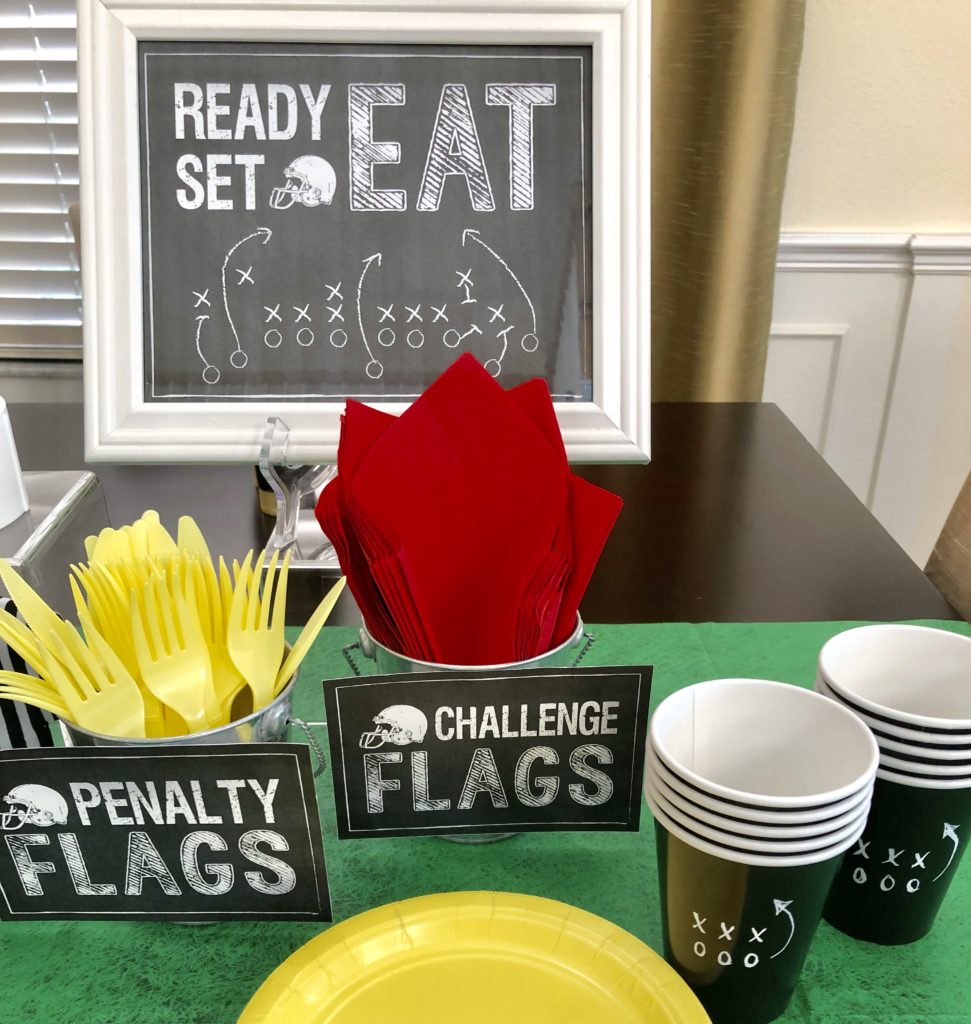 I always love when or stations are marked because it is an easy way to add to the personalization and visual design of the table but don't feel pressure like you need to make them yourself. I found mine on Etsy in the Beth Kruse Custom Creations Shop. It was as easy as downloading and printing them on my printer at home to have a professional and pulled together look for the table. Inexpensive and easy is what everyone needs when they are planning a party, right? Hope on Etsy and give it a try!
https://www.etsy.com/shop/BethKruseCC : Hydration Station Signs: $6.75 | Ready, Set, Eat: $5
*Pro Tip: Use Yellow Plasticware and Red Napkins with these cute signs from Etsy to set up Challenge Flags and Penalty Flags themed decor.
Stadium Snacks for Super Bowl
Easy Dump and Go Chili Bowls with Mini Cornbread Muffins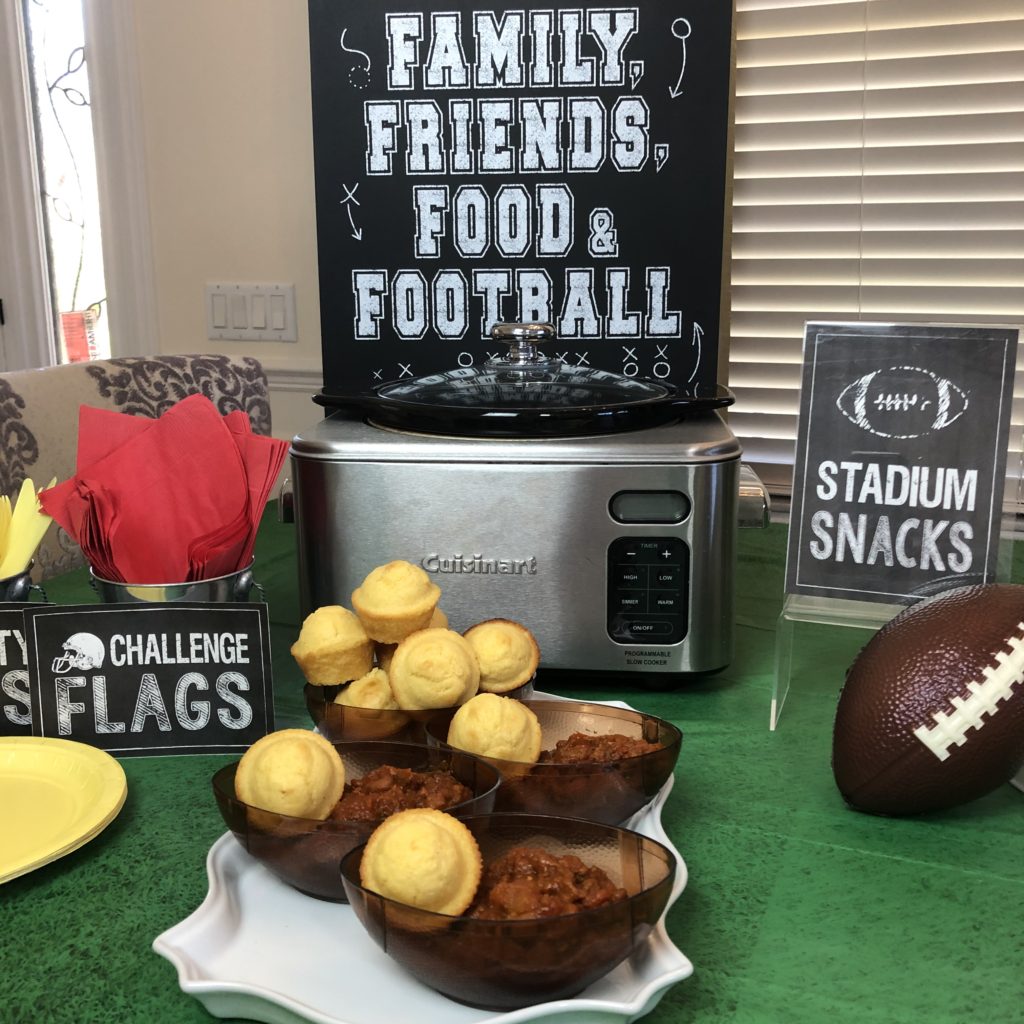 Easy Slow Cooker Chili Recipe
(1) Package of Ground Beef – Cooked in Skillet
(1) Double Can Diced Tomatoes
(2) Cans Chili Beans
(1/2) Can of Tomato Paste
(1) Package of Caroll Shelby's Chili Mix
Simply add all the ingredients to the slow cooker, stir and cook on low for several hours . Taste and adjust seasoning then serve.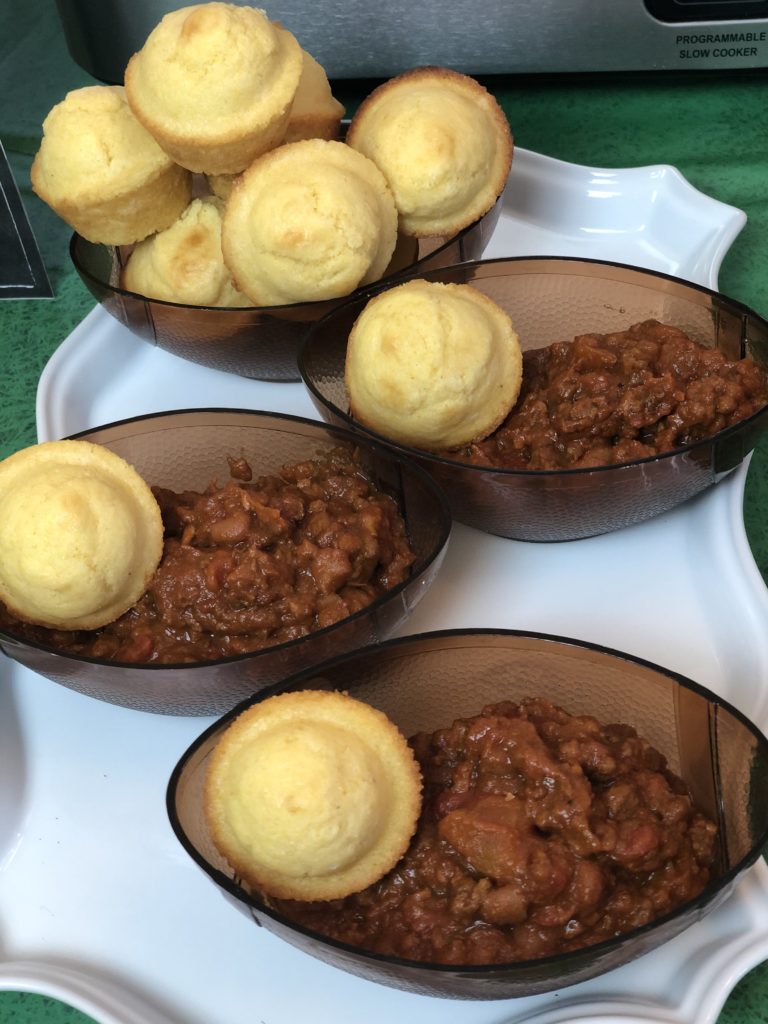 Semi-Homemade Buffalo Chicken Sliders:  Using Premade Buffalo Chicken Dip / Assemble and Bake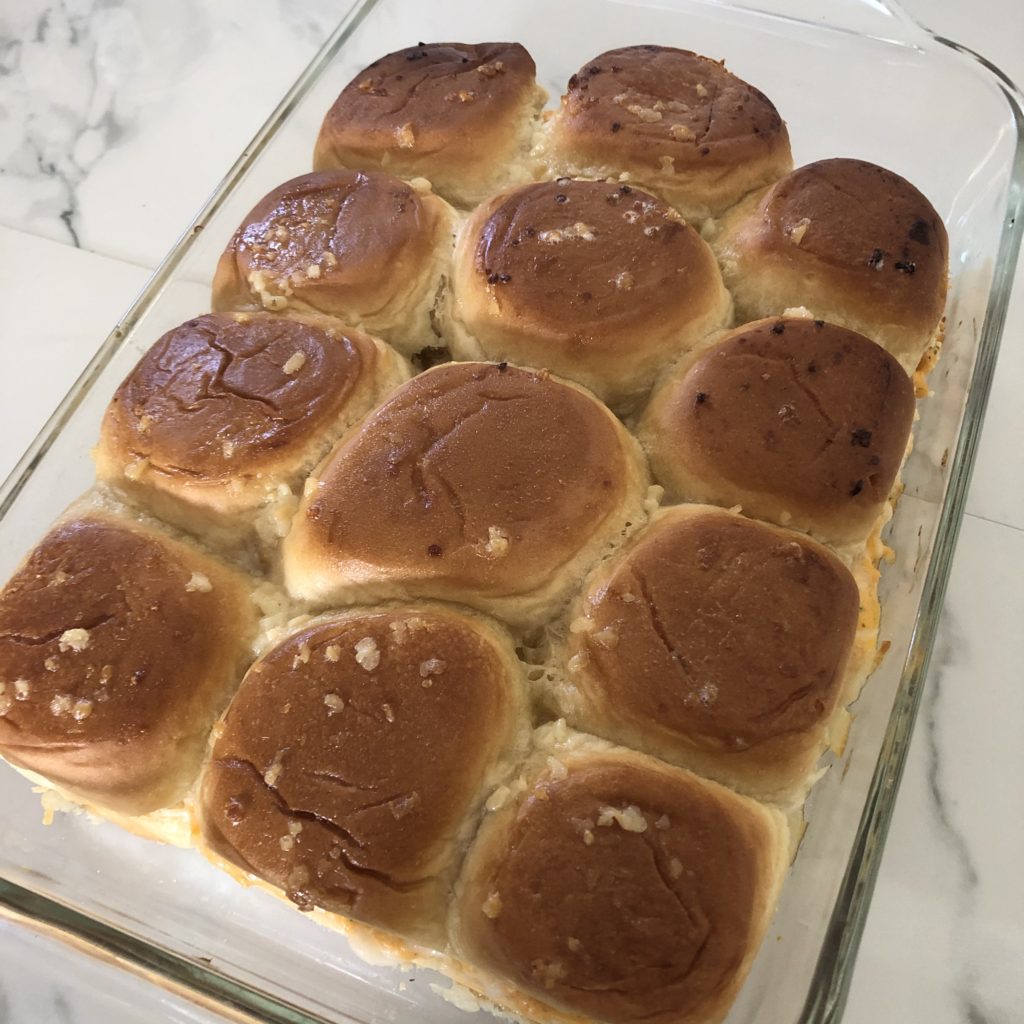 This couldn't be any easier to make! Slice a package of dinner rolls or hawaiian rolls in half. Place the bottom half in the dish and spread with premade Buffalo Chicken Dip (you can find it in most deli areas of the grocery store). Top with mozzarella slices or shredded cheese. Put top of buns on. Melt butter with garlic in the microwave and drizzle on top of the buns. Cook on 350* for about 10-15 minutes and serve with a spatula right out of the pan.

Festive Snack/Dessert Station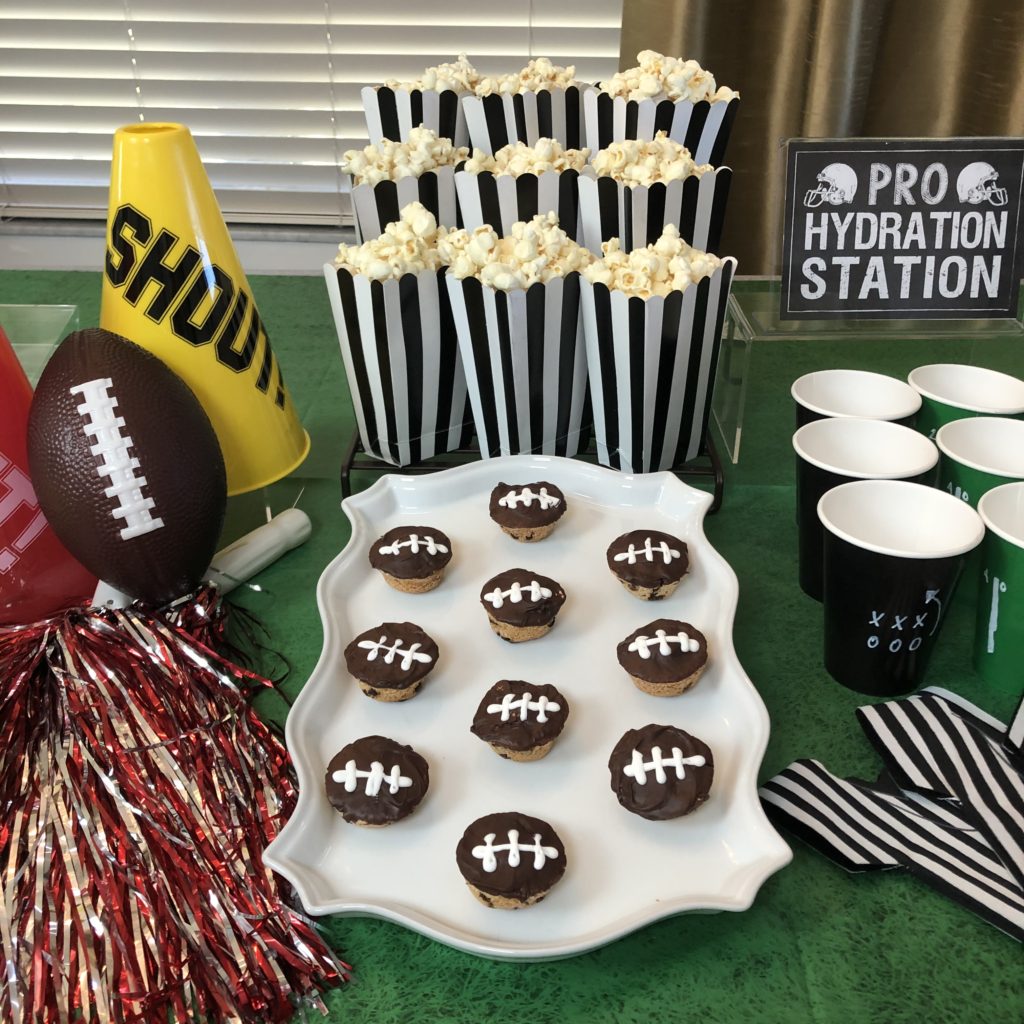 Set up Referee Striped Boxes filled with Popcorn for a festive football look. The boxes are a super inexpensive party store find. Or, grab them in the colors of your favorite team.
Use mini chocolate chip muffins or brownies. Dip the tops in melted chocolate and use white cookie icing to make the football laces design

Beverage Station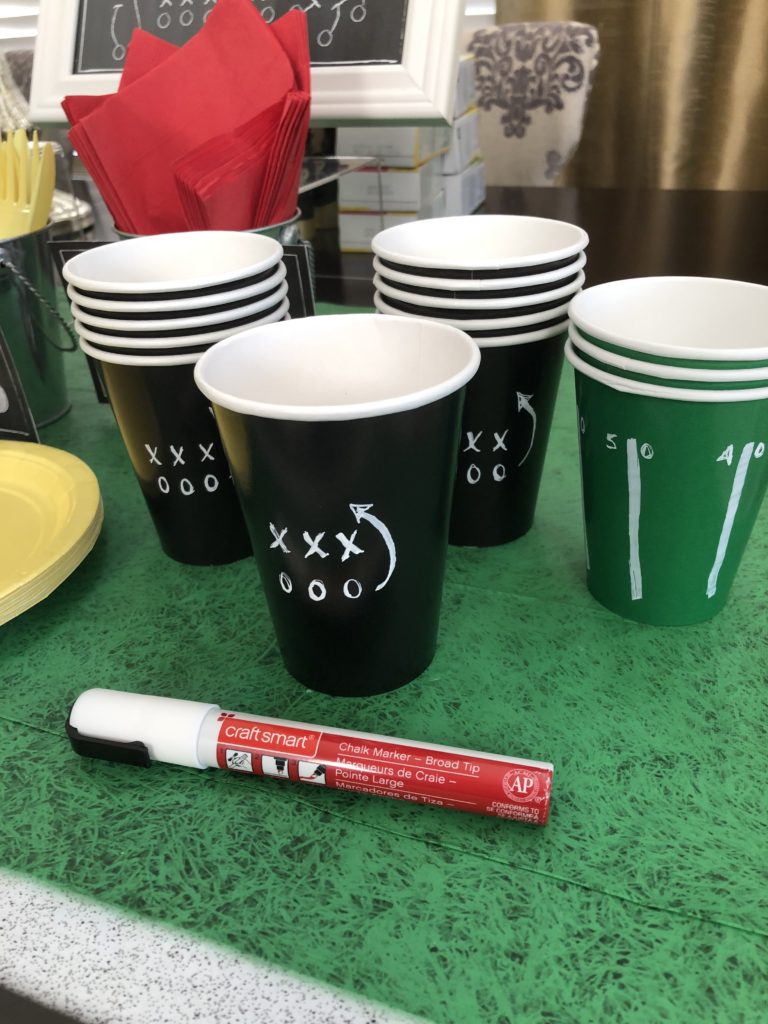 DIY Football Play Cups:
Purchase a stack of black disposable cups and white chalk markers from the craft store and have the kids help you draw football plays on the cups for a custom and fun design to your table. It also works with green paper cups and have the kids draw yard line designs on each of the cups. Set each cup aside for a few minutes to allow the chalk marker to dry and voila you'll have a custom designed set for your tailgate or homegate party! Have kids fill the cups with their healthier snacks and they won't feel like they are missing out on anything. They will think they have a treat table just for them!
Photo Prop Station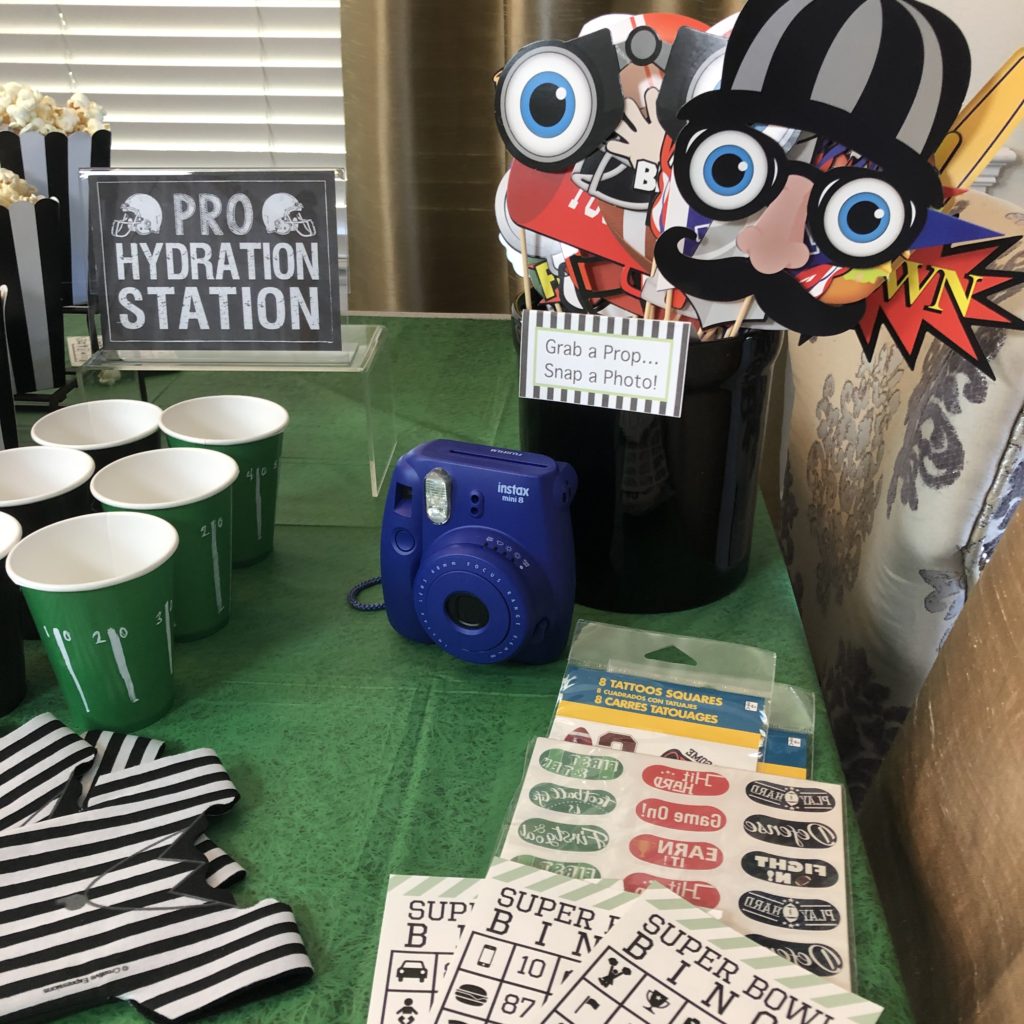 Set out an instant camera and a bunch of football themed props and create some fun memories!
Recommended