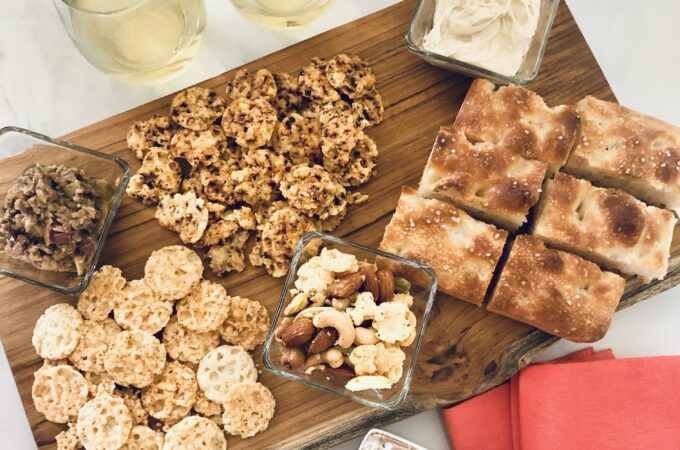 How to Make a Super Easy Snack Board
Whether it is a weekend Sunday Funday or a quick weeknight girl chat, here is how to make a super easy snack board in minutes with just a few ingredients from your pantry and fridge.
All you need are a couple flavors of Parmcrisps, everyone loves them so I always have a few bags in my pantry. I like to use their original and jalapeño flavors as well as their snack mixes. Then add some olive tapenade, I get mine from Trader Joe's for around $3 and keep an extra jar in the pantry so I always have it to pull out if needed. Then add hummus drizzled with olive oil and lemon juice. I usually buy a package of the individual sized hummus containers so it stays fresh and I can use them as I needed. I scoop the hummus out into a glass bowl and then I doctor it up with a drizzle of olive oil, lemon juice and sometimes a sprinkle of feta cheese. Last, add some squares of fresh focaccia bread. You can buy it or make your own, whichever you prefer. Pour a couple glasses of wine and you have a perfect Fall Snack Board.
Here is a recipe for the easiest focaccia bread you can make at home. Tip: you have to make the dough the night before so it can rise in the refrigerator overnight but I mastered this recipe over quarantine and it comes out perfect every time! If you try it, leave me a comment and let me know how it turned out for you…
This recipe uses a 9″ x 9″ nonstick pan. I've tried many different pans and this is by far my favorite one. The bread never sticks and comes right out every time – best part it's under $10 on Amazon. *This is an affiliate link
Focaccia Bread
(makes one 9″x 9″ bread)
2.25 Cups All-Purpose Flour
1/8 Tsp Active Dry Yeast – Fleischmann's Instant Dry Yeast works best
1 Cups Warm Water
1/4 + 1/8 Tsp Coarse Sea Salt
1 Tbsp Extra Virgin Olive Oil
TO TOP THE DOUGH
Olive Oil, Coarse Sea Salt
DIRECTIONS:
Mix Flour and Yeast in Bowl
Warm 1 Cup Water in Microwave for about 45 seconds then Dissolve and Mix Salt in Water in the Measuring Cup or bowl
Add Water Mixture and Olive Oil to Flour -Mix until Combined into Wet Dough
Transfer to an olive oil greased bowl and fold corners over 4-5 times
Let rest covered for 20 minutes
Fold corners over again and seal with lid or plastic wrap to put in fridge overnight
Take out of fridge and put into an olive oil greased baking pan. Try to press dough into the corners and full pan. If stubborn, wait 10 minutes and try again.
Cover pan with lid or damp towel – Place under oven light for 1 hour to rise
Dip fingers in bowl of water and dimple all of dough by taking fingertips and pressing straight down
Cover Pan and Place back under oven light for 1 hour for 2nd rise
Drizzle Top with olive oil and salt
Preheat oven at 450*
Cook for 20 Minutes – Take out of pan and place on cooling rack for 20+ mins
Recommended