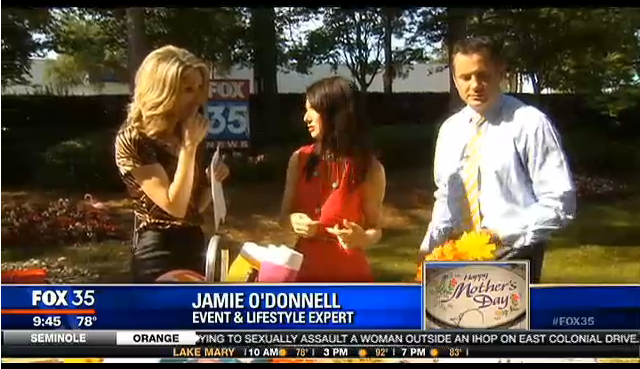 Mother's Day Gift Ideas Sure to Make You Her Favorite!
Need some last minute help to find the perfect Mother's Day gift?  Don't worry, I've put together a list of ideas that are sure to make you her favorite this year! 
How to Make a Gift Meaningful:
Put some thought into it and then turn a gift into an experience or tie it to a past memory
Mom Always Takes Care of Us – Who Is Taking Care of Mom?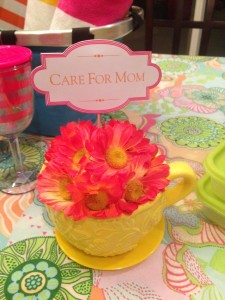 Focus on experiences or pampering items to help or restore her:
Dinner is Ready! – "Cook" for Mom by giving her a gift certificate to have dinner for the week made AND delivered to her front door by a Personal Chef. Best part is that she'll love that this food is healthy for the family but absolutely delicious! Collette's Clean Eats – Meals range from $7 – $14 each – www.collettescleaneats.com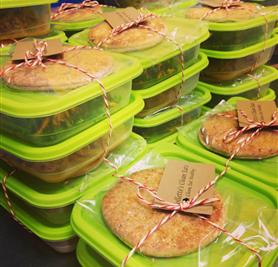 "Ohm" it's Time for Some Zen – Give Mom some peace and quiet with some zen to unplug and release stress. One of my favorite things about yoga is the fact I have to turn my phone off for an hour and a half that belongs to only me.  That plus some serious stress-relief to keep me sane so give Mom some Zen Time to herself with a certificate for a Yoga Package paired with a new bag and workout clothes from Athleta at Mall at Millenia – (10) Yoga Class Pack – $110 / Athleta Bag – $96 / Workout Clothes – $44 – $69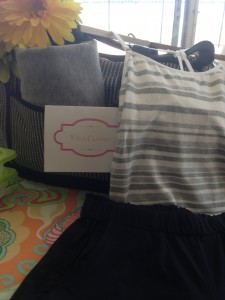 Untie the Knots – Treat Mom to a Spa visit for a massage to untie the knots and eliminate the stress. Pick her favorite spa and depending on your budget go for a 90 minute massage or a massage package that includes a massage and facial –  $100-300
Polish and Shine –  A great Manicure and Pedicure can make you feel like a new woman and it's wonderful to have someone dote on you for two hours rubbing your hands and feet so treat mom to a gift certificate at her favorite nail salon for a little bit of "me" time and a great mani-pedi.  Pair the gift certificate with a couple bottles of OPI nail polish in great colors and she'll love it! – $35-50
Quality Time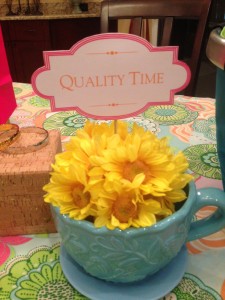 Don't forget that just because Mom became a Mom, she is still a beautiful woman and individual so amp up the quality time and bring back Date Night!
Sun, Surf and Sand – Plan a romantic picnic at the beach for a relaxing recharge! Buy a great picnic basket, fill it with her favorite bottle of wine, snacks, two new towels, fun plates and wine glasses with a love note certificate for a romantic date to the beach – Foldable Picnic Basket, plates and wine glasses – Michaels – $2.99 – $14.99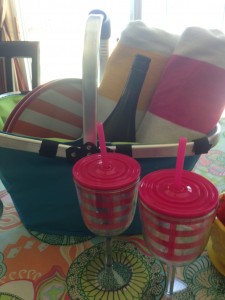 Date Night Jar – Make quality time a priority and start up a monthly date night.  Purchase a calendar and mark a monthly date night in the calendar then pair it with the Date Night Jar from www.greatdatesorlando.com that has over 60 date ideas and locations already planned.  Simply pick one from the jar and go! Date night jar – $25
Weekend Getaway – Plan a weekend away to reconnect and recharge sans kids.  Give her a love note certificate and pair it with a gorgeous pair of new sunglasses like the Dolce & Gabbana Cat Eye Sunglasses with enamel flower wings from Ilore at Mall at Millenia – $770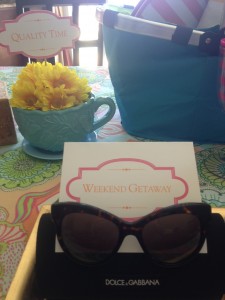 The Great Escape! – Gift Mom a Mall at Millenia Gift Card for Shopping Spree paired with a Restaurant Gift Card to give her a break and a much-needed Girl's Day Out!
Sentimental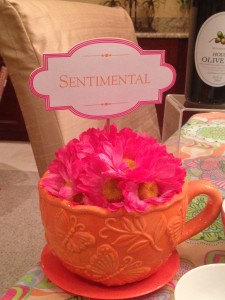 Make it meaningful! Give Mom a personalized gift, something that fuels a hobby she loves or flowers that won't fade that she can  enjoy with fond memories for years to come…
"Mom Says So" Bangle Bracelet – This is one of my favorite finds!  What Mom doesn't hear themselves say things like "Do Your Homework", "Say Please", "Say Thank You" and then when they are questioned answer with "Because I Said So" so this adorable bangle has these phrases cleverly written in different scripts around the outside of the bangle and then hidden on the inside of the bracelet is the phrase "Mom Said So". It comes in both gold and silver from Kate Spade at Mall at Millenia – $58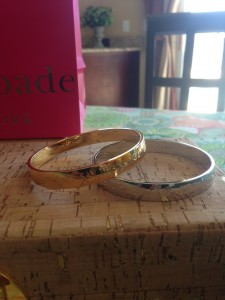 Pandora Bracelet – I love this bracelet as an idea of something you and the kids can build on each year.  Pandora has so many great charms it makes it easy to personalize based on what Mom's interests are and what she loves!  Pandora at Mall at Millenia – charms start at just $35
Personalized Custom Bracelet by Kim Barnes Designs – Have a sterling silver bracelet made with the names of the children on it so they will always be close to her heart when she wears it.  To order contact: kimbarnesdesigns@yahoo.com  
"M" stands for Mom the Jewel of our Hearts – Remind Mom every time she goes to put jewelry on how special she is with a unique initial jewelry box from C. Wonder at Mall at Millenia – $78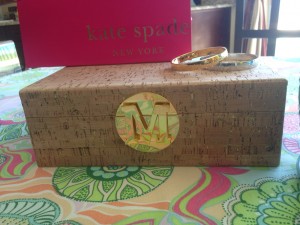 Cook Your Way to Mom's Heart – Most of our fondest memories are made helping our Moms in the kitchen preparing dinner or for holidays.  Le Creuset is considered a premier cooking line and heirloom cookware that gets passed on from generation to generation.  Le Creuset has made a beautiful cast iron sauce pot in Lapis with Happy Mother's Day engraved into the wooden handle for a perfect gift that will warm Mom's heart every time she cooks with it as well as warm the heart of generations with memories of who cook with it too!  You can find this unique gift at Williams Sonoma at Mall at Millenia – $169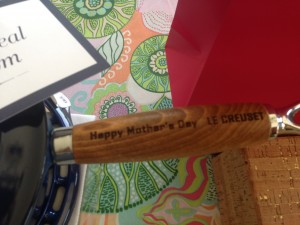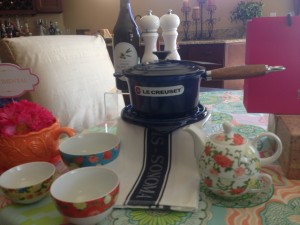 Family Photo Shoot – Schedule a family photo shoot at a local studio or hire a photographer to take family portraits in a great outdoor setting.
"Give Flowers" – Since flower patterns are so on trend this season, I thought what a great alternate way to give Mom flowers that won't fade so she can enjoy them for years to come. I found a beautiful floral designed teapot, cup and bowl set from Papyrus at Mall at Millenia – $20 – $25
Sweet Treat Flower Box – A delicious box of freshly baked, hand-painted flower cookies for Mom as an alternate to traditional flowers. From Hello! Sugar Desserts – www.hellosugardesserts.com $25
DIY – Love Letter Decorative Pillow – Write Mom a love note and then copy it onto a sheet of iron-on transfer paper (you can buy these transfers at Michaels or an Office store).  Purchase a white decorative pillow cover (Joann Fabrics) and then iron-on the love note so Mom always has a sweet note of loving words from you or the kids on her bed or sofa as a reminder of how special she is!
Recommended