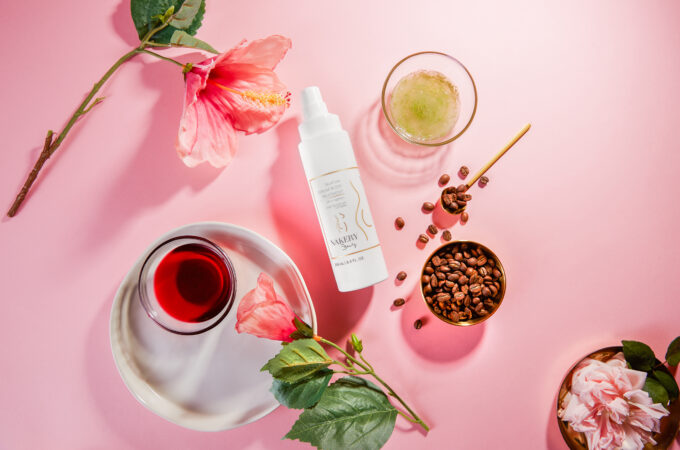 Mother's Day Gifts and Entertaining Ideas
I love celebrating the Moms in our lives for all they do and I'm sharing some of my favorite Mother's Day Gifts and Entertaining Ideas covering everything from Beauty and Fashion to Home and Family Gifts and Entertaining.
Mother's Day Gift Ideas: Beauty and Fashion
OLAY'S AHA SERUM BRIGHTENING BOOSTER
Pamper Mom with a Brightening Boost for her Skincare Routine. OLAY's AHA Serum Brightening Booster adds a brightening boost to you skin care regimen. It helps tackle uneven skin tone and is the perfect pairing for the OLAY Regenerist Whip SPF 25 Face Moisturizer. The NEW Boosters collection, sold exclusively at Walmart, let's you personalize your beauty routine for your specific skin care needs. Other boosters include: Salicylic Acid: for rough skin, Vitamin E Oil: for dehydrated skin, Jojoba Oil: for dry skin, Coconut Oil: for dull skin.
Walmart and Walmart.com, Under $15
OlAY REGENERIST VITAMIN C + PEPTIDE 24 HYDRATING MOISTURIZER
Brighten Mom's Skincare Routine. Olay's proprietary technology brightens dull skin instantly, leaving you with two times brighter skin. The perfect blend of ingredients corrects the look of uneven tone and texture without clogging pores and with 24-hour moisture. It's also proven to hydrate better than a $400 cream. Includes dermatologist recommended ingredients like Vitamin C to protect against free radical damage, brighten skin and boost collagen production. Vitamin B3 to boost surface cell turnover and AHA Lactic Acid to exfoliate and tackle hyperpigmentation to reduce appearance of dark spots.
Olay.com, Under $30
OLAY BODY WITH COLLAGEN
A Gift that Gives Back and Makes a Difference for Moms. For every bottle of Olay Cleansing & Firming Body Wash, Olay Firming Body Lotion and Olay Cleansing & Replenishing Hand Wash purchased at Walmart between April 30 through May 27, Olay Body will donate $1 to Every Mother Counts. Every Mother Counts is a non-profit working towards a world where no one dies from, or experiences, preventable pregnancy and childbirth complications. All of the products in the promotion include the powerful ingredient Collagen, that hydrates the skin with plumping moisture to tighten for skin that's younger looking. Find more information on the program at https://www.walmart.com/m/brands/OlayBody
Purchase products at Walmart or Walmart.com – $4 – $10
DOVE ULTIMATE ANTIPERSPIRANT
Gift to Keep Mom Cool Under Pressure. Created with breakthrough water-based technology for a smooth glide and to help restore underarm skin to best condition. The revolutionary formula contains high concentration of glycerin, which soothes dryness and helps improve texture, for soft and healthy-looking underarms. Meaning you can get the ultimate skincare without compromising on antiperspirant protection as the entire range protects from sweat and odor for up to 48hrs.
Dove.com $9.99
NAKERY BEAUTY
Pamper Mom with some Full Body Beauty. The brainchild and passion project of mega-popular HSN on-air guest Liz Folce, Nakery Beauty is the result of years of listening to the network's mostly female audience express their frustration that they just couldn't find the same quality and variety of skincare for their bodies as they could for their faces. Nakery Beauty skips the one-size fits all product nonsense and instead offers up a full body agenda. From a cooling underboob deodorant to a skin-firming mist that targets dimples and stretch marks, the formulas are full of clean, natural, good-for-you ingredients and formulas. HSN.com,$22-$44
OBAGI CLINICAL
Gift for New Moms Who Need a New Skincare Routine. Obagi Clinical's products are specially designed for prejuvenation (prevention + rejuvenation) and to address the skin concerns. There are 3 lines to help with skincare needs. The Brightening lines focuses on products that combine antioxidants and brightening ingredients like Vitamin C and arbutin to address dull, uneven skin tone. The Retexturing line focuses on combine facial exfoliators and other ingredients including retinol and salicylic acid to address rough skin, fine lines, wrinkles and pores. The Fine Lines and Wrinkles lines focuses on products that combat signs of skin aging, appearance of dehydrated skin and more. Products are formulated with Kinetin+ Complex a nature identical blend of plant growth factors and go-to ingredient for sensitive skin.
Target.com, $38 – $145
MADISON REED RADIANT HAIR COLOR
Treat Mom to an At-Home Hair Care Subscription or Trip to the Salon. Madison Reed Radiant Hair Color is an easy to use, at-home hair color kit with everything you need to get rich, multi-dimensional color made with ingredients you can feel good about like keratin, argan oil and ginseng root extract. Available in 55 shades, it's long-lasting hair color that provides 100% gray coverage that feels and looks healthy, conditioned and shiny. All products are crafted in Italy according to strict European Union standard, are Leaping Bunny Certified and have Smart-8 Free formula crafted without ingredients like: ammonia, parabens, gluten. Use product at home or head to one of the Madison Reed Hair Color Bars in DC.
Madison-Reed.com, At Home Kit: $30
HOT GIRLS PEARLS COOLING CHICKLET BRACELET
The Gift that will Keep Mom Cool and Fashionable. Hot Girls Pearls are freezable cooling jewelry for women. The chicest and most stylish way to stay cool. The Chicklet Cooling Bracelets is one of the newest and most successful new products. With the look of real stone, no one will believe you when you tell them you have an ice pack around your wrist. Each bracelet comes in a free freezable travel pouch, Put in freezer for at least 4 hours and get up to 30 minutes of cooling relief. Pouch will stay cool for hours so if you are on the go, just put the bracelet back in the pouch to re-cool. Perfect on golf course, tennis court or after a workout. And because they are so pretty, will look amazing with any outfit. Perfect gift for any fashionable Mom!
HotGirlsPearls.com, $50
SHINERY SPARKLE + SHINE GIFT SET
Help Mom's Jewelry Sparkle and Shine First of its kind, clean, non-toxic jewelry care collection is the safest and easiest way for Mom to clean her jewelry and keep it shining year-round. Mom can easily clean her jewelry simply by washing her hands with SHINERY Radiance Wash. After cleansing, rub the Illumination Pom onto dry jewelry to remove and absorb tarnish. Maintain shine, anywhere, anytime with the travel-friendly Radiance Towelettes that physically lift and trap dirt, oil, beauty buildup and other residues when wiped across the surface to reveal visibly radiant results.
Shinery.com, Amazon, Nordstrom, $75
PURE SYNERGY
Give Mom the gift of Better Health.All Pure Synergy products are manufactured in their green-powered, certified organic facility in Utah. Everything is made hands-on, not with 3rd parties so they take full control of the ingredients and manufacturing to guarantee the highest possible quality standards. Producing products to help keep Mom healthy like SuperPure Astaxanthin to support skin, eye, brain health, Pure Radiance C to support immune system and Stress Remedy to promote healthy stress response and boost mental clarity. As a Certified B Corporation, Pure Synergy strives to make positive change for people, the planet and their community through environmental practices and giving back. They are using business as a force for good.
TheSnyergyCompany.com, $30 – $37, 10% Discount through May, CODE: JAMIEO10
Mother's Day Gift Ideas: Home and Family
TRANQUILITY WEIGHTED BLANKETS
Give Mom Gift of Calming and Restful Sleep. The perfect Mother's Day Gift, Tranquility is America's #1 weighted blanket. With thousands of rave reviews and user endorsements, Tranquility's deep calming pressure will help Mom decompress, fall asleep faster and wake feeling more rested. It's a thoughtful gift any mom is sure to love and is available in a range of weights and styles including a temperature-balancing and chunky knit at Target and Walmart.
Walmart.com or Target.com, $50 – $100
ELLIQ
Perfect Companion Gift for Grandparents and Older Adults. ElliQ is the sidekick for healthier, happier aging and accompanies older adults on their journey to age independently. First-ever proactive and empathetic AI care companion designed to proactively empower older adults to live active, engaged and connected lives at home while alleviating the effects of loneliness. ElliQ connects seniors to their loved ones and the outside world. Through acknowledgement, proactive engagement and referencing previous conversations ElliQ is more of a presence that accompanies seniors as opposed to just another device in the home. Offers range of wellness, communication, entertainment and assistive features, including physical exercise videos, mindfulness exercises, regular check-ins, health goal setting and tracking, texting and video calling with friends and family, music, trivia and more.
Elliq.com, Pricing Begins at $29.99/mo subscription plus a $249 enrollment fee incl: account set up, installation support, 4 wellness coaching sessions, 3 service-free concierge transactions, shipping and handling.
ROASTED WHISK
Roasted Whisk's Coffee is Self Care Gift Box is the perfect gift to show Mom how much she is loved. It's a little "TLC", tender love and coffee that includes Café Cubano Coffee, Hand-Poured Soy Candle, Coffee Handmade Soap, Vanilla Latte Body Lotion, Mug and Coaster. Roasted Whisk is a gift box company with amazing coffee inspired products like espresso infused baked goods, mugs, coffee and cookie scented candles and more.
RoastedWhisk.com, Reg: $67.50 – 15% OFF – CODE: MOM15
KELVIN GLAMSOCKETS
Fashion Meets Function for Mom at Home or On the Go. Kelvin Glamsockets are decorative Wall Mount Surge Protector with 3 outlets, dual USB charging ports, a phone holder and indicator light. Spruces up plain wall outlets with styles from Marble to the patriotic US Flag. Elevate the design of any room with pluggable art and save space with this multifunctional USB outlet adapter. Charge your phone, tablet, computer, camera and other mobile devices all from the convenience of this one device. Or, Mom can take it on the go for convenient charging power when travelling!
KelvinTools.com, $34.99
NATIVE PLANT SETS
Garden for Wildlife's native plant collections take the guesswork out of selecting the best plants for where you live. The plant collections do the greatest good for wildlife in the area they're planted, in fact doubling the wildlife in just one season. These native plant collections make it easy for anyone – expert or newbie – to plant with a purpose and help the planet. Plus, the chemical-free plants are shipped to your door with all the tips you need to grow. GardenForWildlife.com, $34 – $118
THERMACELL LIV SMART MOSQUITO SYSTEM
Gift for Mom and Family to Enjoy the Outside without Mosquitos. LIV from Thermacell is the first smart, on-demand, built-in mosquito repellent system that allows you to spend time outside without the worry of mosquitos. Just launched, this system protects large and small spaces like patios, pools and play areas. Thermacell has been effectively fighting mosquitos for 22 years and the LIV+ app provides protection from the palm of your hand. It conveniently allowing users to control the system from anywhere, set schedules, monitor repellent levels and more. Users can even use voice commands through Amazon and Google smart speakers.
Thermacell.com, $699 for 3 Repeller Kit (Financing Options Available)
ROBOROCK DYAD
Give Mom Some Time Off and Tackle The Clean Up. Roborock Dyad is a dirt-detecting, self-cleaning wet-dry vacuum that makes it easy to tackle spills and clean floors. Unlike other wet-dry vacuums, It addresses poor edge cleaning, weak pick up and maneuverability issues. It's the only wet-dry vacuum with multiple rollers and motors, enabling the cleaning system to rotate in opposite directions to efficiently lift both wet and dry messes in one sweep. Also features 2 rear rollers spanning the width of the head so it cleans thoroughly along edges flush with the wall. It also automatically increases water flow and suction power when it detects dirt and touch messes.
Roborock.com, Amazon, $449.99
LEVOIT CORE 600S SMART TRUE HEPA AIR PURIFIER
A Gift of Healthier Air Quality for the Family. Core 600S is Levoit's newest true HEPA air purifier. It's equipped with smart technology and is designed for large rooms up to 3, 100 sq/ft. Captures at least 99.97% of airborne particles including fine dust, smoke particles, pollen, and pet dander, as well as 99.9%of viruses, mold and bacteria. Levoit is the #1 air purifier brand and connects homes with smart products to create clean and comfortable atmospheres. Levoit has received worldwide recognition for its continued innovation in reliable, intuitive designs.
Levoit.com, Amazon $299
Mother's Day Entertaining Ideas
MILTON'S CRAFT BAKERS THIN & CRISPY CAULIFLOWER CRUST PIZZA
Celebrate Mom with a Family Pizza Night. Milton's Craft Bakers offers delicious Thin & Crispy Cauliflower Crust Pizzas. They are Certified Gluten Free and perfect for a family pizza night. Made with premium ingredients and the crispiest crust, these pizzas are ready to eat in under 15 minutes so you'll never have to order deliver again – something I'm sure Mom will appreciate. Plus so good, you'll never know they have cauliflower. Four Flavors: Uncured Pepperoni, Margherita, Four Cheese, Roasted Vegetable.
Available at your local Sprouts, $11.99. To find a Sprouts or other retailer that carries the pizzas visit: MiltonsCraftBakers.com
CORE REFRIGERATED SUPERIOR NUTRITION BARS
Gift Mom with the Mother Lode of Nutrition. Gift Mom with the Mother Lode of Nutrition with CORE Bars. Packed w plenty of fiber, powerful probiotics and no added sugar, help her "chill out" with this delicious, refrigerated snack. These are the ultimate nutrition bar that doesn't compromise on taste. You'll find CORE bars in the fridge because they don't use additives or preservatives. just real food to make Mom's CORE happy!
CoreFoods.com, $2.50-$3
IMPERIA CAVIAR
A Perfect Way to Treat Mom. Imperia Caviar sources it's caviars from the most pristine environments around the world and delivers its fresh caviar straight to your door. Imperia's mission is to make caviar more approachable, accessible and available, all at a reasonable price. They offer an exquisite line of caviar options including Royal Ossetra and Kaluga Hybrid Reserve, available in both single tins and gift sets.
ImperiaCaviar.com – Start at $169 / 130 gram tin
CHINOLA
Treat Mom to something Sweet for the Perfect Cocktail. Chinola Passionfruit Liqueur is handcrafted from distilled spirits and fresh passion fruit making it a perfect way to treat Mom to something sweet this Mother's Day. Produced in Dominican Republic, a bottle of Chinola makes the perfect gift for Moms who love to brunch and to travel. The Chismosa is the NEW MOM-osa. An elegant alternative to the mimosa, simply add Chonola to your favorite bubbly and toast to the special Mom in your life!
Chinola.com, $32.99, Available Nationwide
CASK & KETTLE HOT COCKTAILS
A Perfect Easy, Hot Cocktail for Mom to Enjoy. CASK & KETTLE hot cocktails offer a unique way to make a decadent decaf coffee drink with either a Keurig brewer or hot water. Everything is in the Pod. Simply pop one of the single serve cups into your brewing system – or just add hot water – and a hot cocktail is ready in seconds. A great gift whether they have a brewer or not. Gift Tip: Include a coffee mug or a tea pot to make a complete gift for Mom this Mother's Day!
CaskandKettleUSA.com, Around $15 / 1 package of five drinks
Recommended