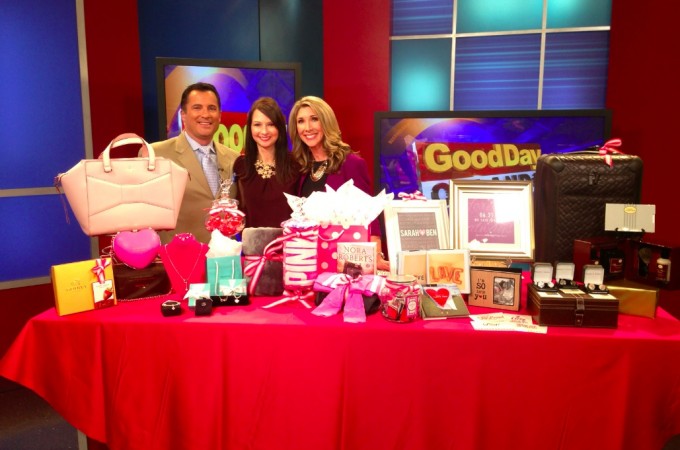 Need Valentine's Day Gift Inspiration? Great Ideas You'll "Love"!
Still stumped on what to get your loved ones for Valentine's Day?  Don't worry, there is still time to find the perfect gift that will earn you some extra points this year!  And, if you are single, I have some great ideas for you to celebrate too!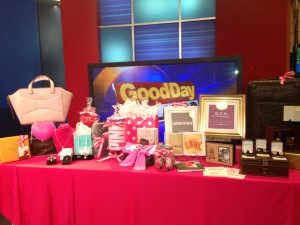 Here's a Quick Tip on How to Make a Gift More Meaningful – What may seem like a basic gift can instantly become a meaningful gift they will love by tying it into a past or future experience – it changes just a "thing" into so much more with a just a little bit of thoughtfulness!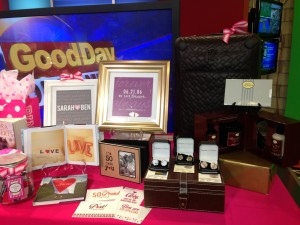 Men – Looking for the perfect gift for that hard to buy for fella in your life, here are some great suggestions!
Allen Edmonds – Limited Edition Cufflinks made from Baseballs used in your favorite team's game – (NY Yankees), Golf and Watch – ($150-$170)   (Such a unique gift and can also pair with sporting tickets) – Mall at Millenia
Art of Shaving – Full size shave kit in sandalwood paired with a gift card for a shave – ($210) – Mall at Millenia
Tumi – Ticon International Leather Zipper Carry-on in Dark Brown ($1495)  (Can pair it with an overnight romantic getaway) – Mall at Millenia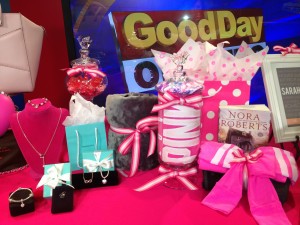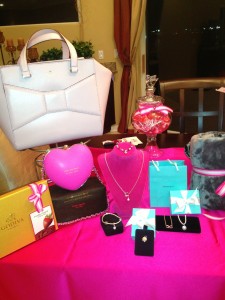 Women – I think Valentine's Day is more about thoughtful and indulgent gifts that she doesn't necessarily need to have… Spoil her this year with something thoughtful and indulgent that she'll just be over the moon for and many gold stars will be in your future!
Tiffany Bracelets – Sterling Silver Tiffany Notes "I love you" charm on bead bracelet – ($150)  /  Rose Gold Tiffany Infinity Bracelet – ($325)  (Very sweet and sentimental gifts that I absolutely LOVE and your Valentine will too!) – Mall at Millenia
Victoria Secret PINK – Cozy pajamas – ($25 each piece) / Brookstone Nap Blanket – ($15) / Favorite Book – ($20)  (Given with the intention that you know she works hard and you'll take care of everything on a day so she can relax, curl up on the couch with a book and blanket and take a day off! This is going to give you Hero Status in her book!) – Mall at Millenia
Kate Spade Purses – 2 Park Avenue Beau Bag – ($498) / Ooh la la bellini Heart Shaped purse – ($248)  (Indulgent Gift to make her feel good) – Mall at Millenia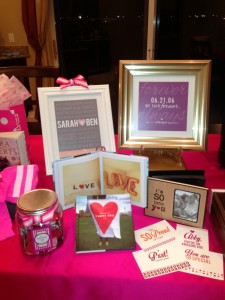 Couples Gifts – I always love the idea of something sentimental that represents the both of you as a couple so here are some great gift ideas that you can enjoy together throughout the year!
Anthropologie – The Art of Love Book – ($13) / Photo Album to Make Your Own – ($7-15) – Mall at Millenia
Date Night Agenda – An agenda containing 12 envelopes and a date night marked off for each month –

GreatDatesOrlando.com

for the date night ideas, buy a great agenda from anywhere and mark of a date night each month and cute notecards to write the date for that month – Your special someone will love it and have something to look forward to each month as a gift that keeps on giving!

J
GreatDatesOrlando.com

– Date Night Jar containing 60 Ideas for Date Nights – most options under $40 – ($25) – Order by Tuesday 2/11 to receive it by Valentine's Day!
DragonflyCustomDesign.com

– Custom Love Notes / Lunch Notes – Pack of 5 ($15) (Send in a name to have the notes customized for a truly special note to hide and find!)

DragonflyCustomDesign.com

– Custom "Our Love Story is My Favorite" Artwork – ($15)  (You can even send in the names of your favorite couples along with your names for the design so it's completely custom and meaningful!)  / Custom "Always and Forever" Artwork – ($15) (We said forever but it's always been you – Send in the date you will say "I do" or have said "I do" for a completely custom piece of artwork to hang on your wall.  It's absolutely lovely!)

Godiva Box of Chocolate Covered Strawberries – ($42-48)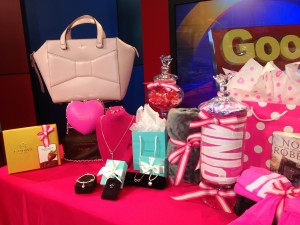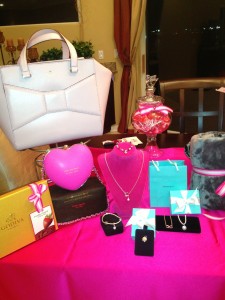 Single – Valentines Day should never be a negative day for anyone and it doesn't have to be just about romantic love – if you're single, plan a fun night out and celebrate the love you share with your friends… Go ahead and celebrate a day that is full of all types of love!  🙂
Tiffany Initial Pendant – Super special gift for your girlfriends that they'll have forever – ($75) – Mall at Millenia

 

(You can add a chain at Tiffany for an additional $50)
Pandora Heart Charm – ($40) – Mall at Millenia
KimBarnesDesigns@yahoo.com

– Sterling Silver and Freshwater Pearl Necklace – $45 / Swarovski Crystal heart bracelet – $50 – All custom designs so you can pick your own colors for your loved ones!

 

Easy and Thoughtful Gift Designed Just for You – Just email, request your preferences and voila! (Great gift idea for a significant other, daughter or for your girls group!)
A special thank you to Over The Top Linen for the gorgeous fuschia linen that made the table look incredibly great! www.overthetopinc.com
I'd love to hear what your favorite Valentine's Gifts you have ever gotten or given are… Please share them with me in the comments below… 
Happy Valentine's Day!
Recommended