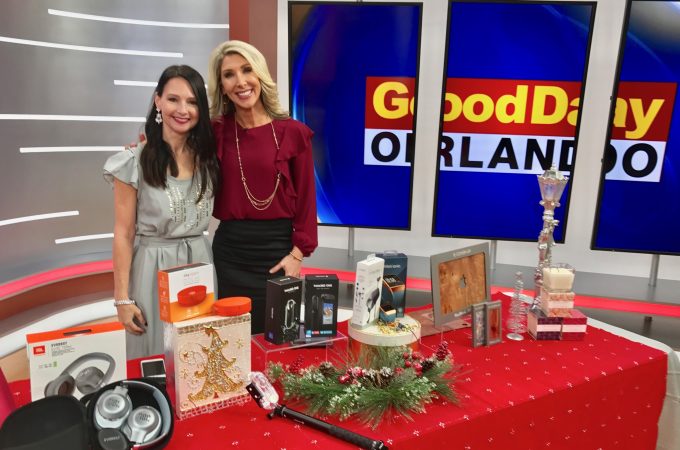 Top Ten Last Minute Holiday Gifts for 2017
Still looking for that perfect gift? Here are my top ten holiday gifts for 2017 to cover all of your fashion, tech, travel and beauty lovers!
The Perfect Pouch by Katie Loxton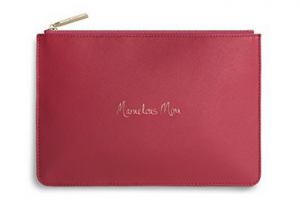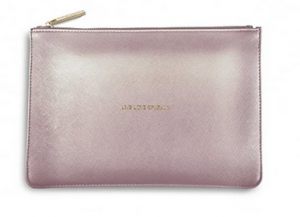 The Perfect Pouch is the perfect stylish gift for your fashionable friends. This versatile bag can be used as a chic clutch for a night out or an adorable beauty bag. It comes in so many different colors and metallics but my favorite part is each bag is embossed with a fun saying like "One in a Million", "Fabulous Friend" or "Be Brilliant" across the front. One of my top go-to holiday gifts is the metallic gold bag embossed with the sentiment, 'Good As Gold' on the front. Love! Size: 14.2" x 10.9" $25  |  Perfect Pouch by Katie Loxton
Skyroam Solis

This is one of the most perfect holiday gifts for the travelers on your list this year. Give them the ability to  Travel Smart with unlimited global WiFi at their fingertips. This little device is my all time favorite travel find! It completely takes the stress out of using the internet or texting when you travel globally. Just purchase a $9 daypass for the day you want to use your Skyroam and it will automatically connect to the local 4G LTE cellular network so you have instant wifi for 24-hours. Best part, you can connect up to 5 devices at the same time so work from your phone and computer at the same time or connect your whole family while you are traveling. It also serves as an external battery so if your phone, iPad run low, just plug it into the Skyroam to charge up. I'll never travel without it again! 100% worth the money! $149.99|  Skyroam Solis
Insta360 One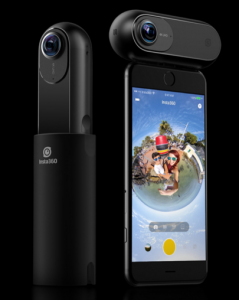 The Insta360 One provides 4K-quality 360-degree video with plug-and-play simplicity. It's an iPhone-compatible camera, with a clever foldaway Lightning connector in the side, ready to connect to your phone. They also have an adapter so you can use it with an Android phone too making it one of the most universal holiday gifts. Once attached to your smartphone, it can be used for 360-degree stills, video, and 360-degree live-streaming through Facebook, Periscope, and other platforms. With the universal tripod mount on one end, it can also be attached to a selfie stick, a tripod, a helmet mount, or even a drone, greatly increasing its versatility.
The digital tricks used to create all these effects has previously been only available to anyone who can use complicated, technical pieces of post-production software. What Insta360 has done is given regular iPhone and Android owners, whether they have knowledge of post processing or not, the chance to create the same effect in moments, with almost no effort.  Holiday Sale $285  | Insta360 One
Fitbit Ionic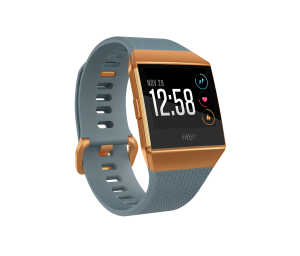 Fitbit Ionic is fitbit's newest release is why it's been added to my top ten holiday gifts for 2017. It has been upgraded with fitness guidance, health insights, music storage for 300+ songs and access to favorite apps like Starbucks and Pandora playlists while still keeping you connected with calls, text and calendar notifications on screen. It's waterproof and tracks swims and it also has a built-in NFC chip so you can use your credit and debit cards on-the-go, anywhere that accepts contactless payments. No more having to carry your credit card during a workout or run! $299.95 | Fitbit Ionic
Fitbit Flyer Wireless Headphones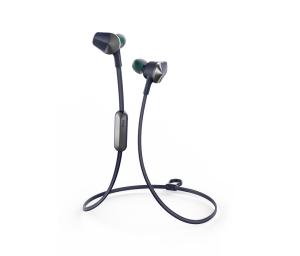 Fitbit Flyer are the wireless headphones designed for workouts—packing premium sound into a comfortable, sweatproof & secure design. Optimize comfort, security and sound by customizing Flyer with interchangeable ear tips, wings and fins in different sizes. Seamlessly connect to Fitbit Ionic for hands-free, phone-free music & more. $129.95  |  Fitbit Flyer Wireless Earbuds
JBL Everest Elite 750 Wireless Headphones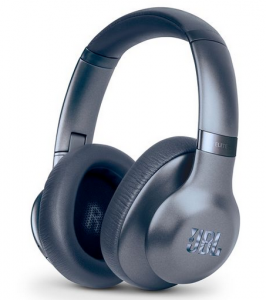 The all-new JBL Everest Elite wireless headphones are designed for 20 hours of listening time on a single charge. Adaptive Noise Cancelling (ANC) mode, allows you to control what you want to hear for up to 15 hours. A 3-hour quick recharge, an echo cancelling microphone for hands-free calls, Legendary JBL Pro Audio Sound, compact hard carrying case and flat-fold design elevate these headphones to travel companion par excellence. These sleek and elegant headphones come in metallic finishes and colors. The My JBL Headphones App features include over-the-air updates that future-proof these headphones, and TruNote™ Auto Sound Calibration that personalizes the audio performance based on ear cup fit, delivering the most authentic version of music possible.
$299.95  |  JBL Wireless Headphones
Creative Energy Candles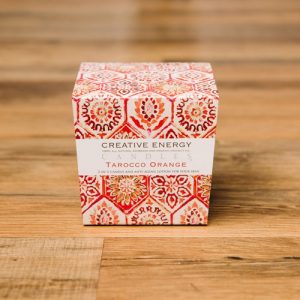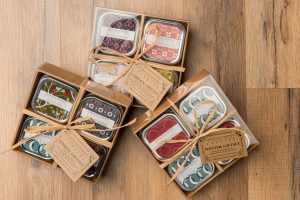 I love double-duty products that serve more than one purpose! This 2-in-1 organic, candle is made of hand-poured soy and melts to create not only a beautiful scent but also a luxe and healthy body lotion that is suitable for all skin types. The candle uses all natural soybean wax and certified organic extra virgin coconut oil plus natural anti-aging properties and healthy moisturizing effects of antioxidants, mineral and vitamins A, E and K.  Try some of their most popular scents like Spiced Pomegranate, French Fig and Amber or my favorite Tarocco Orange!
5oz glass candle $18 | Creative Energy Candles
Cover-up Natural Wood Computer and Phone Case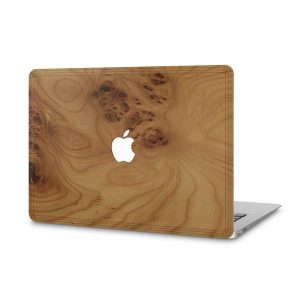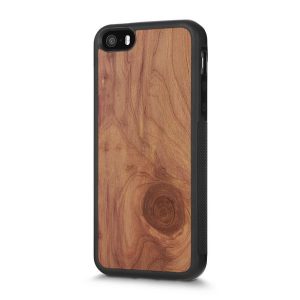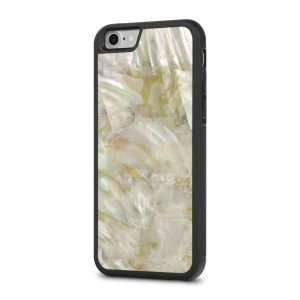 For the nature lover in your life, these natural wood MacBook computer and smartphone covers are the perfect holiday gifts. Handcrafted in Wales, UK, each one is completely unique made from natural materials like a variety of woods, stone and shell. Combining modern and traditional craftsmanship, each piece of wood is laser cut, before being hand-sanded (the good old fashioned way!) to create a super smooth exterior. Coated with a specially selected finish made from a blend of vegetable oils and waxes, the raw wood is given a subtle natural shine that allows it to age beautifully over time – with added protection from water and everyday dirt. All #WoodBacks are made from real wood so every skin or case will have a different and unique grain pattern.
Computer Covers $49 | Smartphone Cases $24 (wood), $45 (shell)  |  Cover-up Cases
Fun Stocking Stuffer: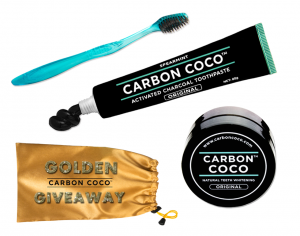 Carbon Coco Toothpaste
Looking for fun holiday gifts to stuff in their stocking this year? Add some healthy charcoal to their stocking with Carbon Coco. It's an oxidized version of charcoal and can be used to effectively whiten teeth. It removes external stains from teeth without the toxic chemical ingredients used in commercial tooth whitening. This tooth whitening promotes good oral health and can change the pH in the mouth, helping to reduce things that cause cavities, gum disease and bad breath.
Carbon Coco is a 100% Natural Teeth Whitener. It naturally whiten teeth, polishes teeth, strengthens enamel and detoxifies your mouth without any chemicals and added nasties. What's in it? 100% Organic Coconut Shell Activated Charcoal with a hint of bentonite powder and lemon myrtle.
$59.95  | Carbon Coco
Recommended