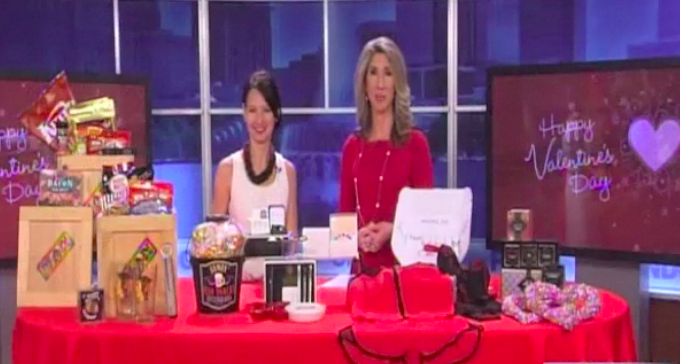 Valentine Gifts for Him
Still stumped on what to get the man in your life for Valentine's Day? Don't worry, here are some of my favorite last minute ideas to help you find the perfect gift!
For Your Sporty Guy:
ZEPP 3d Golf Swing Analysis – $99.99   Click here

TRACK. ANALYZE. COMPARE. IMPROVE.
Measure the most important aspects of your swing, then analyze and improve each one. Zepp offers an incredible set of 3D and video analysis features that give you instant feedback. You can even compare your swing to the pros.
Authentic Stadium Seat Cufflinks – $180-200 at www.UncommonGoods.com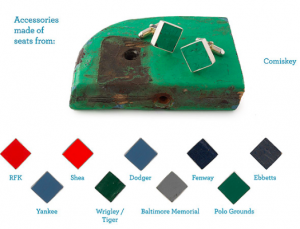 Description: Made of material salvaged from the seats from famous ballparks, the sterling silver cufflinks give your baseball fan a handsome alternative to wearing his team's jersey for your Date Night. The colors will vary, but all are sure to look better with a suit than the "rally" cap. Each item comes with a certificate of authenticity.
Manly Gifts for the Impossible to Buy For Guy:
Man Crates – www.mancrates.com
Man Crates Motto: "We say 'no' to ugly neckties, cologne samplers and executive trinkets. We don't save wrapping paper, we don't do ribbons. We ship bragworthy gifts for guys. Gifts that you can't wait to arrive because you know the recipient will love opening them. Gifts that people gather round at the office, people following the sounds of wood being torn from wood by the included, laser-engraved crowbar. We are Man Crates, and we deliver awesome gifts for men."
The Bacon – $49.95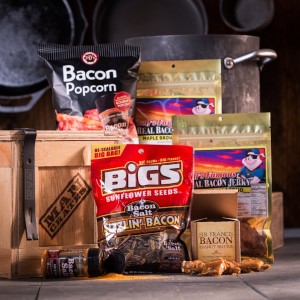 Six Degrees of Bacon – The most important meal of the day is breakfast, not for any nutritional reason, but because that's the meal most likely to include bacon. The Bacon Crate ensures that bacon touches literally every aspect of your day, and your being.
Real Bacon
• 2 Flavors of Delicious Bacon Jerky
Pork Euphoria
• Bacon Popcorn
• Bacon Salt: make everything taste like bacon
• Sir Francis Bacon Peanut Brittle
• Bacon Sunflower Seeds
Delivered in a sealed wooden crate with a laser-etched crowbar. No bow, no ribbons, no fluff, and absolutely no instructions.
NHL Barware Crate – $89.99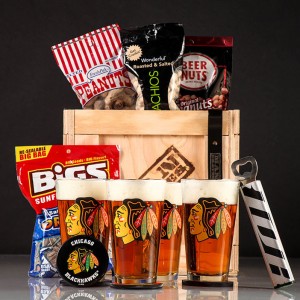 Veins Cold As Ice – We're not sure how Canada, the Ned Flanders of countries, excels at the brash, barbaric sport of hockey, but somehow they do. Our NHL Barware Cate is a hip check of excitement for every true hockey fan.
Slick Fan Gear
• 4 officially-licensed NHL team pint glasses
• 4 different team logo puck coasters
• Game-used hockey stick bottle opener
The Snack Bar
• Classic style peanuts
• BEER NUTS Original Peanuts
• Pistachios
• BIGS Sunflower Seeds
Delivered In a sealed wooden crate with a laser-etched crowbar. No bow, no ribbons, no fluff, and absolutely no instructions.
Personal Creations Man Snacks Bucket – $39.99 – www.personalcreations.com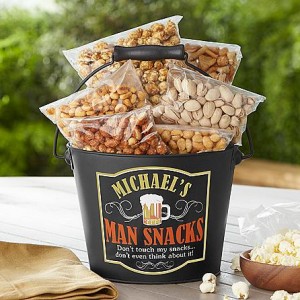 A Personal Creations Exclusive! Treat him to some of the manliest snacks around! This bucket has a lighthearted message and is loaded with delicious treats.
• Includes a 3 oz. bag of Corn Nuts, 3 oz. of Butter Toffee Peanuts, 3 oz. of Pistachios, 3 oz. of Rice Cracker Mix, 3.5 oz. of White Cheddar Popcorn, 8 oz. of Caramel Corn and 3 oz. of Honey Roasted Peanuts.
• Personalize the bucket with any name, up to 9 characters.
• Metal bucket has a wood handle.
For Your Ultimate Star Wars Fan:
Cross Star Wars Pens – www.cross.com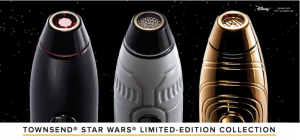 Townsend Star Wars Limited Edition
• Stormtrooper FP
• C-3PO RB
• Darth Vader
The limited edition Townsend, of which only 1977 of each iconic character were produced, sells for $450 and $575 depending on the writing technology
Cross Click Star Wars Edition
• Stormtrooper
• C-3PO
• Darth Vader
The Special Edition sells for $45 or $70 for the gift set with a matching journal.
Sweetly Sentimental:
Coordinates Collection Jewelry – $224 / $239  www.coordinatescollection.com 
Customized jewelry for every occasion. Commemorate something special: where you met, where you got engaged, where you got married. Tell the story of all of life's key moments.
Meridian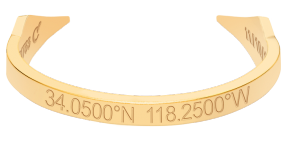 Featuring a thin band and pointed closure. The Meridian bracelet and ring are subtle, sculptural and chic.
Horizon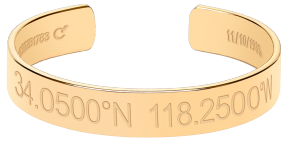 This style is contemporary and fashion forward. Whether worn by a man or woman the Horizon Bracelet and ring epitomize bold and sleek.
Flirty and Romantic:
Adore Me – $24.95/first month and $39.95/each month following – www.adoreme.com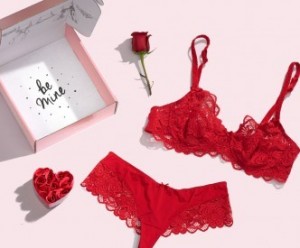 THE ADORE ME VIP MEMBERSHIP – Once Adore Me found a way to cut down prices so drastically, there was no reason for women to pamper themselves with new lingerie only on special occasions. VIP members get an Adore Me monthly box to their doorstep with lingerie from our fresh new collection. At $24.95 for the first month, $39.95 per month thereafter and always free shipping and returns. This is a win-win gift for couples, a gift for him and a gift for you!
For His Sweet Tooth:
Sugarfina – www.sugarfina.com
Champagne Bears® – $8- $45
Made with Dom Pérignon Vintage Champagne, these sophisticated bears sparkle in flavors of classic Brut and fashionable Rose.
Non-alcoholic.
"But First, Cocktails" 3pc Candy Bento Box – $28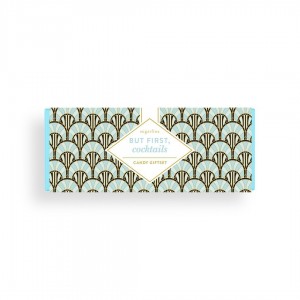 Get the party started with this chic collection of cocktail-inspired candies. The "But First, Cocktails" 3pc Candy Bento Box includes three lucite cubes (approx 3.25oz each) of cocktail-inspired candies:
1. Brut & Rose Champagne Bears
2. Kir Royale Cordials
3. Peach Bellini
Single Malt Scotch Cordials – Cask Strength – $8 – $45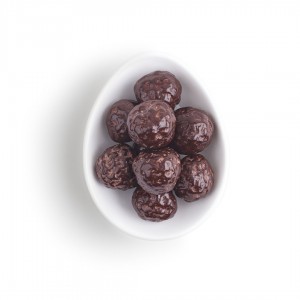 The gentleman's cordial. A rich dark chocolate shell holds a mini dram of Scotland's finest.
This large lucite candy cube contains approx 10oz of chocolate cordials with a liquid center of real scotch. Must be 21+ to purchase.
CONTAINS ALCOHOL: Max 5% alcohol by weight/volume. Unlawful to sell or give to persons who are under the legal drinking age. Women who are pregnant or may become pregnant should not consume this product.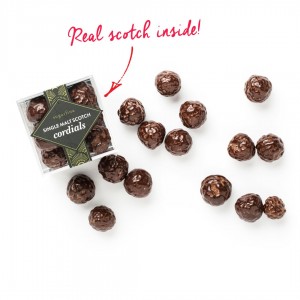 Weekend Getaway Essentials:
Carry-on Cocktail Kits – $24.00
Gin & Tonic Carry On Cocktail Kit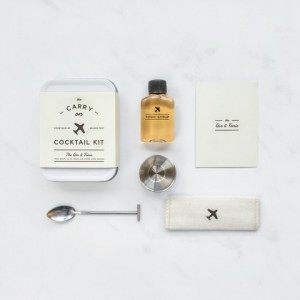 The gin+tonic Carry on Cocktail Kit helps you fly with taste. The kit includes everything you need to turn in-flight gin into 2 quality gin and tonic cocktails. The kit includes an enameled tin, a refillable bottle of craft tonic syrup, a .5-oz. Jigger, stainless steel bar spoon, a 4″ x 4″ linen napkin and cocktail recipe card.
Moscow Mule Carry On Cocktail Kit

The Carry on Cocktail Kit – Moscow Mule, 4.5 x 3.5 x1, copper & white. This kit includes the tools to mix two Moscow Mules mid-flight, including a bold and spicy small-batch ginger syrup. Features: carry on tin – 3.125 in. (W) x 4.25 in. (H) x 1 in. Recipe card. Bar spoon & 1/2 ounce jigger. Ginger syrup. Linen coaster.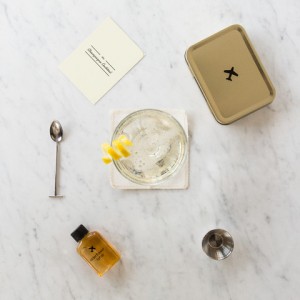 The Carry on Cocktail Kit – the champagne cocktail. This kit includes the tools to mix two champagne cocktails mid-flight, including small-batch elderflower cocktail syrup. Features: carry on tin. Recipe card. Bar spoon & 1/2 ounce jigger . Elderflower syrup. Linen coaster.
Happy Valentine's Day!
Recommended