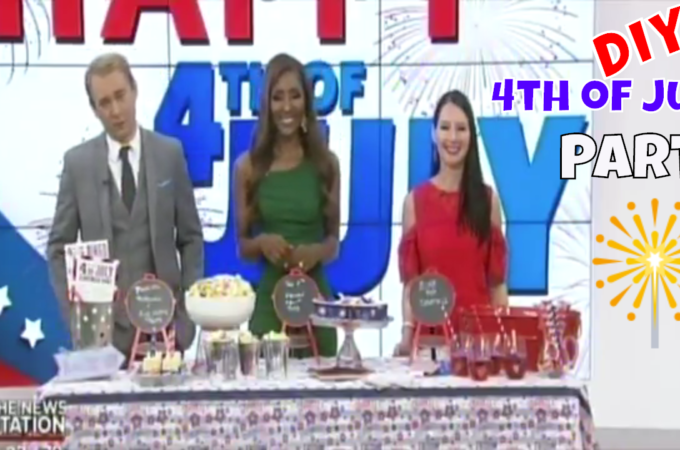 Best 4th of July Party Ideas 2018 – Food, Decor and DIY Lawn Games
   4th of July is a perfect time to celebrate being together with family and friends! Here are my top tips on how to plan an easy 4th of July party your guests will love!
Decor for 4th of July Party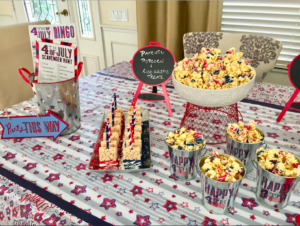 Table Design: I loved the idea of playing off of the stripes in the flag with a blue striped tablecloth topped with a festive flag and star themed plastic cover. I also incorporated pieces in red, white and blue plus some silver pieces and star décor to give the table interest, color and a theme.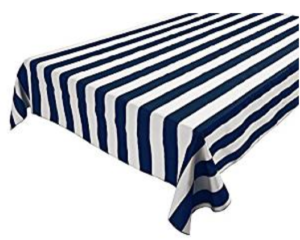 Tablecloth: Navy Blue and White Striped Tablecloth 58″X76″, $17.00  |  Flag Tablecloth: Stars and Stripe Patriotic 4th of July Party Table Cover Vinyl, 52″ x 90″ , $9.35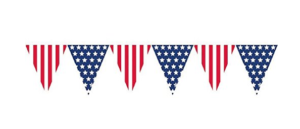 Pennant Banner
Flags Decor: Stars and Stripes Pennant Banner Party Decoration
, $4.98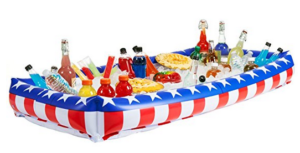 Blow up Stars and Stripes Buffet Cooler: Patriotic Inflatable Buffet Cooler for Indoor/Outdoor, $12.90
Party Pack of Patriotic Plates, Cups and Napkins: Patriotic Party Paper Tableware Set-125 Pcs, $25.00
Menu for 4th of July Party
Sweet Treats: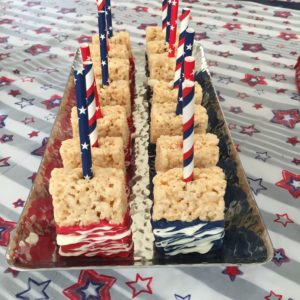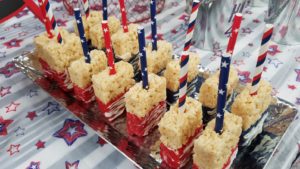 Red, White and Blue Chocolate-Dipped Rice Krispie Treats – Dress up your rice krispies treats with colored chocolate. Using red, white and blue baking chocolate, melt the red and blue chocolates in separate dishes. Cut the rice krispies treats in rectangles and cut some festive 4th of July paper straws in half. Insert the half straws into the rice krispies treats as handles. Then dip the bottom half in either the red or blue chocolate. Once hardened, drizzle white chocolate over the red and blue for a deliciously sweet treat.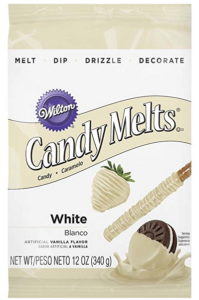 Red Bakers Chocolate: Wilton Red Candy Melts, 12 oz.
, $6.59
Blue Bakers Chocolate: Wilton Royal Blue Candy Melts, 12oz, $6.59
White Bakers Chocolate: Wilton White Candy Melts, 12-Ounce
, $5.40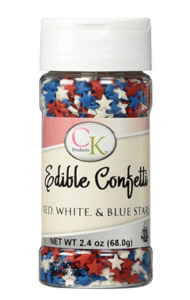 Red, White & Blue Star Sprinkles: Star Sprinkles – Red, White, & Blue
, $6.50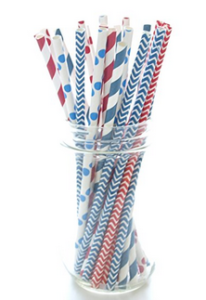 Paper Straws: 4th of July America Party Straws (25 Pack), $5.47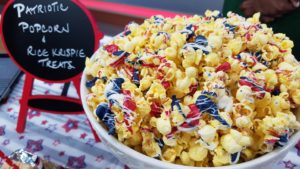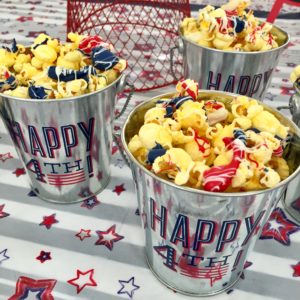 Chocolate Drizzled Popcorn – 4th of July, Americana and Popcorn all go together for me so I loved the idea of individual boxes or pails of chocolate drizzled popcorn. I used the red and blue chocolate to add some color and fun!
Frozen Treats: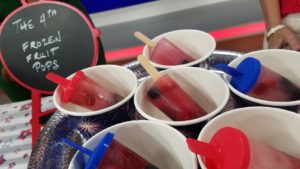 Coconut Water and Fruit Popsicles – Freeze some coconut water with blueberries, blackberries, strawberries and raspberries in them for a cool-down treat that isn't so sugary and hydrates in the process.
Beverages for 4th of July Party
Refreshing Sparkling Water Mocktail – It's so hot out that a refreshing mocktail will keep guests cool and hydrated. Fill a cup with ice, pour sparkling water about ¾ full and top with a splash of Pelligrino sparkling orange for a sweet topper 
Prosecco Bomb Pop Cocktail – Fill stemless wine glasses with chilled prosecco or non-alcoholic sparkling grape juice. Then add a festive bomb pop popsicle into the glass. As the bomb pop melts it will add the berry flavors to the prosecco for a fun and refreshing cocktail.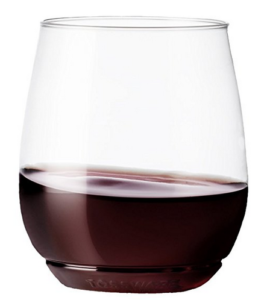 I love these disposable plastic stemless wine glasses from Tossware. They look elegant, don't break and you can was and reuse or throw them away after the party. 14oz Vino Plastic Wine Cup, set of 48, $48.00
DIY Party Games for 4th of July Party:
Knock Down Cans – This one is so easy! Take six (or ten) empty vegetable cans and wrap them in decorative red, white and blue paper designs. I purchased a set of three balls from the dollar store and voila you have a fun backyard carnival game for the kids (and adults) to play. Set the cans up with three (or five) across the bottom, stack two cans on top of those next and then the final can on the very top. Cute, inexpensive and easy.  If you don't want to make your own, here's one you can buy already done: Can Toss Game, Set of 10 Cans with Beanbags, $22.00
Backyard Tic-Tac-Toe – I purchased four "x" letters and four "o" letters from the craft store and then striped them in red and blue. Set up the tic-tac-toe hastag with rope on the grass and you'll have a festive game guests can play throughout the party. Uber Games Giant Tic Tac Toe Game – Hardwood
, $79.00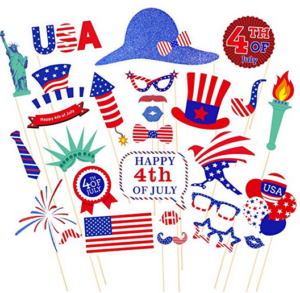 Photo Booth Props – Create a party hashtag for all your guests to use so everyone can search the hashtag later and enjoy everyone's photos. Set out these adorable 4th of July themed props to make the party photos even more fun! 4th of July Photo Booth Props, Pack of 28
, $10,99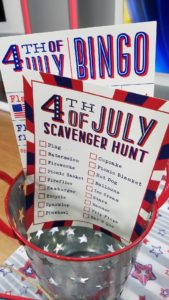 4th of July BINGO and Scavenger Hunt Cards –  Put out packs of 4th of July BINGO and/or Scavenger Hunt Cards to play throughout the party. I found these at Target or you can order similar versions online here: Fourth/4th of July Bingo Game Cards- Patriotic Party Supplies(24 Players)
, 4th of July Scavenger Hunt Game Card (10 count)
DIY the Perfect 4th of July Party Outfit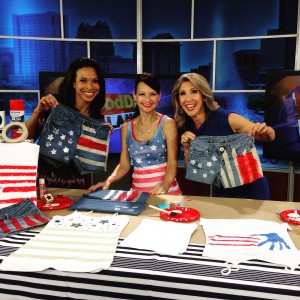 Here are my step-by-step tips to DIY your perfect 4th of July Party Outfit for Under $10 https://jamieo.co/2015/07/03/4th-of-july-diy-under-10/
Recommended