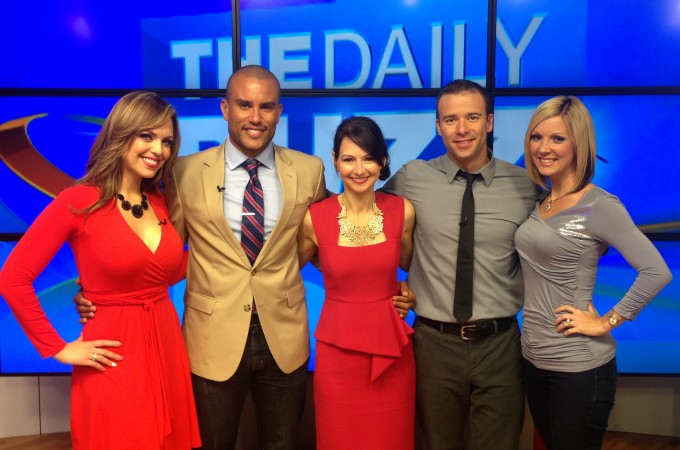 Cuddle Up! Have the Perfect Valentine's Date at Home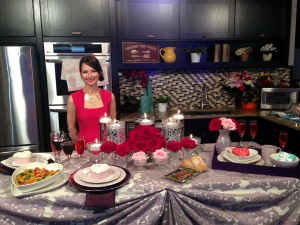 Valentine's Day can be stressful trying to get a reservation and enjoy a hectic dinner at an overcrowded restaurant so why not skip the chaos and celebrate at home this year.  Here are some great tips on how to start with a sweetheart breakfast in bed and then create a perfect table set for two with an easy menu anyone can make for a romantic rendezvous to remember that evening!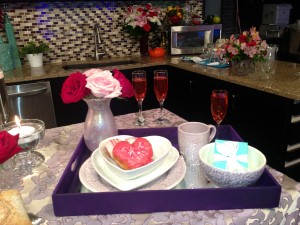 Table Design Tips – You don't have to spend a ton of money to set an ultra-romantic table like a pro, simply use items you already have around the house to create a look that shines with romance.
o    Add a Great Linen: Valentine's Day is generally more formal than a typical dinner so set the foundation for your table and use or rent a great linen to elevate the look and give it a posh feel.  (You can rent a gorgeous linen like the one I used from www.overthetopinc.com)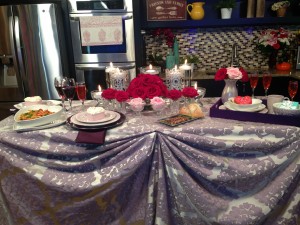 o    Reuse and Repurpose Items You Already Have: It's not as hard as you think to create a beautiful and impactful centerpiece like the pros and focal point for your table. It doesn't have to be precise to be beautiful and you don't have to spend a ton of money to create something spectacular.  I always say that we all have more than we think we have around our house or stored in our cabinets so go on a search and grab a collection of vases, crystal glasses, ice cream dishes, whatever you have and think is beautiful and add them to the center of your table.  I personally like when things don't match, I think they look far more interesting! 
o    What I Used to Create My Look:  I used a collection of the following for the centerpiece of my table:
·         Tall, clear glass vases in two sizes – add water and floating candles for a romantic glow
·      Two glass art deco design candy jars – add water and floating candles for a romantic glow plus the pattern will also reflect on the table giving it some additional dimension
·         Crystal juice glasses from my cabinet as adorable bud vases
·         Crystal ice cream bowls from my cabinet as charming bud vases
·         Clear candy jar filled with pink and red candies for color and some indulgent valentine's day treats
·         I did also order a small floral centerpiece to add to the table because I think fresh flowers always add something special but you can easily buy a dozen multi-colored roses or any of your favorite flowers from the grocery store and simply cut and add a few to the juice glasses and ice cream dishes to affordably add in some romance with the candlelight
Menu: A great menu doesn't have to mean complicated – Keep it simple and stress free for a sensational dinner!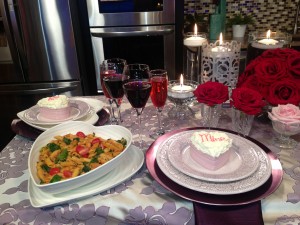 Champagne Cocktail is always a great place to start.  It's classic romance with a twist.  I recommend a Strawberry Bellini which looks great in a champagne glass with its gorgeous red color and it is deliciously sweet and fruity for a celebratory start!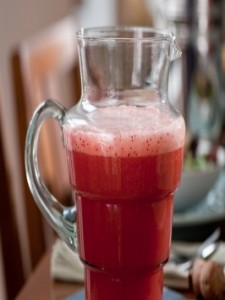 Recipe to Make is Simple:

1 Bottle of Prosecco or Champagne

2 Cups of Pureed Fresh Strawberries, Strained to Remove the Seeds

Pour Pureed Strawberries in a Pitcher, Add the Bottle of Prosecco or Champagne, Stir and Done!

*Makes 8 Servings – Pour into frosted champagne flutes for a delicious drink
Appetizer that is easy to put together and a nice bite before dinner. Crispy Prosciutto and Asparagus Wraps are elegant, quick and simple to make and are perfect to serve with a champagne cocktail: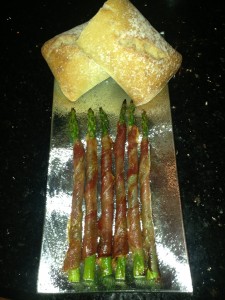 Tip:

For the perfect balance of crispy prosciutto and tender asparagus, choose asparagus spears that are 3/4- to 1-inch thick. Stay away from the pencil-thin or very thick mature spears.
Ingredients:

Medium asparagus spears, ends trimmed

1 tablespoon olive oil

Kosher salt

Freshly ground black pepper

Thin slices prosciutto, cut in half lengthwise
1.       Heat the oven to broil and arrange a rack about 5 to 6 inches below the heating element. Set a large plate aside.
2.       Place the asparagus on a baking sheet, drizzle it with the olive oil, and season with salt and pepper. Using your hands, toss until the spears are evenly coated with the oil. Transfer them to the large plate and set the baking sheet aside.
3.       Starting just under the scaled tip of the asparagus, wrap each spear with 1 slice of prosciutto in a downward spiral toward the cut end, just barely overlapping the seams of the prosciutto. Place on the baking sheet. Repeat with the remaining asparagus, leaving as much space as possible between each spear while still fitting all of them onto the baking sheet. (Make sure the spears don't actually touch, or the asparagus and prosciutto will steam and won't crisp.)
4.       Broil for 3 minutes, remove the baking sheet from the oven, and flip the asparagus over. Return the baking sheet to the oven and continue to broil until the asparagus is charred in spots and the prosciutto is crisped and browned, about 3 minutes more.
5.       *Source: www.chow.com
Dinner a romantic pasta dish is filling and takes anywhere from 10-30 minutes to make! Here are two options for you and one that also has an even easier "cheat" version that you can just heat up if you just need to pull it together super fast or don't feel comfortable in the kitchen – Add a great bottle of red wine and some warm rustic bread to finish it off: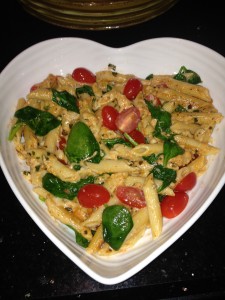 Five Cheese Penne Pasta by Ina Garten:
·         Kosher salt
2 cups heavy cream
1 cup crushed tomatoes in thick tomato puree
1/2 cup freshly grated Pecorino Romano (1 1/2 ounces)
1/2 cup shredded imported Italian fontina (1 1/2 ounces)
1/4 cup crumbled Italian Gorgonzola (1 1/2 ounces)
2 tablespoons ricotta cheese
1/4 pound fresh mozzarella, sliced
6 fresh basil leaves, chopped
1 pound imported penne rigate pasta
4 tablespoons (1/2 stick) unsalted butter

·         Directions:
·         Preheat the oven to 500 degrees F.
·         Bring 5 quarts of salted water to a boil in a stockpot.
·         Combine all the ingredients except the penne and butter in a large mixing bowl. Mix well.
·         Drop the penne into the boiling water and parboil for 4 minutes. Drain well in a colander and add to the ingredients in the mixing bowl, tossing to combine.
·         Divide the pasta mixture among 6 shallow ceramic gratin dishes (1 1/2 to 2-cup capacity). Dot with the butter and bake until bubbly and brown on top, 7 to 10 minutes.
·         Source: http://www.foodnetwork.com/recipes/ina-garten/penne-with-five-cheeses-recipe2.html?oc=linkback
"Cheat" Version:

Frozen Ina Garten Barefoot Contessa Saute Dinners Five Cheese Penne Pasta found in the grocery store frozen section.

Heat it up and it's done in 12 minutes

Add some fresh baby spinach and halved cherry tomatoes to finish it off!

Angel Hair and Pesto Pasta:

So easy and it takes 10 minutes!

 

Simply cook your angel hair pasta and toss with some fresh pesto sauce you can find at whole foods or the grocery store.

 

Sprinkle with some fresh grated parmigiano-reggiano cheese and serve!
Dessert make it sweet in taste and message with some adorable Love Note Cupcakes: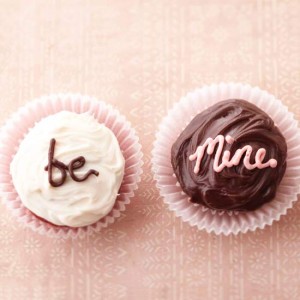 Decadent chocolate and cupcakes made in heart shaped ramekins

Frost one in vanilla and one in chocolate and then use pink piped frosting to write "be" on one and "mine" on the other.

 

Sure to melt your special someone's heart!

Thank you to The Daily Buzz for having me on this morning!
I'd love to hear your favorite Valentine's Date Night traditions! Please share with me in the comments below…
Happy Valentine's Day!
Recommended