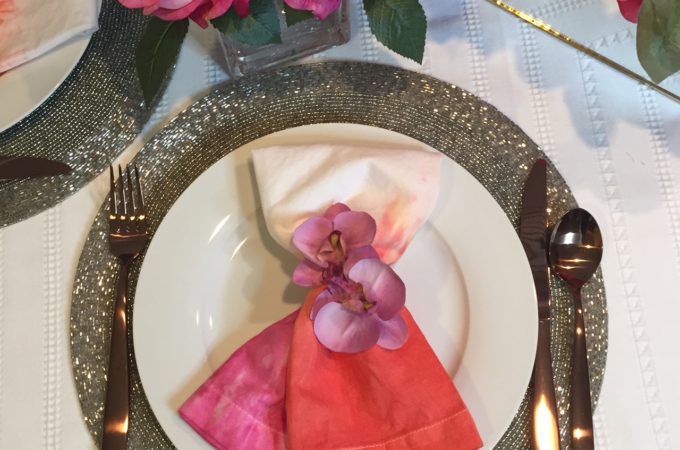 Customize Your Wedding with a Dip-Dye DIY
Anyone that knows me, knows that I will customize anything I can when I'm designing but especially when I design for wedding clients in order to give them a unique and one-of-a-kind wedding that is all their own. I go to design shows all over the country scouting new wedding colors and design trends in order to bring them back and share with you.
The good news is that you don't have to go far to incorporate one of the latest trends to customize your wedding and if you are into DIY, then this one is definitely for you.  Dip-dying your table linens and napkins to bring your wedding colors into your design is affordable and artistic.  I tried these dual-colored napkins in Rit Dye's newest color of Coral and a bright Fuschia which would be perfect for an upcoming Summer wedding. It was super easy and took me less than an hour to dip dye both ends of the napkins. Here's how you can do the same: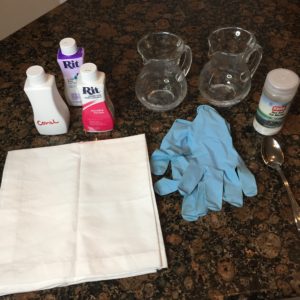 SUPPLIES & TOOLS:
White cotton napkins
Rit All-Purpose Liquid Dye in Coral and Fuschia (Or, your wedding colors)
Small glass container or mason jar
Measuring cup
Stainless Steel Spoon
Salt
Rubber gloves
Paper towels
Plastic table cover
Rit ColorStay Dye Fixative (recommended)
Spray bottle
DIRECTIONS:
Protect your work surface by covering your table with plastic and then prep by laying out your DIY supplies.
Pre-wash napkins for best results and leave wet.
To prepare dyebath: Fill pitcher or mason jar ¾ of the way full with hot water. Add ¼ cup of salt to the water and stir. Tip: The salt helps the dye adhere to the fabric and intensify the color. If the water is not hot enough, place the container in the microwave to heat the water for about 2 minutes.
Shake dye bottle well before pouring the dye into the water. Wearing rubber gloves, add 1½ teaspoons of Rit liquid dye to water. Stir well with stainless steel spoon.
Test the dye color by dipping a paper towel in the dyebath. If color is too light, add more dye; if color is too dark, pour some out and add a bit more water.
Once you have your desired color, dip 1/3 of the napkin into the dyebath for about 6-7 minutes depending on how dark you'd like the color.
When the desired color is achieved, remove napkin from the dye. Wearing rubber gloves, squeeze out excess dye. Tip: Keep in mind that the color will be lighter when dry.
Repeat dipping the other 1/3 of the napkin into the dyebath. For two-color napkins: prepare second dyebath and dip napkins as described above.
Recommended: To enhance the color and reduce color bleeding, use Rit ColorStay Dye Fixative immediately after dyeing and before washing, following instructions on bottle. Place napkins in a plastic container. Pour fixative into a spray bottle and spray the napkins. Let set for 20 minutes.
Rinse napkins in cool water until rinse water begins to run clear. Tip: Be sure to hold the white part of the napkin high while rinsing so the dye runs down off the bottom and doesn't stain the part you'd like to keep white.
Wash napkins in warm water with mild detergent, rinse and dry.
How to Style your Napkins:
I folded the napkin in half and then tied the center tight to give it some shape. Then I separated the bottom so the two colors would show on the plate. Add an orchid or a rose to the center of the napkin to bring some softness and luxury to your placesetting.
More Options:
These napkins are so versatile you can use them in so many design ways. Here are some of my other favorites…
An adorable sweetheart table setting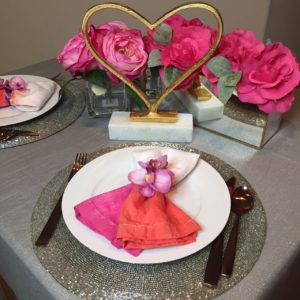 Next Day Wedding Brunch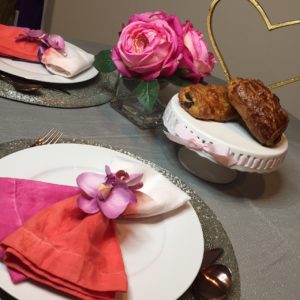 Garden Wedding with Dragonfly Napkin Ring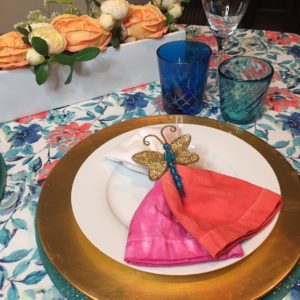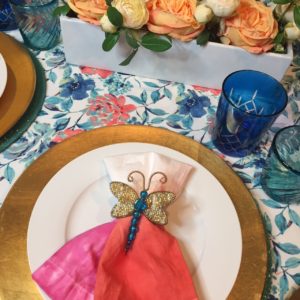 Floral Tablecloth/Glasses/Floral Centerpiece: Homegoods | Dragonfly Napkin Rings: Steinmart
Skill Level: Beginner
Approximate Crafting Time: Under 1 Hour
This is a sponsored conversation written by me on behalf of Rit Dye. The opinions and text are all mine.
Which Look Do You Like?
Let me know which look you like best in the comments below. And, feel free to ask any questions or design advice for your upcoming wedding too… Happy dip-dying!
xoxo
Jamie
Comments submitted may be displayed on other websites owned by the sponsoring brand.
Recommended