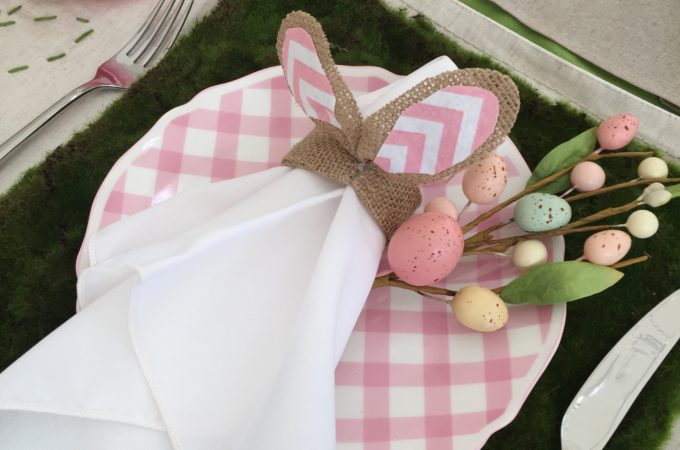 Easy Easter Table and DIY Ideas for Kids
Spring is a perfect time to celebrate being together with family and friends. Here is my easy plan for an Easter "Bunny" Brunch your guests will love!
Decor
Table Design: I loved the idea of bringing the outside in this year when I designed my Easter table and pulling in some of the sweet colors of spring by using a fresh green and pale pink plus a layered look at each place setting with an adorable DIY floral placemat layered with moss mats and cute pink plaid plates. Here's how I did it:
DIY "Bloomin" Spring Placemat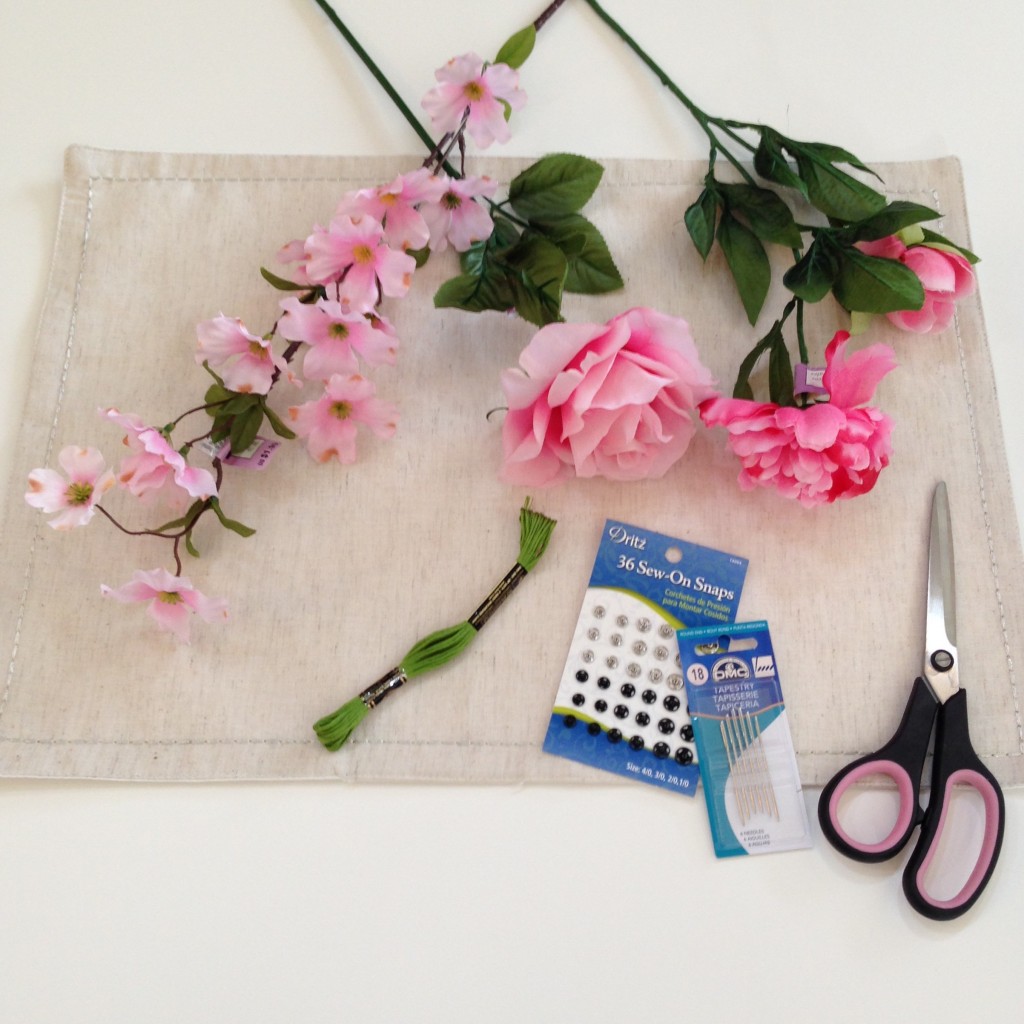 Have the kids help you with this easy Spring DIY craft and create these "Bloomin" Spring Placemats that give your table a textured and 3-D effect. All you need is a natural-colored placemat, green embroidery thread, a tapestry needle, snaps and some stems of pink fabric flowers plus a pair of scissors. Placemat: Steinmart, $3.99 | Thread: Michaels, $.39 | Tapestry Needle Pack: Michaels, $2.99 | Pink Fabric Flowers: Michaels, $1.99 a stem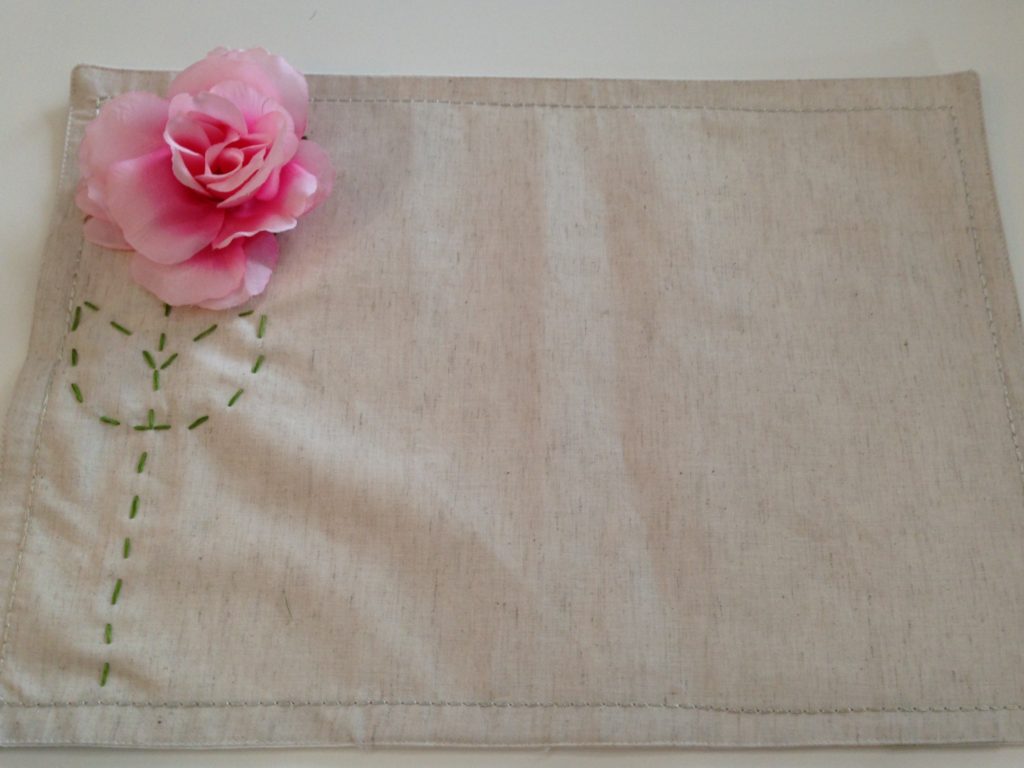 Use the embroidery thread to stitch the line for a stems and leaves. Then sew snaps to the top of the stem or end of branches on the place mat and sew a snap to the head of a silk flower near where you trimmed off the stem at the base of the head of the flower. Snap them together and your placemat will bloom to life, making a really cool 3-D placemat!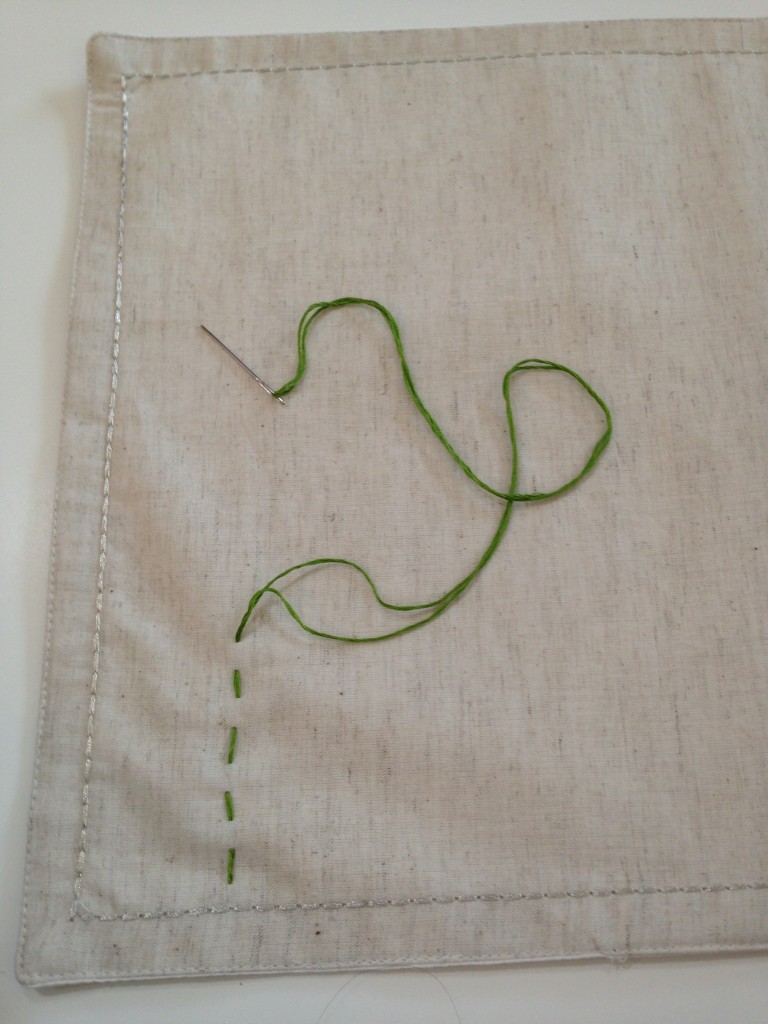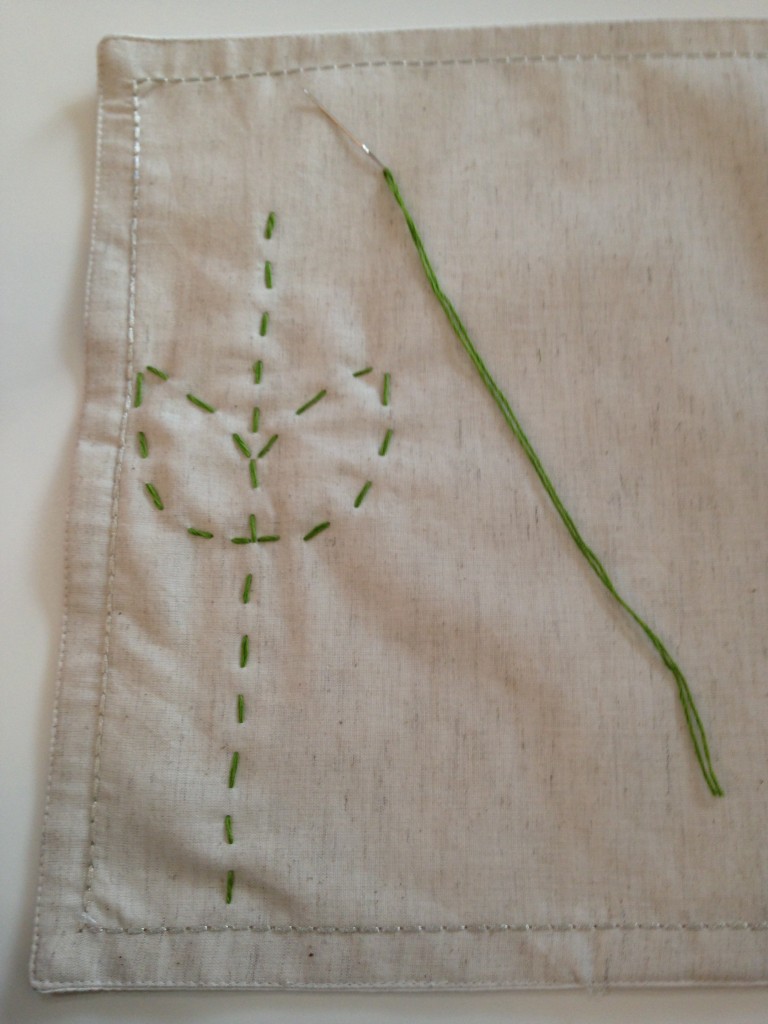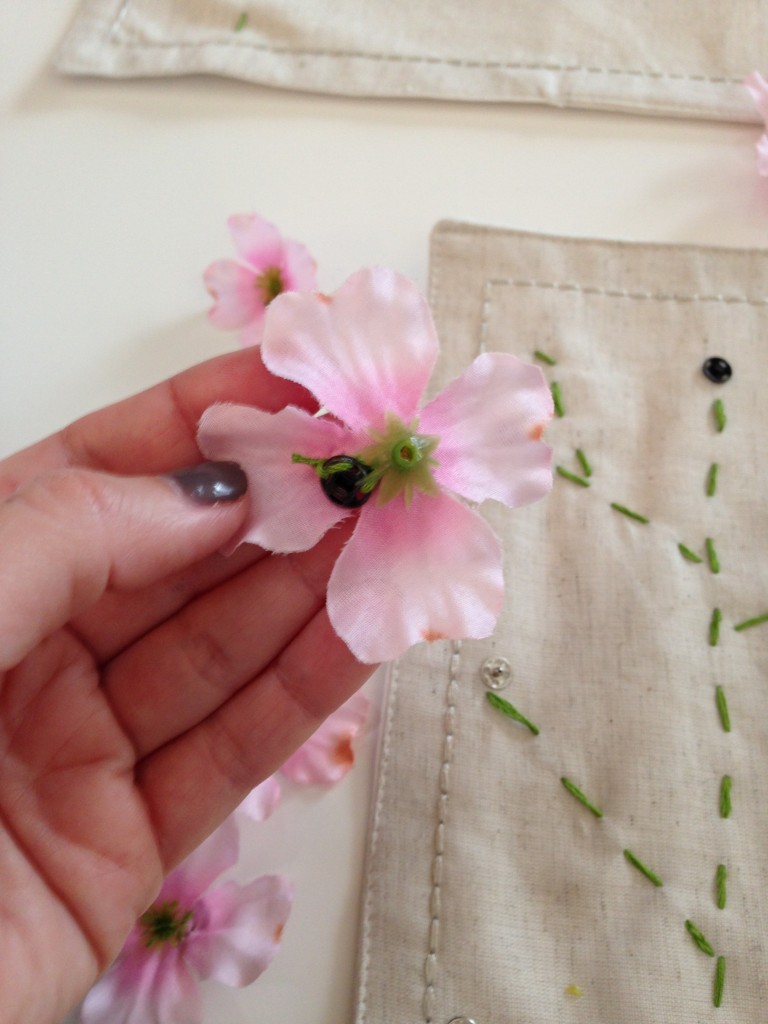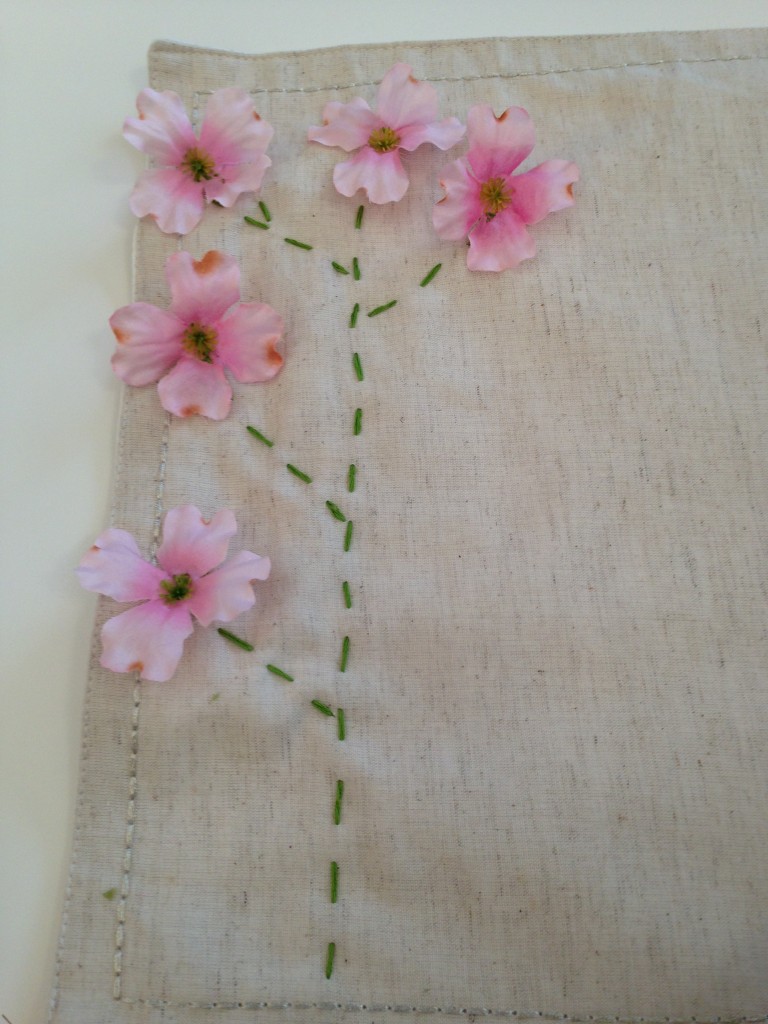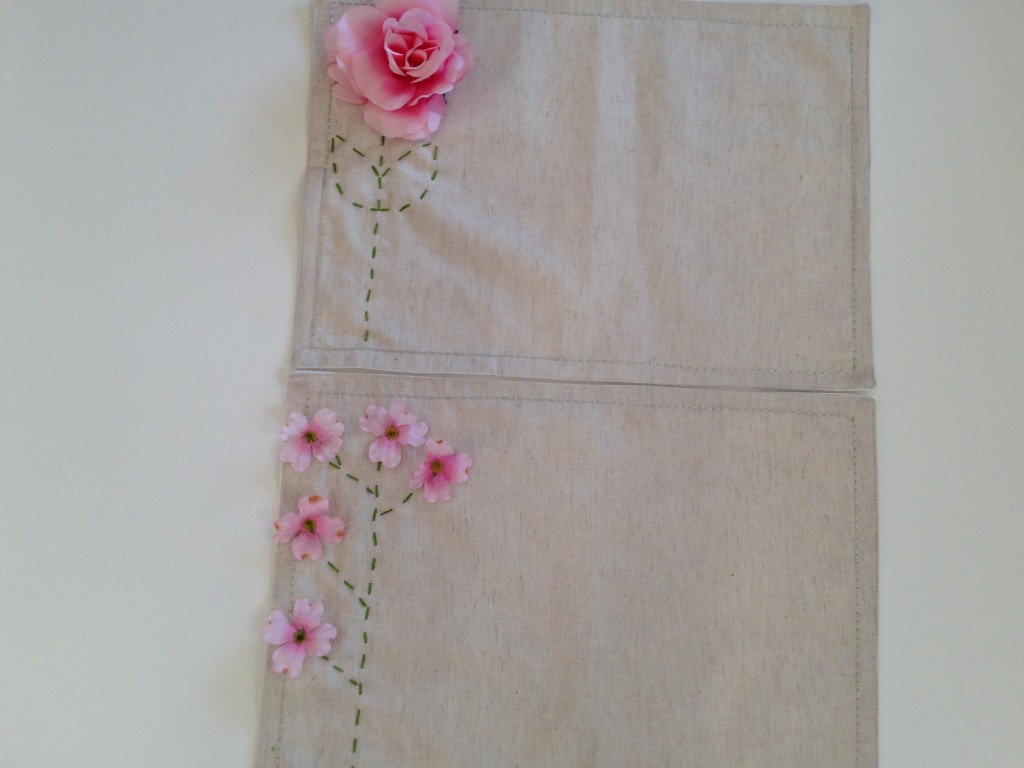 Moss Matts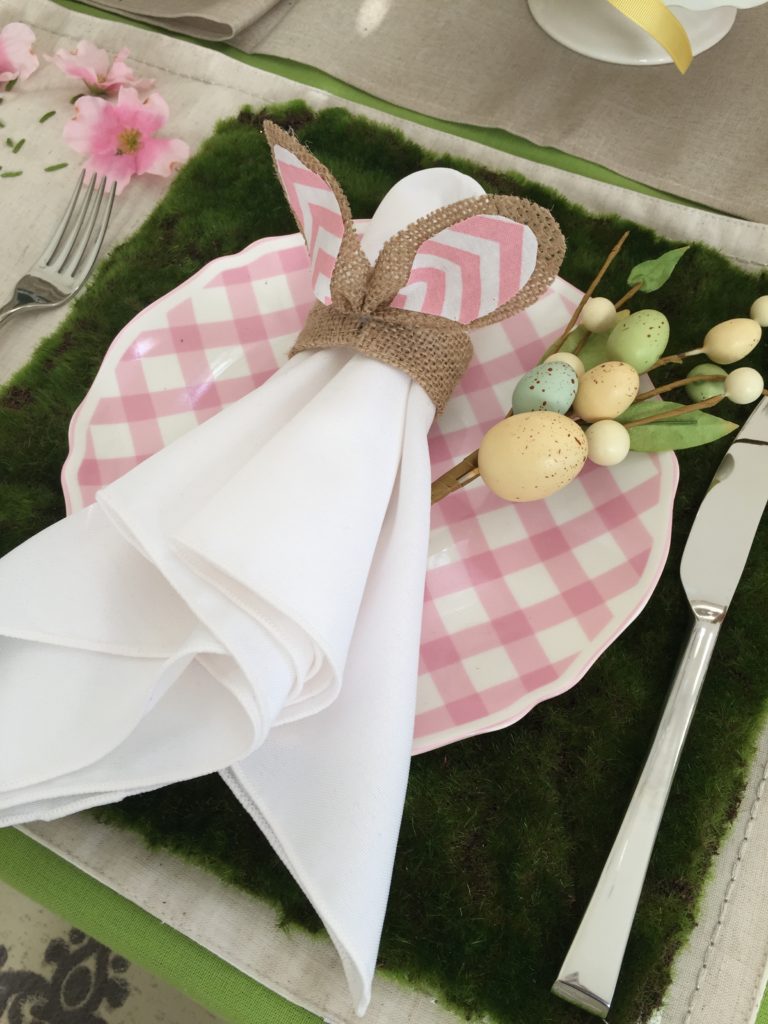 I found 12" squares of moss at Michaels for $6.50. I purchased them to layer on top of the placemats and serve as a charger for my plates. It is a really natural look that brings the outdoors in and adds some color and texture to the table. I topped the moss with a sweet pink plaid plate to add another layer of soft color and texture.
 Napkins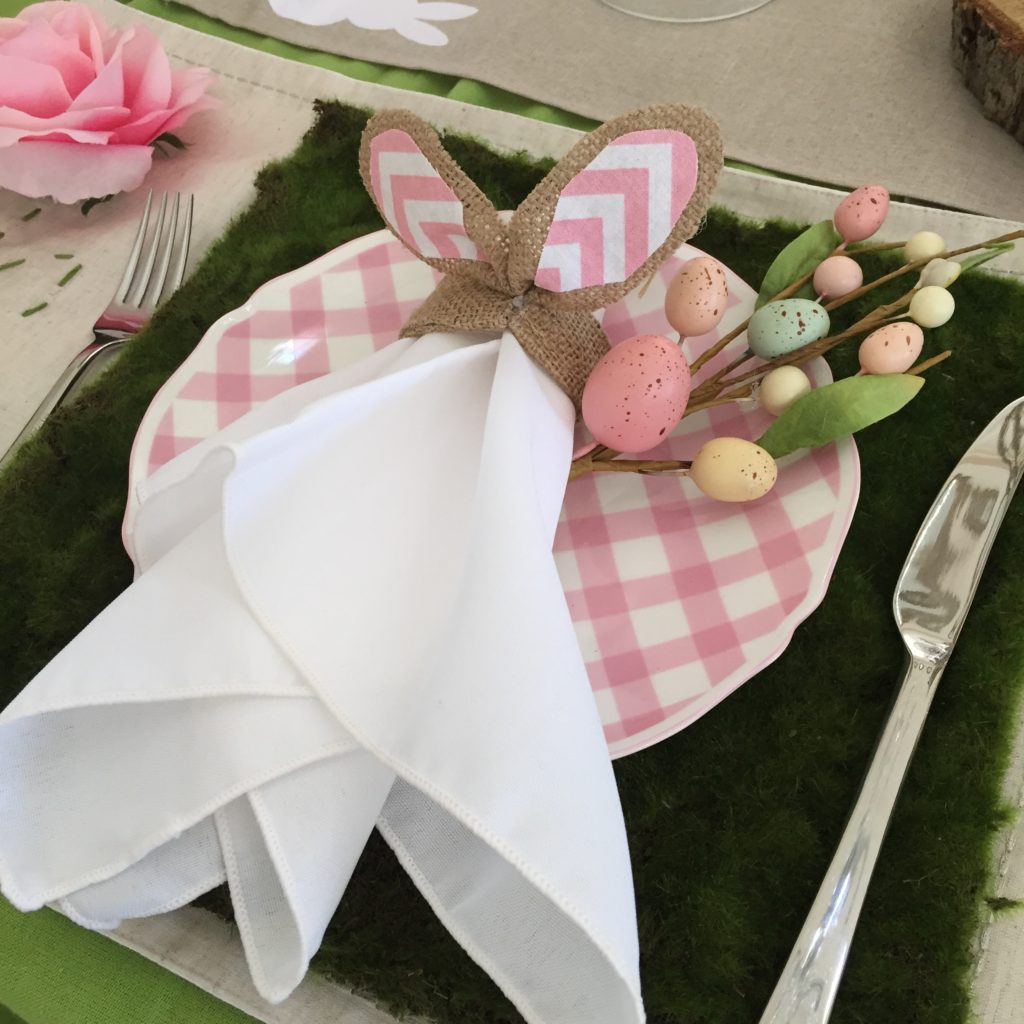 I used a simple white napkin and added these cute burlap bunny ears napkin rings to each place setting. I also wanted to bring the pink color into the table so I cut some pink and white fabric and used fabric glue to adhere the fabric into the center of the Easter bunny ears.
Pick a Carrot Plasticware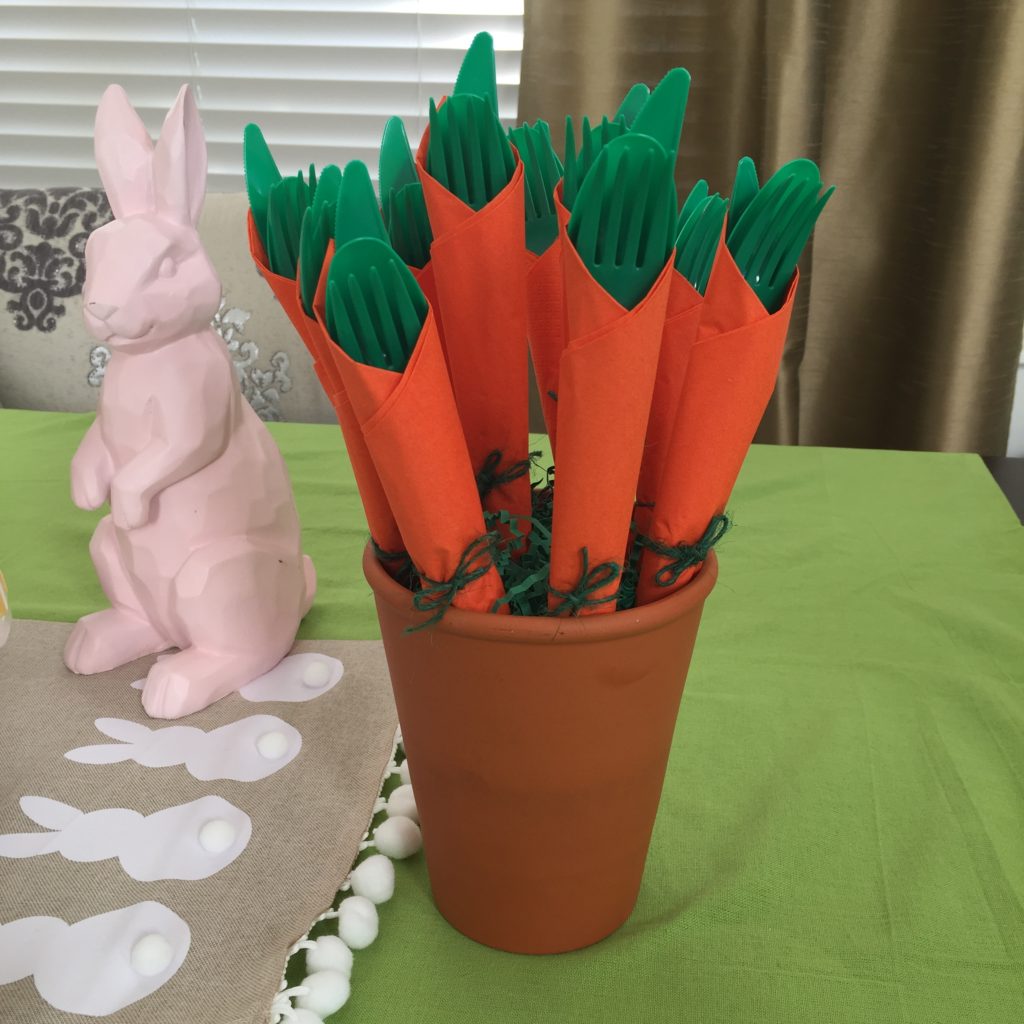 Theme your plasticware for your brunch by purchasing green silverware and orange napkins at Walmart for $1 each. Wrap the plasticware in an orange napkin cone and then tie at the top with a green or orange ribbon. Stack them in a terracotta pot to make it look like carrots are ready to be picked. It's a cute and fun way to dress up your Easter plasticware for your Bunny Brunch Party!
Easter Sweet Treats
Peep Kebobs
I can't wait for Easter for the Peeps to come out and I think a lot of people are like me too so I created these cute "Peep Kebobs" that not only add a delicious decoration to your table but some nostalgic fun! Just take a kebob stick and buy four different colors of Peeps. I got mine for $1 each box of five peeps. You can make these in advance of your brunch, just add a bag over the completed sticks and tie with a cute ribbon to keep them fresh. I clustered them in a pitcher and added it to the table as décor.
Rice Krispie Treat Bird Nests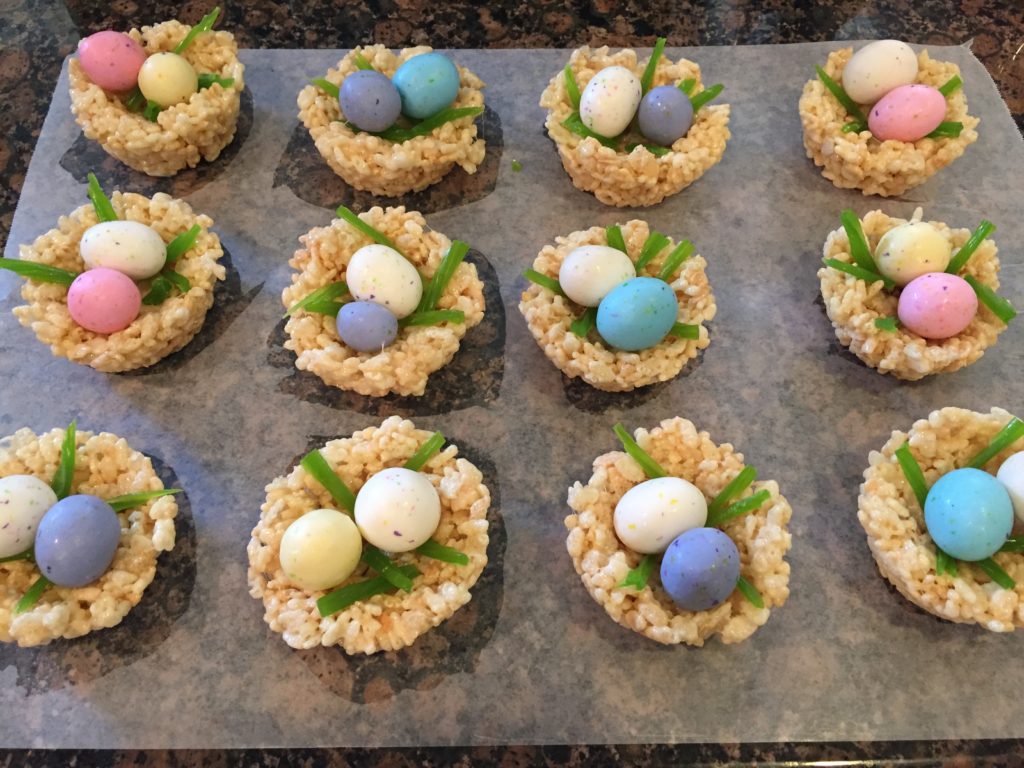 I think these are adorable treats and also serve as décor. Make your rice Krispy treat mixture as usual and then press them into a cupcake pan. Press the middles more to make an indent for the nest. Add small straws of green licorice for the bird's nest grass and some malted speckled eggs to complete your cute Spring bird nests.
Ingredients Needed:
3 tbsp. butter
1 10 oz bag of marshmallows
6 cups of rice krispies
Edible grass licorice
Malted Milk Robins Egg Candies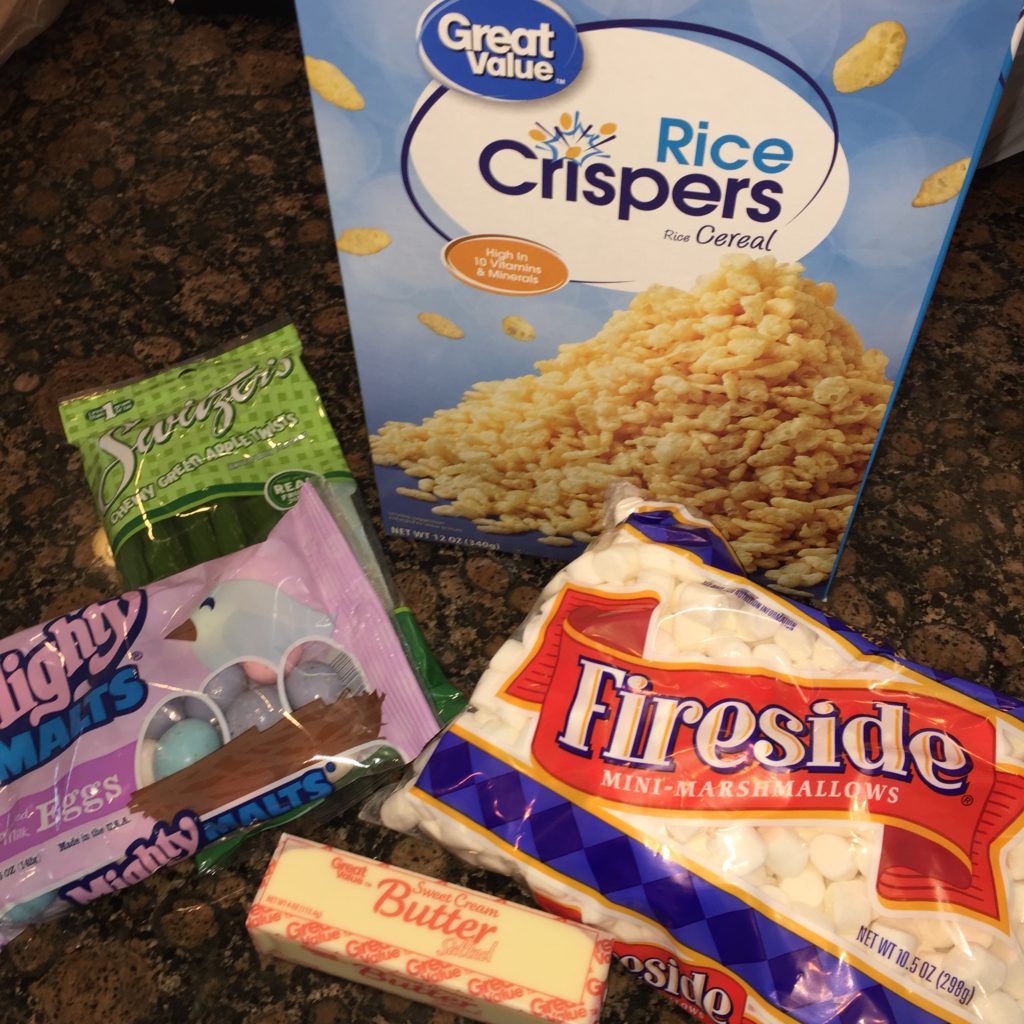 Melt the butter in the microwave for about 20 seconds. Stir in half of the marshmellows and then microwave for another 20 seconds. Stir until blended. Add the other half of the marshmellows and microwave for another 20 seconds.  Stir until completely melted. Pour the mixture over the rice krispie cereal and stir until it is fully combined.
Spray a muffin tin with cooking spray so the nests will release from the pan easily. Fill about half way in each cup, then shape the nests. Tip: The mixture is super sticky so spray the back of a large spoon with cooking spray and use it to help press the mix into the cups and to make the indents. Let the rice krispies cool in the pan then pull them out and decorate!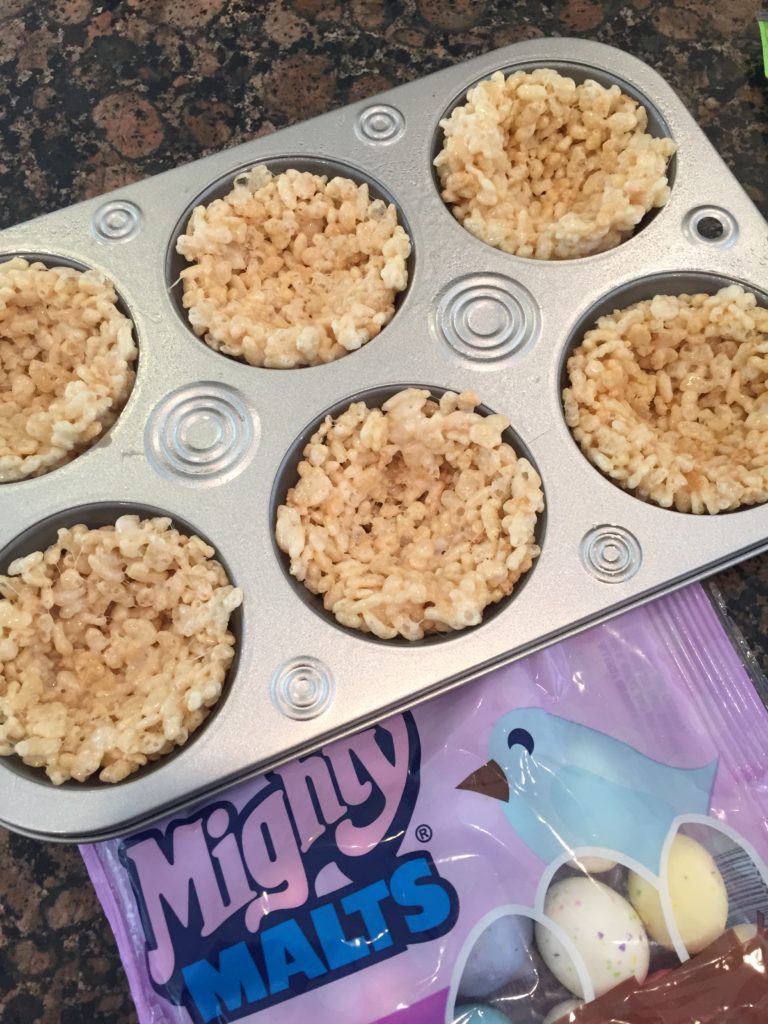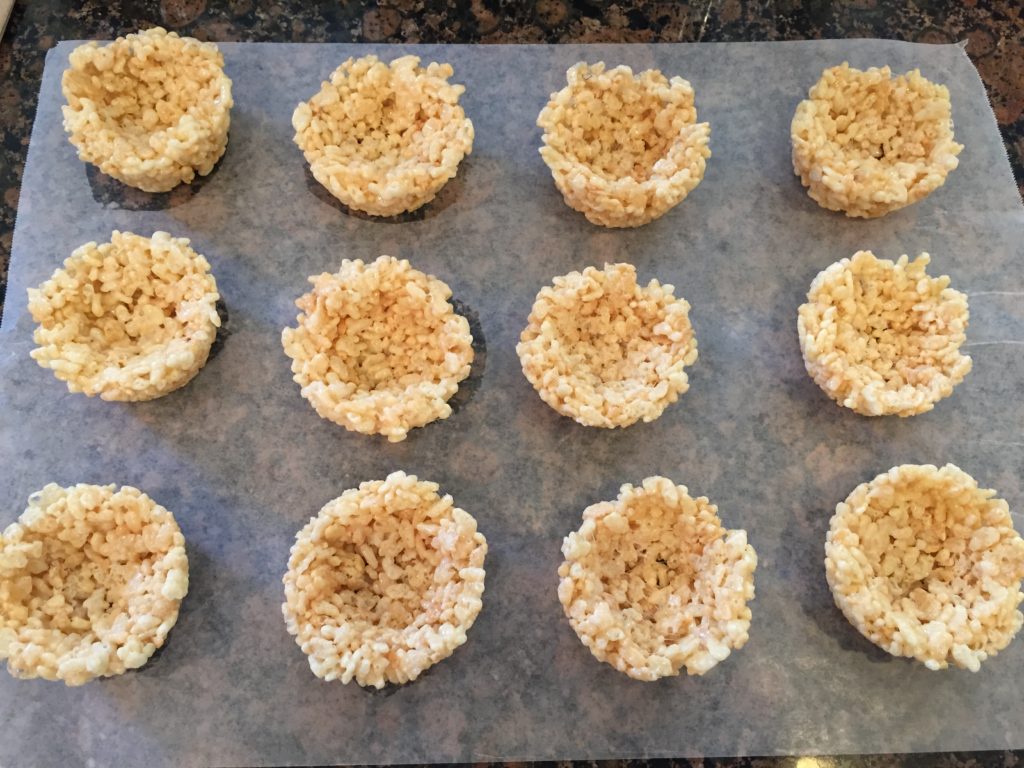 Pink Lemonade with Edible Flower Garnish or Flower Ice Cubes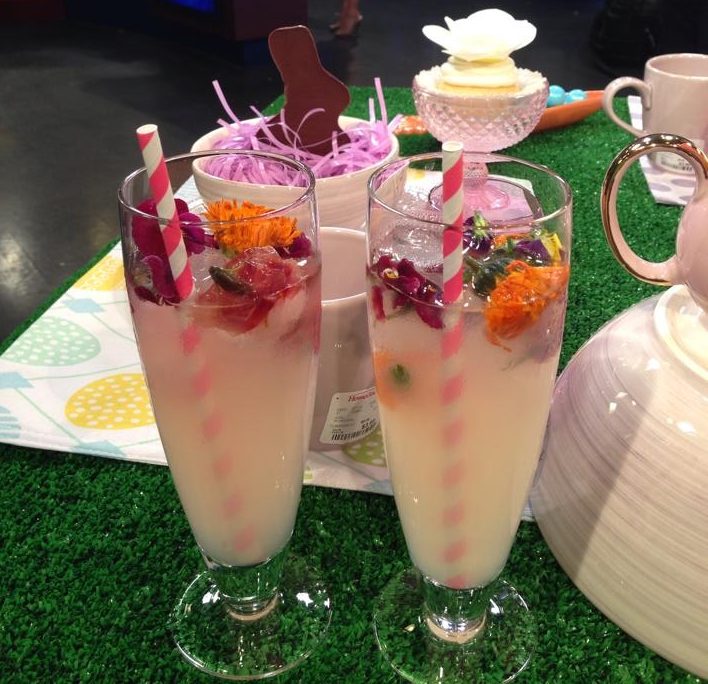 Again, super easy to make and prep in advance so all you have to do is mix it together and garnish with some gorgeous edible flowers for a beautiful and refreshing drink for your guests. Add an adorable striped paper straw for the perfect finishing touch. *You can also freeze edible flowers in an ice cube tray with water and have beautiful ice cubes to add to your drinks as another option.
 Tip: This is an important tip if you are going to use edible flowers! Do not use flowers from a florist or from the floral section of the grocery store. Edible flowers are actually classified as food so you know they have been grown organically and not treated with any harmful chemicals. They can be special ordered from the produce section of the grocery store.
Happy Easter!
xoxo
Jamie
Recommended