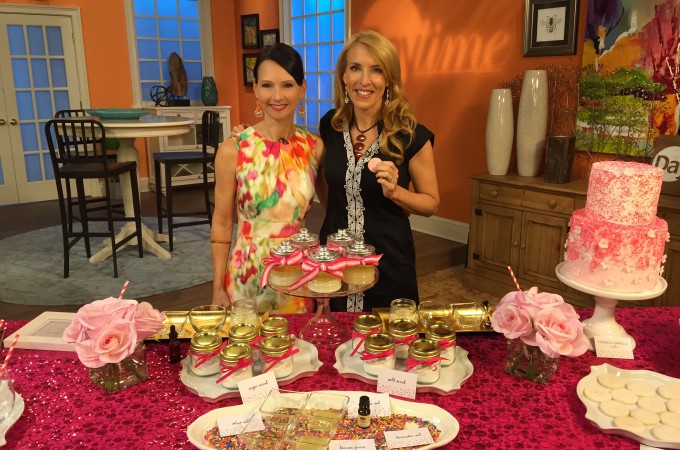 Host a Baby Sprinkle
Host a Baby Sprinkle! Baby Sprinkles are becoming a popular way to celebrate moms-to-be when they are having their second or third child. Instead of "showering" the mother with gifts, you "sprinkle" her with just a few necessities and spend time celebrating the upcoming arrival of the new baby. Here are some of my favorite tips to create a pampering party designed to sprinkle the mom-to-be with love.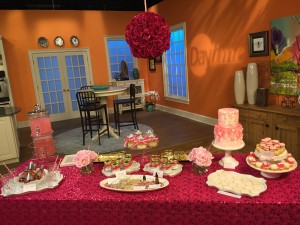 Table Set-up and Theming:
Table Set-up: Use a bright pink or blue as the base of your table to give you a color pop foundation to build on. I used a fuschia pink base linen with a bubble designed sequin overlay from www.nuagedesigns.com to create a bright and festive table to celebrate the future arrival of an adorable baby girl.
Printable Invitations and Table Signs: You can find great options online to make inviting guests and setting up a great table super easy.  I used these fun confetti themed printables from TomKat Studio.
Tomkat Studio – Sprinkled with Love Favor Labels
Tomkat Studio – Sprinkled with Love Invitations
Tomkat Studio – Sprinkle Gift Tags
Tomkat Studio – Sprinkled with Love Word Game
Tomkat Studio – Sprinkled with Love Large Flag
Tomkat Studio – Thank You for Coming Labels
Tomkat Studio – Sprinkle Dessert Labels
Avoid the Awkward – Hashtag Pre-Party Activity:
Baby Showers are famous for mixing in all the circles of friends and family that are important to the Mom-to-Be.  The downside is that it can feel a bit awkward for your guests with so many people they do not know in an intimate setting. No worries, here is a great idea to help "Avoid the Awkward"!
Create a hashtag for your party guests and invite them to upload a photo of themselves with a note on how they know the Mom-to-Be. It will help all of your guests put a face to the name so they can avoid that dreaded "I don't know anyone" feeling when they arrive to the party. Plus, it makes for a great collection of photos all in one place before, during and after the baby shower since guests can continue adding to the gallery with the custom hashtag such as #JamieOSprinkle
Spa Sprinkle:
I love the idea of adding a pampering element into a baby sprinkle that gets guests involved and also becomes a fun take home gift once it's done.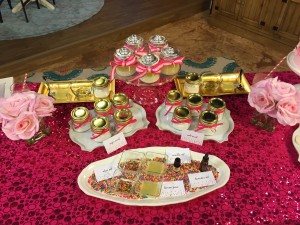 DIY Salt and Sugar Scrub – For the set-up, set out mini jars of course sea salt or sugar. I used 4oz canning jars that came in a set of 12 for $7 and tied a cute pink ribbon around them to make them feel like gifts. Then pre-portion the olive oil in mini-ramekins or put out a measuring cup and instructions on the amount of each item needed. I pre-portioned the additional ingredients on a tray and set them on top of candy sprinkles to bring in the theme.
½ Cup of Course Sea Salt
2 tablespoons of olive oil
Juice of one lemon
10-15 drops of lavender essential oils
Snackable Sweets:      
A sprinkle or confetti theme lends itself so well to a creative, colorful and playful dessert table full of sweet treats for guests to indulge. Aren't yummy treats that what a celebration is all about?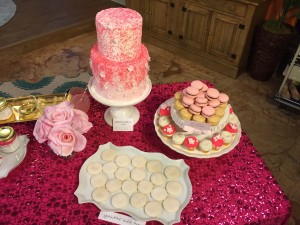 Sprinkle Cookies – You can make or order cookies decorated with colorful sprinkles for a festive treat.
Mini Cupcakes – I worked with Chocolate Pi www.chocpi.com to make these adorable Thing One and Thing Two Cake Pops… You can't miss the spiky blue frosting of hair or their adorable Thing One and Thing Two logos in these playful treats.
Macaroons – Who doesn't automatically smile when you see pink macaroons? Order some delicious and colorful macaroons for the sweetest indulgence.
Statement Cake! – If you are going to invest in something to make your dessert table stand out, order a themed cake that will really make a statement. Pick something you love and go for it!
Drinks:
It's always good to offer both an alcoholic and non-alcoholic selection for your guests but theme it in and if you can use a double drink dispenser you can offer an alcoholic version and a non-alcoholic version for guests to enjoy!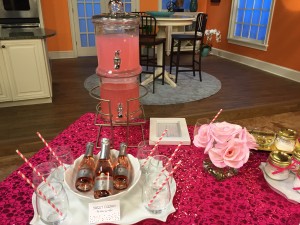 "Confetti" Champagne Pops! – Create a great champagne stop with the small individual bottles of "pops" champagne or even some cute mini pink moscato bottles, all guests have to do is "pop the top" and add a festive striped paper straw to enjoy.
Sparkling Raspberry Lemonade – I always love drinks you can pre-make in a batch prior to a party so you don't have to worry about running to the kitchen to fix drinks and instead can spend time with your guests.
Ingredients:
2 packages (10 ounces each) frozen raspberries in syrup, thawed
2 cans (12 ounces each) frozen pink lemonade concentrate, thawed
2 cans (11 1/2 ounces each) frozen raspberry juice cocktail concentrate, thawed
12 cups water
4 cans (12 ounces each) lemon-lime soda pop
1 lemon, thinly sliced
Directions:
1. Carefully spoon raspberries with syrup into 2 ice-cube trays. Add enough water to just cover raspberries. Freeze 3 hours or until firm.
2. In very large plastic or glass pitcher, mix lemonade concentrate, raspberry juice concentrate and water. Refrigerate until serving time.
3. Just before serving, stir soda pop into lemonade mixture. Place ice cubes in glasses; pour lemonade mixture over ice. Garnish with lemon slices.
Recipe courtesy of www.bettycrocker.com
Make it Meaningful Activities:
Sprinkled with Love – I love the idea of writing a wish or note to the baby and then framing the individual notes to create a gallery wall of love in the nursery.  It's a personal touch that can inspire happiness and an incredible keepsake for the Mom-to-Be.
Put Your Stamp On It! – As another interactive keepsake idea, print an 8.5 x 11 print of an outline of a heart or something themed into the party or nursery design. Put out some ink pads and invite guests to use their fingerprints to fill in the photo. Once it is complete you can frame it as a unique piece of loving art to hang in the nursery as well. It's always good to be surrounded by things that remind us of how much we are loved – especially during those late nights with a fussy baby when you need extra support and love the most!
Baby's Library – I am a huge bookworm so I love the idea of creating a theme around books and inviting guests to bring a book to create the baby's library. Books have always been a happy place for me and I still have some of my favorite books from childhood. It's the gift that keeps on giving and is filled with so many giggles and so much love!
Recommended