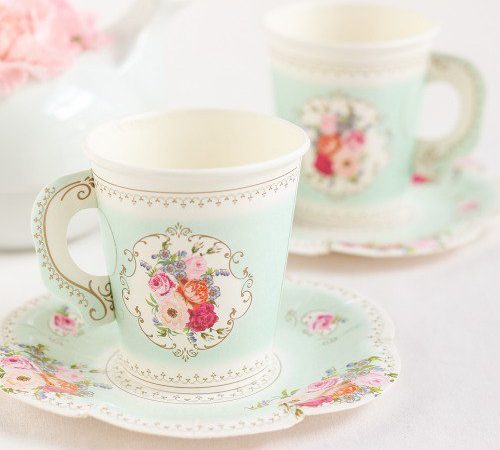 How to Throw a Royal Wedding Tea Party
I know it's going to be early for us in the U.S. but totally worth getting up early at 5am to watch the Royal Wedding that begins at at 7am ET (noon in the UK) at Windsor Castle. If you have friends that are as as royally obsessed, host a morning watch event and throw together an easy Royal Wedding Tea Party to view it together. Here is everything you need (and you can still get in time with prime):
What to Wear to Your Royal Wedding Tea Party:
Silk or Satin Pajamas of course. Let's be honest, it's going to be 5am so you might as well be comfortable. Invite your friends to come over in their favorite PJ set. I like this lady-like satin set in the color champagne.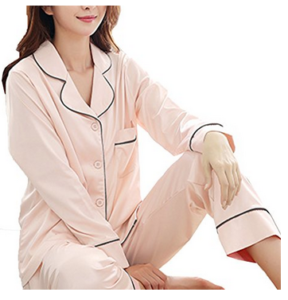 Set, $22.99, Womens Satin Pajamas Loungewear Sleepwear
A Fascinator, of Course:
It's a perfect time to be formally British and top your PJs with a fascinator!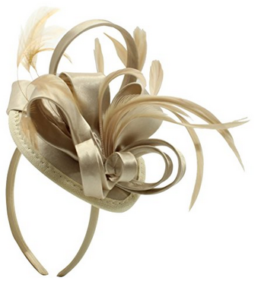 Feather Fascinator, $11.99, Feather Cocktail Fascinator Headband
Royal Wedding Tea Party Decorations
Tea Party Themed Centerpiece
This is so easy to DIY! I purchased a bunch of pink roses from my local grocery store for $7,99, cut them to size and arranged them in a pink teapot. It makes a beautiful themed centerpiece without any work at all.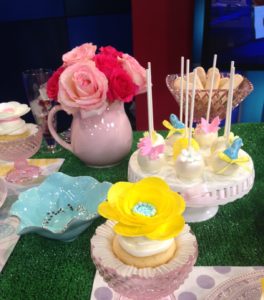 Paper Tea Cups and Saucers
If you don't have a formal set of tea cups and saucers or if it's just too early to worry about washing dishes, here is a great alternative. I found these adorable disposable paper tea cups and saucers with a pretty vintage floral design that will work perfectly without the fuss.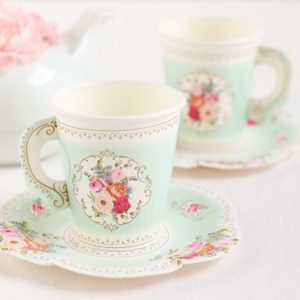 Vintage Floral Paper Tea Cups and Saucers, Set of 12, $11.50, Vintage Floral Disposable Tea Cups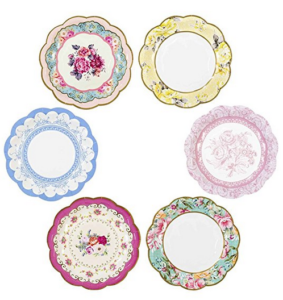 Vintage Floral Plates, Set of 12, $12.55, Vintage Floral Small Disposable Plates
Royal Wedding Cocktail Napkins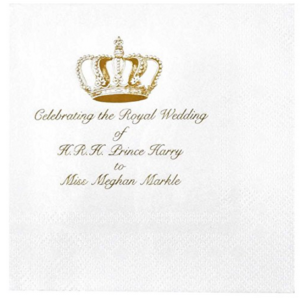 Pack of 24, $9.99, Royal Wedding Cocktail Napkins
Cupcake and Muffin Toppers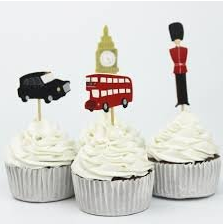 Set of 24, $8.75, London England Cupcake Toppers Picks Party Decoration (Pack of 24
Royal Tea Party Drinks and Snacks
Royal English Breakfast Tea
The Royal English Breakfast Tea is a lovely combination of the Kenilworth Ceylon and Kenyan Milima black teas. Harney & Sons is commissioned to create teas for the royal family and this tea is featured in Harney's Historic Royal Palaces Collection making it perfect for an early morning Royal Wedding Tea Party.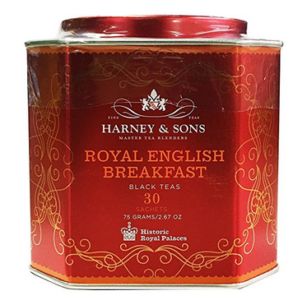 Royal English Breakfast Tea, $10.95, Harney & Sons Royal English Breakfast Tea
Or, try this sampler pack from the royally commissioned tea company Harney & Sons so guests can choose the flavor they prefer. This pack comes with 40 tea bags and honey sticks so you can easily display and serve.
Harney & Sons Assorted Tea Bag Sampler, 40 Bags, $16.89, Harney & Sons Assorted Tea Sampler
Lemon Scones
Quintessentially British and easy to make! It's going to be early so I'm all about semi-homemade so use this pre-made mix. All you have to do is add water and stir. Bake at 375* for 12-15 minutes. That's it!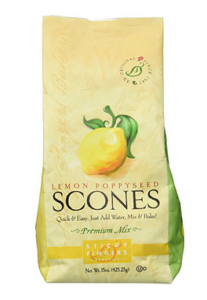 Lemon and Poppyseed Scone Mix, $9.50, Sticky Fingers Mix Scone Lemon Poppy
Elderflower Grapefruit Mimosa
We know that Meghan and Harry chose lemon and elderflower flavors for their grand wedding cake. We already have our lemon scones but now let's add in an Elderflower Mimosa. Every wedding needs a little bit of bubby, right? And, I definitely think it's called for with the Royal Wedding. I love this recipe from Cassy Joy Garcia from Fed & Fit. You can find the recipe here. So, here's to toasting a lot of love and a long marriage – Cheers!
Bakery Buys
Pop over to the grocery store or bakery on Friday and pick up a selection of mini-muffins, croissants and some fruity jams and butter. If you want something a bit more healthy to serve, add in an assorted fruit platter.
*Pro Tip: Pull out your cake stands and serving trays. Arrange the muffins, croissants and fruit on stands and serving trays of varying heights to give your table some interest. Anchor the center of the table with your teapot centerpiece (place the teapot on a nice cake stand if you'd like to give it more height) and if you have some roses left over cut the stem really short and place the head of a rose inside china tea cups. Place them around your table for a beautiful and sweet tea party display!
Royal Tea Party Guest Favors and Fun Photo Signs
Give guests a cute tshirt to remember the historic occasion. Here are two of my favorite finds that I'll be ordering for myself!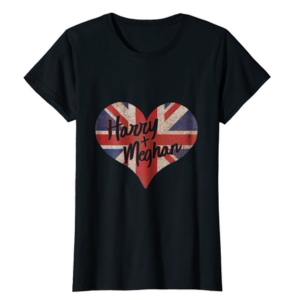 Harry & Meghan Royal Wedding Love, $19.95, Harry and Meghan Royal Wedding Love T-Shirt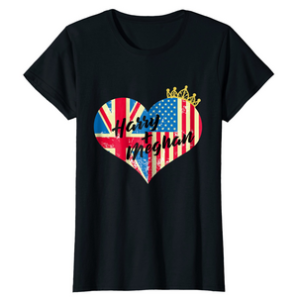 Harry & Meghan Royal Wedding Love, $12.87, Harry and Meghan Royal Wedding Love T-Shirt
British Photo Signs
Liven up your early morning social media and make your party photos festive with these British-themed cutouts.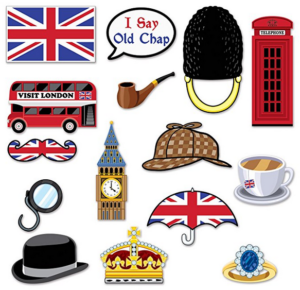 Set of 15, $8.50, British Photo Signs
Send me any of your questions and I'll be happy to answer them or share more advice. Let me know how your party goes. You know I'll be up watching with my own cup of tea – or elderflower grapefruit mimosa!
xoxo
J.
Recommended