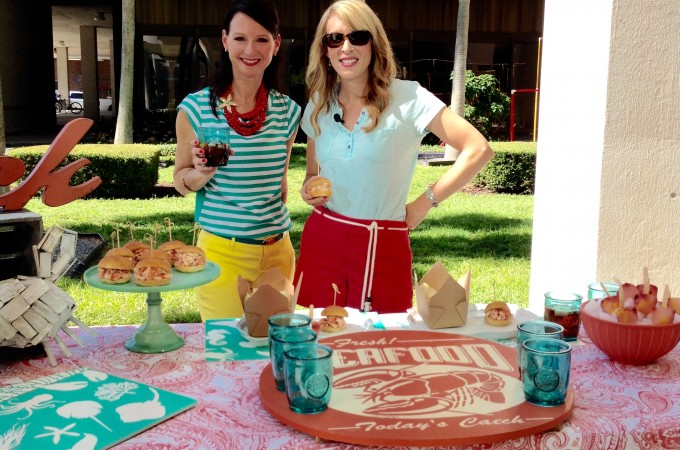 Super Easy Summer Party!
Hosting a Labor Day Party to soak up the last days of Summer? Here are some of my simple "go-to" party tips to throw together a super easy Summer party!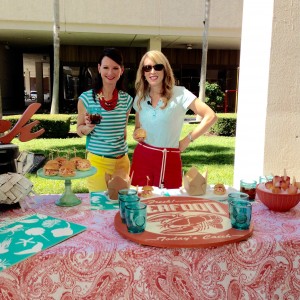 Decor
Table Cover: Summer backyard set-ups don't always have to be about checkered red and white tablecloths, you can use what you have and design a table that has a unique look, just pick a color palate or a theme and go for it – there are no rules so design away!
Table Design: I love bright and fresh summer colors like oranges, yellows, crisp whites, turquoise blue… They are happy colors that add a pop of life to your table. Best part is that some of the greatest looking tables are ones that use pieces of different shapes and sizes so don't feel like things need to exactly match to create the perfect look!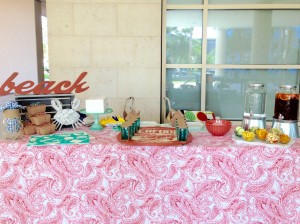 I created a beachy, seaside design by using pieces from around my house like: wooden crates, a beach sign, wooden wall art that I laid down on the center of the table as a focal point to hold the glasses, a cake plate in turquoise green to hold the lobster sliders and a nautical vase with rope detailing to hold the napkins… Use what you have around the house to create a fun look!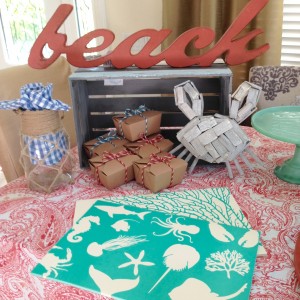 Menu: Easy and Quick Solutions
Food
Lobster Sliders – I love menu solutions that are high-quality but easy assembly options so you don't have to spend a ton of time in the kitchen. Since the design is a seaside theme, I ordered an amazing Lobster Sliders Kit from Hancock Gourmet Lobster Company in Maine and had them delivered right to my door. All I had to do was spoon the lobster salad onto grilled brioche buns and voila – perfect and delicious seaside snack for guests but no kitchen time for me! www.hancockgourmetlobster.com
Grab and Go Mingle Chip Kits – It's always a challenge for guests to try and balance a plate and drink while picking up snacks so I like to portion out chips in individual paper takeout containers so they can easily just "Grab and Go". *Quick Tip: The closed containers also help in keeping pesky flies off the chips and keep the humidity from turning them stale. Easy, affordable and simple solution plus no clean up!
Cool Down Dessert – White Peach Sangria Pops – again, super easy to make and prep in advance so all you have to do is pull them out of the freezer when adult guests are ready to cool down you'll have a fresh and delicious dessert.
1 1/2 cups dry white wine
1 1/2 cups white grape juice
1/3 cup sugar
1 tablespoon fresh lemon juice
12 (3-oz.) paper cups
1/2 cup chopped, unpeeled white peaches
1/2 cup raspberries
12 (3 1/2-inch) food-safe wooden ice-cream spoons
Preparation:
Combine wine, white grape juice, sugar, and fresh lemon juice in a 2-qt. measuring cup, stirring until sugar dissolves. Pour mixture into paper cups. Stir together peaches, raspberries, and kiwi fruit; spoon fruit mixture into cups.
Cover each cup with aluminum foil; make a small slit in center, and insert 1 ice-cream spoon into each cup. Freeze 8 hours or until firm. Recipe courtesy of Southern Living.

Drinks
Sangria Bar – The key to hosting a low stress party is to be able to plan as much in advance as possible so I love finding cocktail recipes you can make in large batches in advance. Here is one of my favorites:
Sangria is such a favorite at summer parties, don't worry about making your own unless you really want to. There are so many great options already pre-made, save time and buy bottles of your favorite. Fill a beverage dispenser with chilled sangria and add some fresh cut fruit to make it look festive.
Spa Water Station – It's also important to have a non-alcoholic option for guests as well as a hydrating one during the hotter summer temperatures. I love offering a chic spa water bar with a beverage dispenser filled with fresh water and then a variety of fresh fruits for guests to mix and make their favorite version. I like to place the fruits in clear glass containers on a tray so the colors pop and guests can easily mix and match on their own:
Apple cubes
Peach cubes
Pear cubes
Lemon Slices
Lime Slices
Orange Slices
Cucumber Slices
Wondering how to keep your cut apples and pears from turning brown? Try this easy trick:
Add a 1/2 teaspoon of salt to (4) cups of water in a bowl and stir to dissolve. As you cut your apple and pear cubes, soak them in the water mixture for about 4-5 minutes and voila! It will help your apples and pears stay fresh looking without turning brown.
*Quick Tip: Freeze the fruit and it will act like an ice cube to keep their water chilled as they drink it! And, use a wooden wall sign as the focal point of the table to display your glasses for guests.

No Clean-up Solution – Plat Du Jour:
Plat du Jour Disposable Placemats – One of my favorite finds for an easy party solution that cuts down on clean-up. I don't know about you but if it cuts down on clean-up, sign me up! Try these colorful and fun disposable placemats. They come in packs of fifty sheets and you just tear them off the pad, use and throw away. Even better, they are made of recyclable materials and made in the USA! Check out all the fun designs at www.platdujourco.com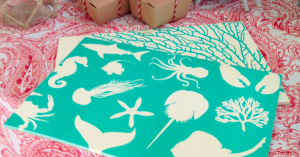 Summer Soiree Playlist:
Everyone has their favorite summer tune so have your guests send you their favorite backyard BBQ song and then put a playlist together of everyone's songs… It's interactive way to involve your guests and will get them energized when they hear their tune come on!
Activites and Games
Set out some simple lawn games that both kids and adults can play like Lawn Jarts (with the round tips) or a fun Frisbee Golf Set so guests can interact and have some laughs together. It will keep guests moving around and enjoying the day together.
Happy Entertaining!
Recommended