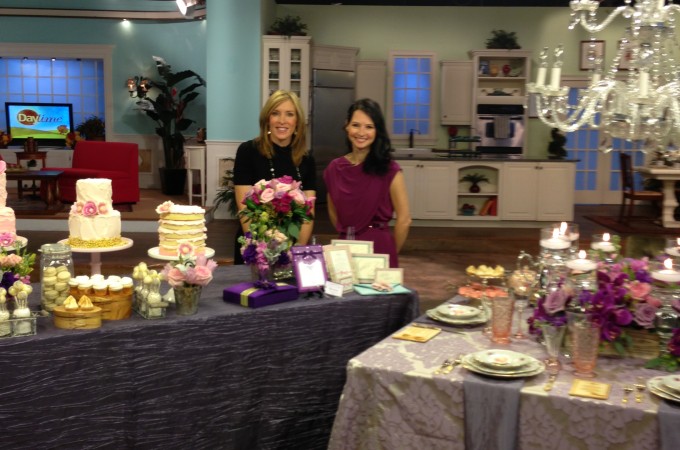 2014 Wedding Trends – "Romance, Rustic and Radiant Orchid"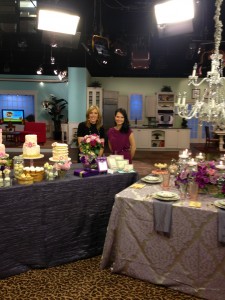 2014 is going to be all about Romance, Rustic and Radiant Orchid! The great news is that these design elements can span across the entire color wheel from light romantic colors to bold jewel tones so 2014 is going to be an eye-catching and fun year to design your wedding!  Here are the tips and trends I designed and shared on NBC's Daytime Morning Show.  Find even more inspirations on my pinterest page at: http://www.pinterest.com/jamieodonnellpr
Watch the "Daytime" segment here:  http://www.wfla.com/story/24530905/daytime-wedding-trends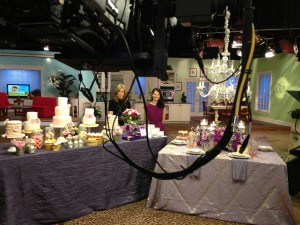 Romance  –  Romantic colors of blush pinks, sage greens, light blues, lavender and champagne to set the tone and bring the romance back to weddings this year!  Along with Lace, Metallics, Mercury Glass and Crystal design elements plus showstopping Antique china, romantic florals and rustic estate tables… It's going to be a dreamy year in wedding design!  Check out the amazing settings at www.sassysettings.com and the showstopping floral designs at www.conceptbait.com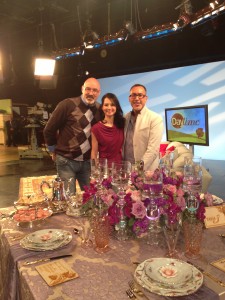 Rustic  –  What I like to call Rustic-Glam!  A beautiful mix of natural elements, wood furniture and plush chairs mixed with metallics, mercury glass and crystal to add a touch of upscale glam!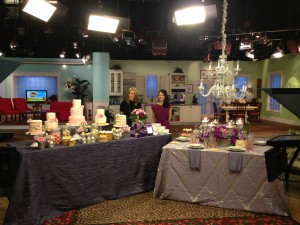 Radiant Orchid  –  Pantone selected Radiant Orchid as "the" color for 2014 and it will definitely be a primary design color for weddings this year.  The Good News is that if the true Radiant Orchid color is a bit too bold for your taste, you can still be on trend by using varying shades of the color from a light lavender to a deep purple to a fuschia pink… You don't have to go all in with the color to be right on trend for 2014!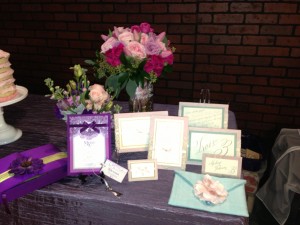 Invitations  –  Couture Invitations set the tone for your wedding and give guests a taste of what is to come.  Some gorgeous trends will be:
Blush and Lace over Pink Suede
Lace and French Romance
Bold Radiant Orchid with Lace
Rustic and Elegant Wood Engraved Invitations
Check out the gorgeous designs at www.dragonflycustomdesign.com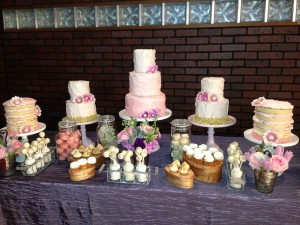 Wedding Cakes will theme right into the design of romance and rustic-glam with options like:
Ombre' Cakes will be a big trend this year and are visually interesting with a gradation of color from light to dark.
Rustic Designs
Naked Cakes
Dessert Tables with pastries and mini-cakes
Check out the creatively delicious cakes at https://www.facebook.com/ChocPi
A special thank you to the incredible team behind the scenes who worked so hard to bring my vision to life:  ConceptBAIT, Chocolate Pi Cakery, Dragonfly Custom Design and Over the Top Linens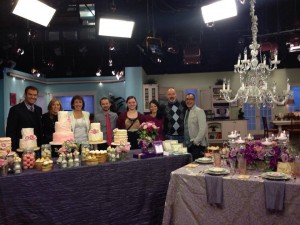 Recommended