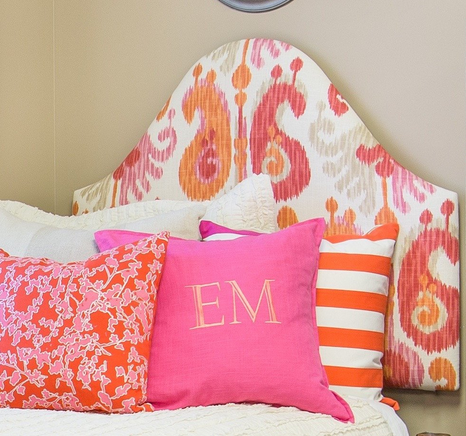 Dorm Decor Must Haves To Make It Home
Wondering how to give your plain dorm room some personality and make it feel like home? Here are my favorite dorm decor must haves, tips and design finds to help you settle in!
White Box to Haute Home
The Basics – The key to making your room a "home" is by warming it up and softening all of the hard stark walls and furniture with soft bedding, accessories and bright colors.
Add a Headboard!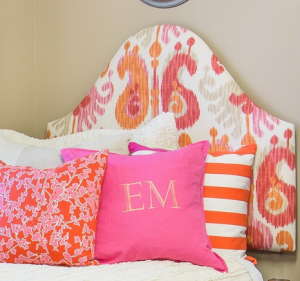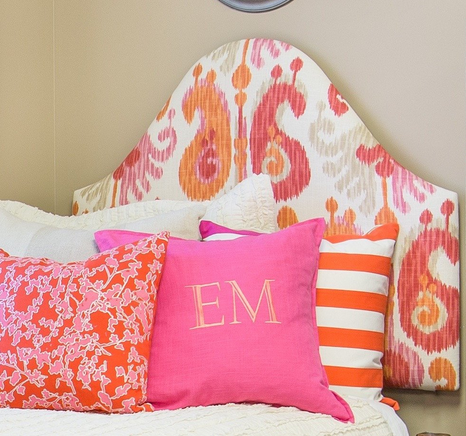 Try this amazing upholstered twin headboard that is made specifically to work with dorm bed frames and can attach in four different ways. Dorm Decor Mr. Brown's Ikat Custom Headboard, $195 Here
Layer with a Headboard Pillow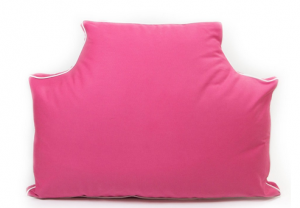 Add an extra layer of comfort for late night study sessions with a Headboard Pillow to lean back on in style like this cheerful coral pillow with white piping. Monogram your headboard pillow for a personal touch. Dorm Décor, Coral Pillow: Regular Price $149, Currently on sale for $103.99 Here / Leigh Deux Dorm, Pink Pillow: $159 Here
Cozy and Colorful Bedding
Top your bed off with sheets sporting a storage pocket, a cozy comforter and colorful or textured throw pillows to brighten your room and add some personality. The key is to make your bed a happy and comfortable place you would like to come back to after a long day of classes, right?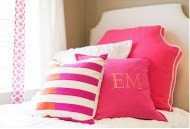 Modern Pink Pillow. Dorm Décor, $40 Here
Carson Cloud Throw Pillow. Leigh Deux Dorm, $48 Here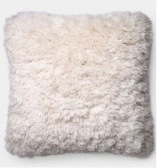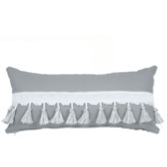 Furry Shag Pillow in Ivory. Dorm Décor, $86 Here
Grey Bolster Pillow. Leigh Deux Dorm, $39 Here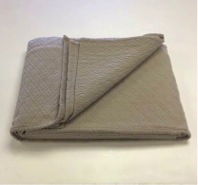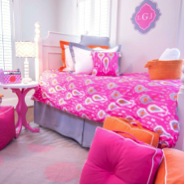 Stonewashed Mattelasse Coverlet Dorm Décor, Regular Price  $130 – Currently on sale for $74.99 Here
Carson Fuschia Duvet, Leigh Deux Dorm, $129 Here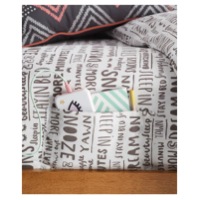 Finally they have made sheets with a storage pocket so we no longer have to sleep with our phone under our pillow. And, if you are sleeping in the top bunk, I call this absolute genius! Target, $14.99 Here
Warm Up The Floor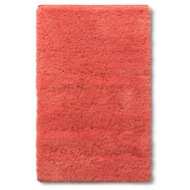 Don't forget to pick out a 5' x 7' rug to warm up the cold tile floor and also absorb sound so your room won't echo. Plus there is a good chance when you have friends over, you may end up in a study session spread out on the floor. Target, $89 Here
Add Chic Lighting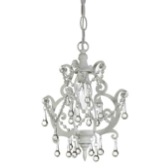 Often times dorm rooms just have one overhead light and it's not necessarily good lighting. I like to add chic lighting to not only give the room personality but also so the room doesn't seem dim and depressing. Try a stylish desk lamp or swanky chandelier that is made to simply plug in to the wall outlet. Who says a dorm room can't have designer style and at affordable price. Dorm Décor, Regularly Priced $79, Currently on Sale for $35! Here
Stylish Seating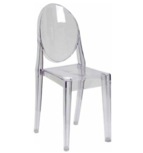 Just because it comes with your room doesn't mean you are stuck with the unattractive and uncomfortable desk chair the school gives you. Replace it with a modern Ghost Chair that does not take up space visually and adds a ton of style. Even better, you can personalize the back of the chair with a vinyl monogram! Dorm Décor, $99.00 (monogram an additional $10) Here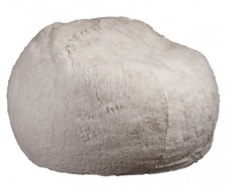 I love multiple use pieces in a small space so this amazing and comfortable Shag Convertible Sleeper Chair is a dorm decor must have for it's hidden surprise of a guest bed inside! Now when you have friends come to visit you from out of town no one will have to sleep on the hard floor. Simply unzip the cover and pull out the twin or full mattress folded inside. It's genius and so comfortable! CordaRoy's Convertible Sleeper Chair, Youth to King Size, $159 – $350  Here
Customize with Removable Wallpaper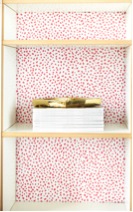 Purchase in panels and use to add some color to your walls, bulletin boards or plain dorm furniture! Best part? You can enjoy it while you live there and then remove it without residue or damage when you leave. *Note: I would test it on a spot first to make sure it comes off easily before completing the whole project  Chasing Paper Here
Organization and Essentials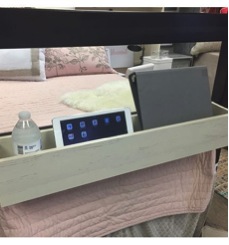 This Bed Rail Cubby is one of my favorite finds! It not only slips right over the headboard or footboard rail of your bed but it also has a hole in the bottom to thread a power cube through so no more panic of how you are going to charge your phone if you are in the top bunk! This is perfect for lofted beds or if you don't have a nightstand near your bed. Dorm Décor, $79  Here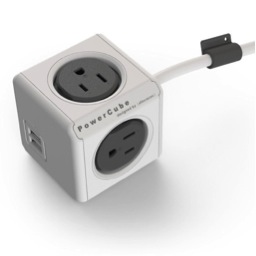 The Power Cube is 4 outlets, 2 USB ports, Surge protection with a 10 foot cord – need I say more?? A Dorm MUST HAVE!  Dorm Décor, $34.95 Here
Coffee Maker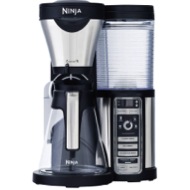 Access to coffee is a must have in my book for those early mornings and late night study sessions! The Ninja Coffee Bar gives you the option for hot coffee, iced coffee and specialty coffee plus the option of making a cup, a travel mug or a carafe – just in case the study group is camped out in your room! Ninja Coffee Bar, $179 Here
Bluetooth Speaker and Headphones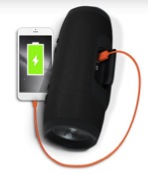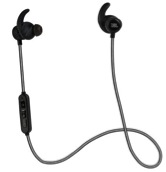 Music is a must but outlets are a premium in dorm rooms so having a portable Bluetooth speaker and headphones are key to get your energy up, relax after a long day or simply block out the noise in your dorm! Plus they are great on the go: The JBL Charge 3 ($149.95 – various colors) portable speaker features a high-capacity battery to charge all your devices while you're on-the-go. It's also waterproof and includes a speakerphone for crystal clear calls thanks to the noise and echo-cancelling technology. The JBL Reflect Mini BT ($99.95 – various colors) headphones are budget-friendly ear buds with Bluetooth technology that you can wear while studying or working out.
Tip: Teamwork Makes the Dream Work!
Reach out to your new roommate to coordinate on dorm décor must haves, electronics and appliances. Dorm décor can easily get messy without a plan and space is limited so getting on the same design page and dividing who is bringing what will make your move in a lot easier. *Tip: Pick two or three colors and stick to that color scheme, it'll make your room feel whole without appearing scattered and messy!
Tips: Storage Solutions
Bed Risers – Add some height to your bed so you can utilize more room for storage underneath. Storage is always a challenge in small spaces so maximizing your options will help tremendously!
Under the Bed Storage Containers – I love the double duty of this because it not only serves as additional storage but you are already packed when you go to move, slide the box out and done!
Vertical Closet Organizer – Try to get creative with your storage space. A vertical closet organizer saves closet space for other items you may want to store.
Laundry Hamper that Converts to Laundry Basket – A Double Duty Solution that will be so handy and maximizes space. Plus it is soft so you can squeeze it into tight spaces!
Recommended