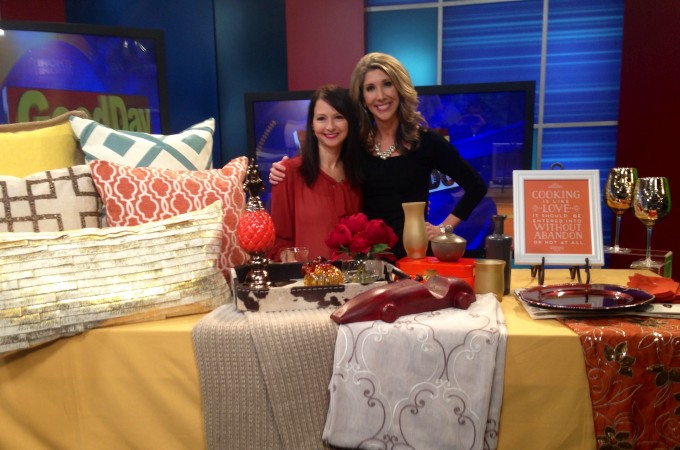 Spring into Fall without Spending a Fortune!
Wondering how to transition your bright Spring home décor into rich earthy hues for Fall? Here are some easy and affordable tips to anyone can use to warm up your home and turn it into a cozy fall retreat!
Add Metallics!
The best way to tone down your bright Spring colors and transition them to Fall is to add some rich metallics!
Quick and easy changes like these don't have to be expensive, you can simply add some new accessories or pillows in Fall hues for $1-25 and you'll feel like you walked into a whole new room
Yes, you can even add some accents for as little as $1, $2 or $3 with a simple DIY project
Use some new pillows, throws and accessories to bring a renewed life to your living room or master bedroom in rich Fall colors like burnt oranges, rich beige or brown tones or a golden yellow.
Again, add some new artwork in deep colors and voila you'll feel like you walked into an inviting new room that is warm and cozy
Even change out your rugs seasonally as an affordable but impactful change to updating your room – $50-150
You can also easily swap out your curtains in any room for a deeper shade for Fall/Winter and then switch them back for Spring/Summer to a brighter shade
Design Tip: Pick rugs or bedding with a neutral base color as foundation pieces that you don't have to switch out throughout the year so you can easily just update your spaces by adding color through inexpensive accessories
Kitchen
It's so easy to add some life to your kitchen in an extremely affordable way by utilizing your spring linen and then adding some themed placemats, napkins or dishes in a rich Fall hue to refresh the look.
These are easy and accessible changes that can literally range from just a couple of dollars for a canister in an earth-toned or metallic color for your countertop to less than $10 for a set of four new placemats or linen napkins to update your table
DIY Tips – Spray Paint is Your Friend!
It's easier than you think to also update your décor by updating pieces you currently have or transforming inexpensive clear glass pieces to expensive looking metallic décor pieces like a clear glass vase that cost $.97, a clear bud vase that I found on clearance at Homegoods for just $2 or a clear glass sugar dish that I found at Walmart for less than $3. I used three different tones of metallic spray paint to achieve the look: Anodized Bronze, Antique Brass Metallic and Gold Rush Metallic.
It's additionally easy to spray paint some serving trays to repurpose an item that you already have.
Switch out items from around your house and move them to different rooms to give yourself a new look without spending a dime
Final Tip
Don't be intimidated by change, go for it and you will love the results and have a brand new cozy Fall environment to start the new season!
Happy Decorating!
Recommended