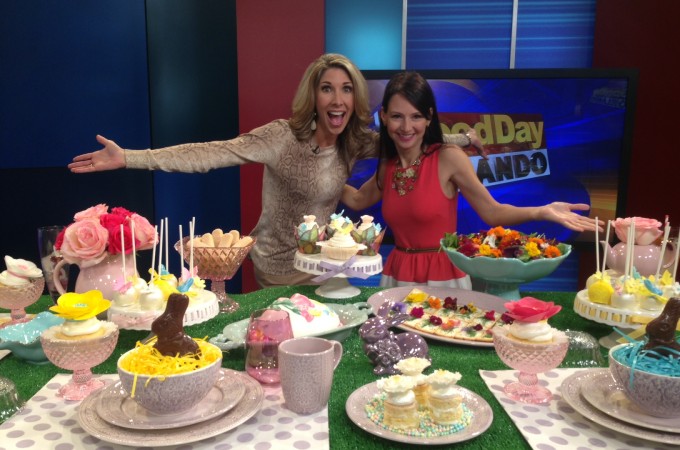 Host a "Bloomin" Easter Brunch or Spring Garden Party with Edible Flowers!
Spring is a perfect time to celebrate being together with family and friends! Here are some great tips on how to plan an easy Spring   Garden Party or an Easter Brunch for a bloomin' good time your guests will love!
Decor
Table Cover: Spring is all about the outdoors, the warmer weather the beautiful flowers that are blooming so what a unique and creative idea to bring that look indoors by using a (new of course) astroturf textured grass rug as a table cover for your table! You can purchase a 6' x 8' rug at Lowes for just $18. And, in the perspective of re-purposing and re-using items if you buy them, save it and then you can re-use it to set a Kentucky Derby Table or hold onto it for a really amazing Super Bowl Table next year!
Table Design: You know I love digging through my cabinets for plates and bowls I've either forgotten I have or never use enough to design an interesting and fun table for my guests. And, since I'm not a fan of "matchy-matchy", it always seems to work out when I pair a group of items that don't quite match but somehow go together perfectly in an overall look. I always think it gives a table much more interest and your eye more to look at when you add pieces that individually you wouldn't think go together but somehow as long as you have a thread of consistency with the color or the texture or the material, it just works beautifully! I used all ceramic pieces of different height, shapes and colors to create a really sweet Spring Garden Party or Easter Brunch look. I took a play on flower shapes and spring/Easter colors of light pinks, robin's egg blues, lavenders and yellows to design a table that just makes you happy when you look at it and gives your soul that ahhh, it's Spring feeling. Bring on the warmer weather, the bright sunshine and the gorgeous flowers!
Menu
It's all in the details! I love taking a unique twist on things and adding an easy but interesting element that guests don't see every day. I think it shows your extra effort and makes guests feel so special. After an extended and chilly winter, I really wanted to embrace and celebrate Spring's flowers blooming and all the bright colors they offer – flowers just make everyone happy! So, I designed the menu to include gorgeous and bright edible flowers – they aren't just for fancy, high-end catered parties – they are accessible and affordable through Whole Foods so I ordered six packages of bright, happy edible flowers and this is what I did with them:
Mixed Greens with Strawberry Vinaigrette and Edible Flowers – Toss together mesclun mix or baby spinach, pecans, flowers and feta with a refreshing vinaigrette dressing and serve, garnished with a few more flowers, if you like.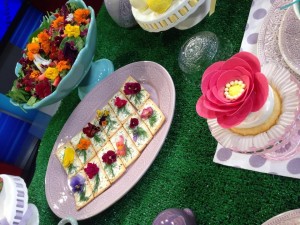 Here's the recipe:
Ingredients:
6 tablespoons of extra virgin olive oil
1/4 cup roughly chopped strawberries
2 tablespoons of raspberry vinegar
1 tablespoon yogurt
Pepper to taste
12 cups of mesclun mix or spinach
1/2 cup toasted or candied pecans
Edible flowers
1/2 cup of feta cheese crumbles
Put oil, strawberries, vinegar, yogurt, and pepper into a food processor and purée to make a dressing.  Toss together mesclun mix, pecans, flowers and feta with the dressing and serve, garnished with a few more flowers, if you like.  Recipe and food items found at www.wholefoods.com
Edible Flower Canapés with Herbed Cream Cheese – Spread the cream cheese mixture on the toasts (or bread rectangles) and decorate with edible flowers and herb leaves.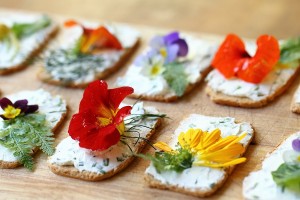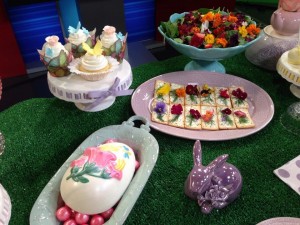 Here's the recipe:
Adapted from Rosalind Creasy,The Edible Flower Garden (Edible Garden Series)
Prepare the cream cheese mixture in advance, but don't make the canapés more than a couple of hours before serving. The melba toast tends to go soft, so if you need to make them in advance, bread would be a better option.
6 ounces cream cheese Salt 2 tbsp fresh chives, finely chopped 1 package melba toast or a few slices of sandwich bread, crusts removed and cut into rectangles Edible flowers such as: borage, nasturtiums, calendula (just the petals), rocket and jhonny-jump-umps) Herb leaves: dill, fennel, chervil, nasturtiums leaves
In a medium bowl, beat the cream cheese with a wooden spoon. If it's very thick, add a tablespoon of milk (or water) to achieve an easily spreadable consistency. Add the chives and salt to taste. Spread the cream cheese mixture on the toasts (or bread rectangles) and decorate with edible flowers and herb leaves. Cover loosely with a plastic wrap and refrigerate until needed.
Sparkling Lemonade with Edible Flower Garnish – again, super easy to make and prep in advance so all you have to do is mix it together and garnish with some gorgeous edible flowers for a beautiful and refreshing drink for your guests. Add an adorable striped paper straw for the perfect finishing touch. You can also freeze edible flowers in an ice cube tray, just fill part way with water, add flowers and top off with water then freeze.  You'll have beautiful floral ice cubes to add to your drinks as another option too!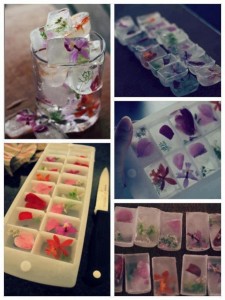 Here's the recipe: Sparkling Lemonade
6 lemons (1-1/2 cups juice)
2 limes (1/3 cup juice)
1 cup sugar
6 cups water
1 bottle of sparkling water
1 cup fresh raspberries (optional)
 Instructions
In a 2-quart pitcher, combine lemon juice, lime juice, sugar, and water. Stir to dissolve sugar.
Add raspberries; cover and chill overnight. Serve over ice with a splash of sparkling water and garnish with fresh edible flowers.
Gourmet Spring Inspired Desserts – I'm a dessert junkie so I loved the idea of doing something extra for a decadent Easter Brunch or a special Spring Garden Party! I worked with Ronnie from Hello! Sugar Desserts – www.hellosugardesserts.com to design the sweetest of sweet treats that really made the table bloom to life! She created cupcakes that look like flowers blooming in a garden along with cakepops adorned with fondant butterflies and even a giant Easter egg cake for those celebrating Easter. All of these amazing treats can be ordered and were the perfect finishing touch to add incredible color, texture and a little something extra special to bring this table to life and indulge your guests in a decadent day they will absolutely love!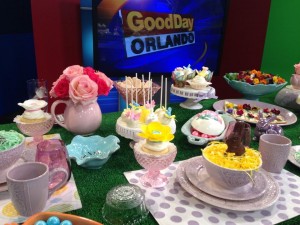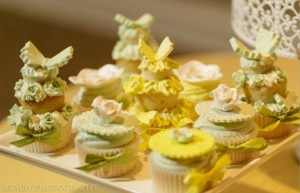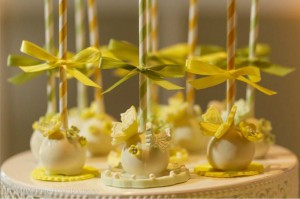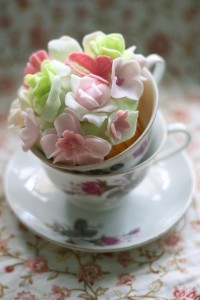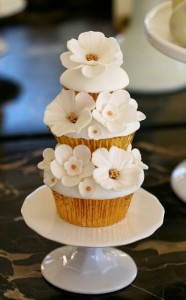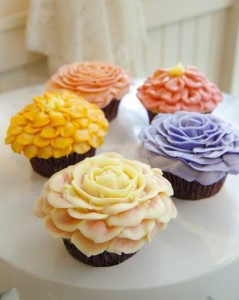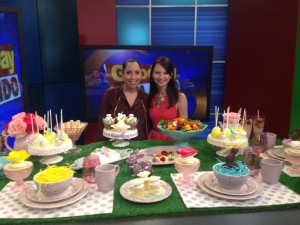 Tip: This is an important tip if you are going to use edible flowers! Do not use flowers from a florist or from the floral section of the grocery store. You don't know what those flowers have been treated with and could be sprayed with pesticides that could make you sick. Edible flowers are actually classified as food so you know they have been grown organically and not treated with any harmful chemicals. They can be special ordered from the produce section of the grocery store. I ordered mine through Whole Foods Produce Manager and they came in the next day. They are about $4.49 a container but if you order six containers, depending on how many you need, they classify that as a case and you'll receive a 10% discount.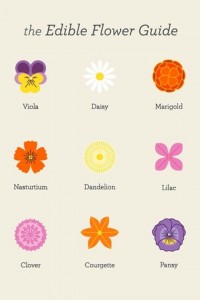 Enjoy and Happy Spring Season!  Send me pictures of how you used your edible flowers – I love new ideas so please share!
Recommended