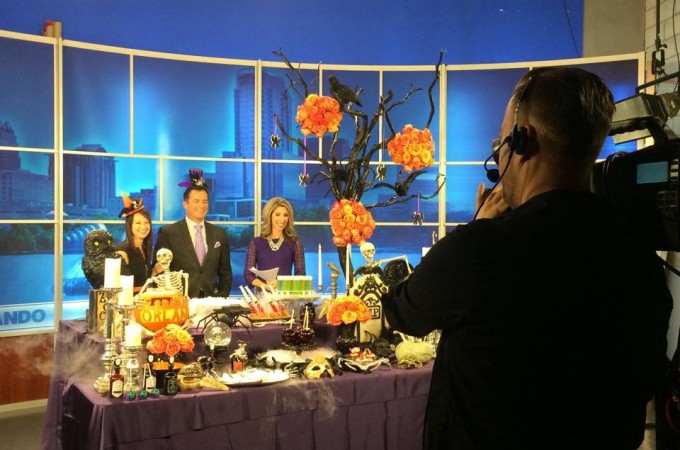 Host a Hauntingly Fun Halloween Party!
Do you want to throw a hauntingly fun Halloween Party this year but don't know where to start? Here are some frighteningly fresh ideas your guests will love!

FOX 35 Good Day Orlando

The Daily Buzz – 6am

The Daily Buzz – 5am
Decor
Table Design: You know I love doing things differently and finding new and creative uses for items so switch it up this year!
I used rich iridescent purple linens with a moody undertone of black to set the foundation for what I call a "Spooky Glam" feel that I rented from Over the Top Linens – www.overthetoplinens.com
In the design, we used an eclectic collection of Halloween décor items such as spooky candleabras, looming black birds and ominous owls to create an eerie mood but remember things don't have to match. Pull great items like mercury glass candlesticks or decor items that add a shine, black picture frames or accessories that help set the mood, venetian masks or anything skull and cross bones for a decorative interest and add some bright orange flowers to pull in some halloween energy and a pop of color!  I promise you don't have to spend a fortune at the store on specific Halloween decor, you have tons around the house to use if you just gather it up and create your own unique and eclectic look!  If you want to invest, invest wisely and just buy a few key pieces for that punch which you can use again in years to come…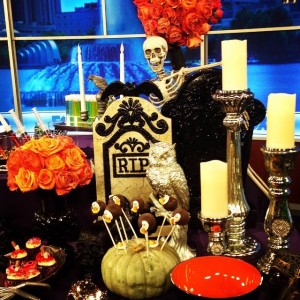 Also try pumpkins as floral containers and dessert holders to bring in some orange and traditional Halloween elements but in a twist of a new way and had some ghoulishly gorgeous help on the striking design elements and florals from Lee Forrest of Lee Forrest Design – www.leeforrestdesign.com
Now, one of my favorite flips is that no one ever said you can only serve desserts on platters so I repurposed a haunted tree as the anchor of one of my main tables to serve desserts hanging from it's twisted branches. So you know that out-of-date ficus tree that is buried in the back of your storage closet? Dig it out, pull off the leaves and spray paint it black!  It will be the perfect haunting tree to anchor your buffet table.  We hung spider cookies from the branches at different lengths so it looked like they were descending from the tree all at once for a creepy but delicious effect!
And, lastly some spooky and shiny silver serving pieces to add some depth and ghostly glamour to serve the rest of your tempting treats.
Menu
Halloween is all about sweet treats so I loved the idea of putting together a decadent dessert table that allows your guests to over indulge and probably go home with a nostalgic stomachache of eating too much Halloween candy. But, that really is part of the fun, isn't it?
Desserts!
Sparkle Spider Cookies – It's all in the details! I love taking a unique twist on things and adding an easy but interesting element that guests don't see every day. I think it shows your extra effort and makes guests feel so special. I worked with Ronnie from Hello! Sugar Desserts – www.hellosugardesserts.com to design spider shaped cookies and cover them in glittery sugar so they would catch the light. Then we put them on different length purple ribbon and hung them from the tree so it would look like all of the spiders were decending from the tree at once. I am terrified of spiders and althought this was my idea, it freaks me out so I guess mission accomplished for the spook-factor!
Poison Toffee Apples – We've all seen caramel apples for Fall and Halloween but again I loved the idea of taking it one step further to black toffee "Poison" apples! They look dangerous but they are delicious. You're guests will not only be mesmerized by them but love biting into them too!
Recipe
Serves: 6-12 apples
Ingredients
2 cups granulated sugar
¾ cups water
½ cup liquid glucose/light corn syrup
few drops black gel food colouring
6 Granny Smith apples (or 12 small apples)
Instructions
Grease a piece of baking paper and place on a tray/baking sheet.
Insert bamboo skewers in all the apples and set aside.
In a medium pot, combine the sugar, water, glucose/corn syrup and food colouring and stir over medium heat until the sugar has dissolved and the mixture feels smooth when you rub it between your fingers.
When the sugar has dissolved, turn the heat up and wash the sides of the pot down with a pastry brush dipped into clean water to prevent crystals from forming.
Allow the caramel to boil until it reaches the hard crack stage (150°c/310°F).
Carefully dip the apples into the hot candy mixture and place on the baking paper to set and cool for approximately an hour before serving. Recipe Source and Photo: www.simply-delicious-food.com
Merengue Bones – What Halloween table doesn't need a pile of bones? These are easy to make and delicious to snack on. I piled them up on a great silver platter that is designed with eerie skeleton hands as the handles for a creepy graveyard effect.
Drinks!
Spooky Shirley Temple – This is a non-alcoholic version for the kids or guests who don't drink but still want to join in the fun! Fill glasses with gingerale and then medicine or jello shot syringes with grenadine to look like they are filled with blood. Set the filled syringes in the glasses and set them out… Guests will enjoy the spook-factor and dispursing the "blood" into their drink!
Recipe: Non-Alcoholic
Ingredients
Sprite
Ice
Grenadine
Syringe
Instructions
Pour sprite over ice and garnish with a bloody (grenadine) syringe.
Recipe and Photo Source: Adapted by Made From Pinterest
  Links to buy prop syringes:
Amazon.com – $25 for 100
Amazon.com – $25 for 50
Hocus Pocus Punch or Witches Brew Punch– You can batch any version of your favorite alcoholic punch drink into a large bowl so it is pre-prepared and guests can help themselves throughout the party. Use a larger bowl and place dry ice in it. Set your punch bowl into the larger bowl on top of the dry ice and then right before guests arrive pour some water on the dry ice for a super smokey and wickedly witchy effect!  Here is the recipe for the Hocus Pocus Punch which you can make as an alcoholic version or a non-alcoholic version:
Ingredients 1/8 cup Lemonade 1/8 cup cran-pomegranate juice 3/4 cup lemon-lime soda 1 teaspoon grape JELL-O, powder form Optional: Vodka  
Instructions
To an 8 oz. cup, add 1/8 cup lemonade and then 1/8 cup cran-pomegranate juice. Add vodka next as well if you are making the alcoholic version. Combine 3/4 cup lemon-lime soda to the lemonade and grape juice. Add the JELL-O and watch the hocus pocus bubble and brew happen!  You can also batch this into a large punch bowl version, just adjust the quantity of each ingredient accordingly.
Notes
If your drink isn't fizzing, you need to add more lemon-lime soda!
Recipe and Photo Source: Recipe adapted from bitzngiggles.com
Mad Scientist Mixers – You can purchase a kit of (60) plastic test tubes and holders for about $20 on Amazon so you can mix a variety of colors of mixer juices for guests to add some pre-measured creepy and colorful mad scientist potions into their own drink concoction at the bar area. Put the holder in ice and set that container on top of a larger container that has dry ice in it. Pour some water over the dry ice and smoke will spill out over the edge of the bowl for the mad scientist laboratory effect!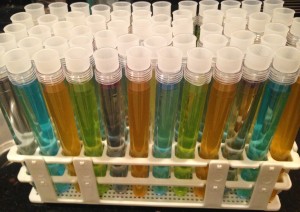 Link to buy test tube set: www.amazon.com – $19.99 for set of 60
Tip: This is an important tip if you are going to use dry ice! Handle it carefully and properly… Do not touch it with your bare hands or use it in a way that a guest could ingest it. It can severely burn you so handle only with gloves or tongs and make sure guests can't swallow it if you use it in a drink. I recommend putting the dry ice in a bowl underneath the punch bowl so it isn't actually in the punch. That way you can ensure the safety of your guests but still get the goulish effect you are going for to impress them!  To find where to purchase it call your local grocery store.  I found mine at Publix for $1.49/lb. Bring a styrofoam cooler and leather gloves with you to pick it up because it will start frosting everything it touches and it's important to handle it safely.

Happy Haunting!
Recommended