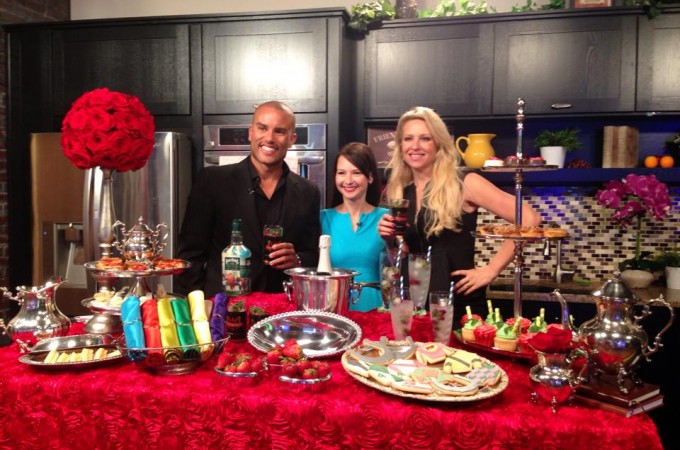 Plan a Kentucky Derby Party Your Guests Can Bet On!
Plan a winning "Run for the Roses" Kentucky Derby Party your guests can bet on this year with these fun tips and ideas below designed to help you celebrate the "Greatest Two Minutes in Sports" with family and friends!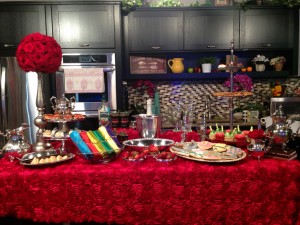 Décor
Table Cover:
Draped in Roses – The Kentucky Derby is nicknamed the "Run for the Roses" and the winner is draped in a garland or blanket of roses so I loved the idea of either using or adding a beautiful rose textured linen as the table covering or runner on top of the grass rug to add dimension and color to your table too – Mine came from a Kirby Tent Rental or you can also find rose textured fabric at a local fabric store like Joann Fabrics for about $25 a yard.
Table Design:
Silver and Shine – Since the decadent silver mint julep cup is synonomous with the Kentucky Derby, I wanted to set a table that felt luxurious so I used all silver serving pieces and décor elements such as a really tall ornate silver candlestick repurposed to instead hold a rose floral arrangement and silver cups to hold dessert items and additional clusters of red roses.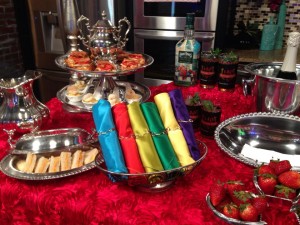 Everything is Coming Up Roses – I also wanted to highlight the red rose as being the official flower of the Kentucky Derby so I added the rose textured linen and fresh red rose clusters to the table for a pop of rich color and to bring the outdoors in!
Horse Bit and Hardware – I loved the idea of incorporating some of the fun colors associated with the racing teams found in the Jockey "silks" (jerseys), so I ordered a dozen different colored napkins and then found some mini horse bits and DIY'd some themed napkin rings.  I used some brown leather laces to mirror the reigns and tied the leather to the horse bit ends and then wrapped it around each napkin containing silverware for a clever, fun and functional element to grab guests' attention.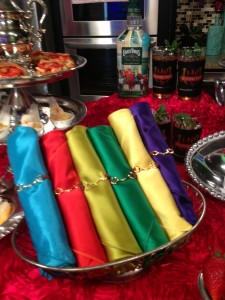 Menu
The Kentucky Derby is all about tradition so I wanted to highlight some of the true favorites that would transport guests right to the Derby and add in a whole lot of sweet treats for guests to indulge in throughout the party.
Derby Drinks: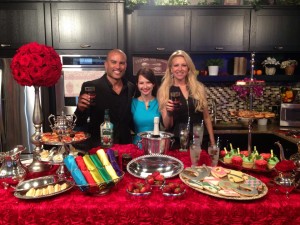 Traditional Mint Julep – No Derby Party is complete without the Mint Julep, which has been the traditional beverage of Churchill Downs and the Kentucky Derby for nearly a century. This is an easy drink to make from scratch or if you don't feel comfortable or have time you can easily buy the ready-made official Early Times Mint Julep for about $12.99 a bottle at a liquor store. The official mint julep glass is the most popular souvenir and collector's item for Derby guests.  You can order the official Derby Mint Julep glasses from www.kentuckyderby.com. They make great gifts for your guests and look even better with the drink inside!  **You can order until Thursday at 2pm EST in order to get them for the Derby with next day air.
Ingredients:
2 Cups sugar
2 Cups water
Sprigs of Fresh Mint
Crushed Ice
Early Times Kentucky Bourbon
Mint Julep Cups
Make a simple syrup by boiling sugar and water together for five minutes. Cool and place in a covered container with six or eight sprigs of fresh mint, then refrigerate overnight. Make one julep at a time by filling a julep cup with crushed ice, adding one tablespoon mint syrup and two ounces of Early Times Kentucky Bourbon. Stir rapidly with a spoon to frost the outside of the cup. Garnish with a sprig of fresh mint.
Sparkling Lemonade over Rose Bud Ice Cubes – again, super easy to make and prep in advance so all you have to do is mix it together and pour over some beautiful ice cubes for a beautiful and refreshing drink for your guests. Add an adorable striped paper straw and even a bowtie of ribbon around the bottom of the glass for the perfect finishing touch.  *Freeze small rosebuds in an ice cube tray with water and have beautiful ice cubes to add to your drinks.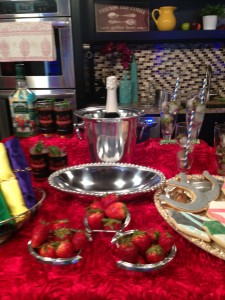 Sparkling Lemonade
6 lemons (1-1/2 cups juice)
2 limes (1/3 cup juice)
1 cup sugar
6 cups water
1 bottle of sparkling water
1 cup fresh raspberries (optional)
 Instructions
In a 2-quart pitcher, combine lemon juice, lime juice, sugar, and water. Stir to dissolve sugar.
Add raspberries; cover and chill overnight. Serve over ice with a splash of sparkling water and garnish with fresh edible flowers.
Derby Dishes: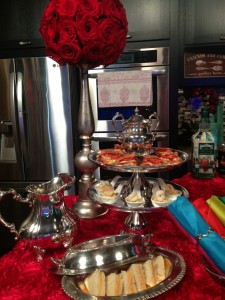 Baby Hot Browns – A Hot Brown Sandwich is an American hot sandwich originally created at the Brown Hotel in Louisville, Kentucky, by Fred K. Schmidt in 1926.  The Hot Brown is an open-faced sandwich of turkey and bacon, covered in Mornay sauce and baked or broiled until the bread is crisp and the sauce begins to brown. Many Hot Browns also include ham with the turkey, and either pimentos or tomatoes over the sauce.
Ingredients:
One 2-pound boneless turkey breast half, skin-on
3 tablespoons extra-virgin olive oil
Kosher salt and freshly ground black pepper
Mornay Sauce:
Sandwich:
Four 3/4-inch-thick slices white bread, toasted
2 large tomatoes, sliced
1/4 cup grated pecorino
Pinch sweet paprika
1 tablespoon chopped fresh parsley
8 slices cooked bacon
Directions:
For the turkey: Preheat the oven to 350 degrees F. Drizzle with the olive oil and sprinkle generously with salt and pepper over the whole turkey breast. Place on a roasting pan and cook until it begins to brown, about 50 minutes. Raise the temperature to 400 degrees F and roast until the skin is golden brown and crispy and an instant-read thermometer inserted into the middle of the breast reads 165 degrees F, about 15 minutes more. Remove the turkey from the oven and let cool. Cut into 1/4-inch-thick slices.

For the mornay sauce: Cook the butter and flour over medium heat in a pot, stirring continuously for 5 minutes; the roux will be pale gold in color. Raise the heat to medium-high and add the milk. Whisk until the sauce thickens, about 5 minutes. Season with salt and pepper. Remove the pot from the heat and stir in the Cheddar, pecorino and nutmeg.

For the sandwich: Preheat the broiler. Assemble the hot brown by laying the toast down in a large pan. Divide the sliced turkey over the top. Layer with the tomatoes, mornay sauce and pecorino. Place the pan under the broiler until the sauce is golden brown, about 5 minutes. Transfer to a plate and sprinkle with the paprika and parsley and top with the bacon.
Shrimp and Grit Bites – Everyone loves shrimp so turn a southern favorite into a highbrow bite with individual serving spoons of cheesy grits topped with a delicious sauteed shrimp.
Ingredients
4 1/2 cups water
1/2 cup cream
1 3/4 cups hominy grits
6 ounces processed cheese, cubed
1 tablespoon olive oil
1/2 green bell pepper, sliced
1/2 red bell pepper, sliced
1 Vidalia onions, thinly sliced
1 clove garlic, minced
1 1/2 pounds fresh shrimp, peeled and deveined
salt and ground black pepper to taste
1 dash hot pepper sauce (optional)
Directions
Combine the water and cream in a saucepan over medium heat. Bring to a boil, and stir in the grits. When the grits start to thicken, stir in the processed cheese, and simmer, stirring occasionally until grits are thick and ready to eat, about 10 minutes.
While you are waiting on the grits, heat the olive oil in a large skillet over medium-high heat. Saute the green and red peppers with the onion and garlic. When the grits are almost done, add the shrimp to the saute mixture, and cook for about 5 more minutes, or just until the shrimp is cooked through. Season with salt and pepper to taste.
Serve the cheese grits with a generous helping of the shrimp saute over them. Add a dash of hot pepper sauce for heat if you like.
Derby Desserts:
Gourmet Spring Inspired Desserts – What could be better at a decadent Derby party than a tower of decadent desserts!  I worked with Ronnie from Hello! Sugar Desserts – www.hellosugardesserts.com to design some amazing sweet treats fit for a winner's circle.  We wanted to incorporate fun with tradition so we designed some eye-catching and mouth-watering treats that can be ordered and were the perfect finishing touch to add a little something extra special to bring this table to life!
Jockey "Silks" Cookies – cookies cut in the shape of Jerseys and colorfully designed with the unique pattern you see on their silks representing each horse and team.
Bourbon Balls
Individual Derby Pie Bites
Red Rose Cake Pops
Red Velvet Cake
Mint Julep Cupcakes
Rose Decorated Cupcakes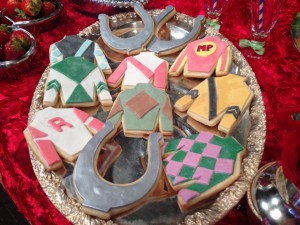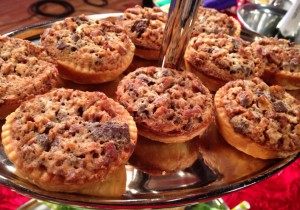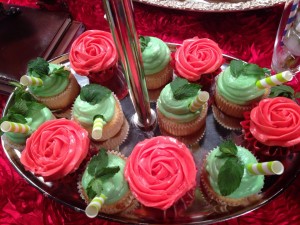 Activities:
"Lucky Number Purse Pick" – It's always exciting to get guests involved in an event so I took 20 numbers to represent each of the 20 horses running in the Derby and put them in a silver champagne bucket or bowl for guests to draw from when they arrive to the party.  The number they randomly select is the horse they will root for during the race.  (If you have more than 20 guests, no problem, just add a double set of 1-20).
Prizes – Then purchase a nice "purse or wallet" for the winners (don't forget to plan for a men's and women's gift depending on the winner or winners) as a play on winning the "purse" of money at the Derby!  Guests will love it and it will create a healthy competition plus be a ton of fun to see everyone rooting for their number during the actual race!
And, now we're off to the races for a great party!  What are your favorite Derby Party tips?  Please share them with me in the comments below as I would love to hear what traditions make your party special!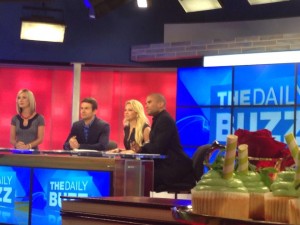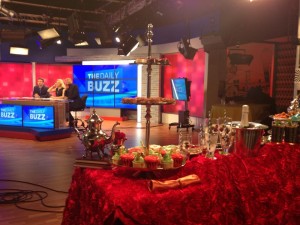 A special thank you to The Daily Buzz, Lee Forrest Designs, Hello! Sugar Desserts, Kirby Tent Rental and Over the Top Linens – Teamwork makes things beautiful!
Recommended