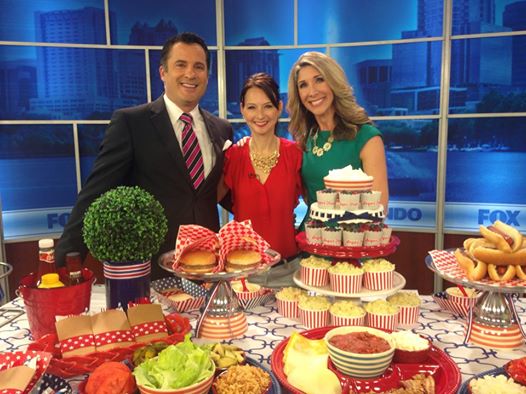 Plan a Star Spangled Bash this 4th of July!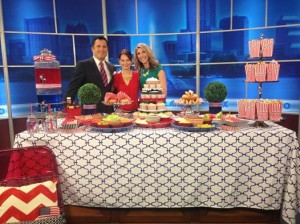 4th of July is a perfect time to celebrate being together with family and friends! Here are some tips on how to plan an easy 4th of July party your guests will love!
Decor
Table Cover: You don't have to use traditional flag inspired décor, you can create a modern 4th of July look by using a nautical or geometric design as your base. That way you can use this linen again after the holiday!
Table Design: I loved the idea of playing off of the stripes in the flag and incorporating pieces in both red and blue. I also incorporated some silver pieces to add some metallic and life to the table.
Menu
"Build Your Own" Burger and Hot Dog Bar:
Burgers and Hot Dogs – Americana at its finest! Perfect 4th of July cookout food that guests expect and love. Add, several serving trays of great toppings and ingredients for guests to customize their own burger or hot dog in the way they like for a perfect offering!
Sides:
Individual Potato Salad Cups – Make your favorite potato salad and then dish it up into cute red and white striped ice cream cups for guests to grab and go!
Red, White and Fruit – It's always hot on the 4th of July so some refreshing red and blue berry cups are the perfect refreshing treat packaged in adorable cupcake holders! Or, some delicious watermelon slices displayed on a bed of ice to keep them chilled and cool off your guests
Dessert:
Take Me Out to the Ballgame Caramel Corn – 4th of July, Americana and Baseball all go together for me so I loved the idea of individual boxes of caramel corn. Add a surprise treat hidden in the boxes for something fun!
Beverages:
Drinks – Serve red and blue beverages to keep with the theme like a blue sports drink or kool-aid or a cranberry juice with a splash of sparking water for a refreshing spritzer.
*Adult version – Bomb Pop Cocktail Recipe
Pour the Bacardi Razz rum into a small rocks glass or otherwise. Add blue curacao, and then lemonade, and serve.
Tips:
• Create a modern 4th of July look with a nautical or geometric pattern. This way you'll have an updated look but also a linen you can use again after the party.
• Incorporate some red and blue stripes into your design as a fun play off the American Flag
• DIY – Create cute silverware packs for guests to grab and go
• "Build Your Own" Burger / Hot Dog Bar – Makes entertaining easy and guests can customize their burger or hotdog they way they like it!
• Alternate idea – put ingredients together to create regional burgers or hot dogs such as a California Burger or a Chicago Dog
• Place watermelon slices on a bed of ice to keep them chilled
• Use cupcake or ice cream cups to portion individual selections of berries or potato salad
• Use cute burger boats for guests rather than traditional paper plates
Happy 4th of July!
Recommended