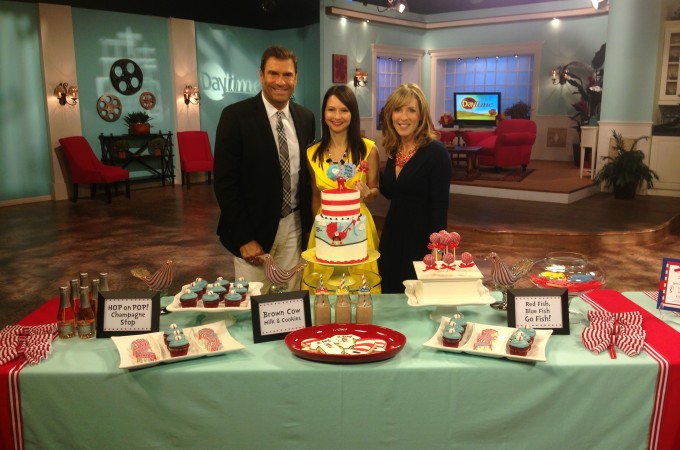 A "Seussical" Baby Shower!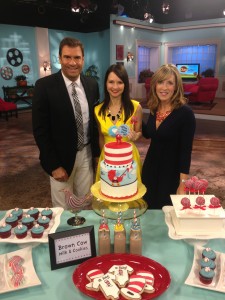 Baby Showers don't have to follow a traditional pink or blue color scheme. Make them bright, fun and creative by choosing a whimsical theme like Dr. Seuss for your guests to enjoy and relish in the happy memories of childhood.
Table Set-up and Theming:
Table Set-up: Use a bright red or a teal blue as the base of your table to give you a color pop foundation to build on.
It's Dr. Seuss so have fun with the design, nothing needs to match, it can be quirky and interesting so go through your cabinets and find a mix of pieces you can use to make a great table. Pull in any of your white, red and yellow dishes or serving accessories and don't forget a fun fishbowl for some red fish, blue fish cookies!
Custom Invitations: Licensed Dr. Seuss fabric on these amazing invitations definitely sets the tone for the party!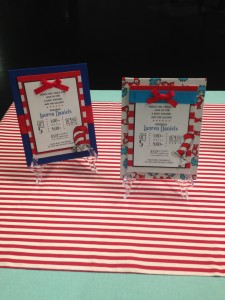 Dragonfly Custom Designs created whimsical invitations in two looks using Cat in the Hat fabric and Thing One and Thing Two fabric. After opening these amazing invitations, who wouldn't want to come to this incredible shower? Find her great invitations here: The Couture Collection by Dragonfly Custom Design
Avoid the Awkward – Hashtag Pre-Party Activity:
Baby Showers are famous for mixing in all the circles of friends and family that are important to the Mom-to-Be. The downside is that it can feel a bit awkward for your guests with so many people they do not know in an intimate setting. No worries, here is a great idea to help "Avoid the Awkward"!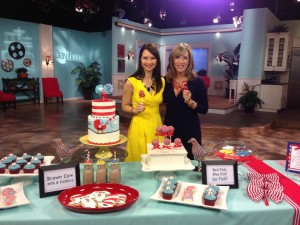 Create a hashtag for your party guests and invite them to upload a photo of themselves with a note on how they know the Mom-to-Be. It will help all of your guests put a face to the name so they can avoid that dreaded "I don't know anyone" feeling when they arrive to the party. Plus, it makes for a great collection of photos all in one place before, during and after the baby shower since guests can continue adding to the gallery with the custom hashtag such as #JamieOSeussShower
Dr. Seuss Delectable Desserts:
Dr. Seuss lends itself so well to a creative, colorful and playful dessert table full of sweet treats for guests to indulge. Aren't yummy treats that what a celebration is all about?  These amazing treats and impressive cake were made by Hello! Sugar Desserts
Red Fish, Blue Fish Cookies – You can make or order some red and blue fish cookies. Place them in a fishbowl to theme them in on the table. It's a great look that will make your guests giggle and fish out a treat!  Here is the free downloadable sign from Dragonfly Custom Designs: Red Fish, Blue Fish Sign Red Fish, Blue FishRED2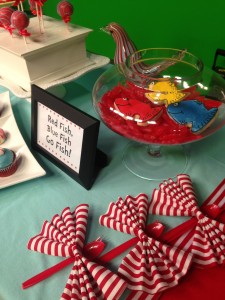 Thing One and Thing Two Cake Pops – Cake Pops are always an indulgent treat for guests.  They are easy to eat and are a perfect bite-sized dessert.  You can color theme the cake pops in like the ones below or have a bakery create adorable Thing One and Thing Two Cake Pops with spiky blue frosting for hair or have their adorable Thing One and Thing Two logos placed on these playful treats.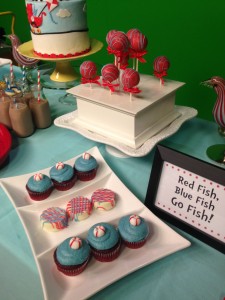 Cat in the Hat Cookies – Who doesn't automatically smile when you see the red and white stripes from Cat in the Hat? You can easily make some hat shaped sugar cookies and decorate them in red and white stripes… Pipe some black frosting in between each color to make it stand out and voila! Another cute idea is onesie shaped cookies also designed in the red and white stripes… Add the baby's name if you know it and guests will be oohing and ahhing over them guaranteed!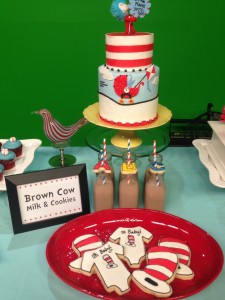 Statement Cake! – If you are going to invest in something to make your dessert table stand out, order a themed cake that will really make a statement. You can go with a fun Cat in the Hat theme or a great Baby Carriage with Thing One and Thing Two, especially if you are celebrating the arrival of twins. Pick something you love and go for it!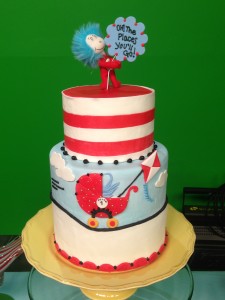 Drinks
It's always good to offer both an alcoholic and non-alcoholic selection for your guests but theme it in and have fun with it and of course with a Dr. Seuss theme, the possibilities are endless:
"Hop on Pop" Champagne Stop! – Create a great champagne stop with the small individual bottles of "pops" champagne or even some cute mini pink moscato bottles, all guests have to do is "pop the top" and add a festive striped paper straw to enjoy. If you want to add some additional mixers, guests can create their own favorite champagne drinks from mimosas, to kir royals to a cranberry splash. Who wouldn't want to visit the Hop on Pop Champagne Stop?  Here is the free downloadable sign from Dragonfly Custom Designs: Hop on Pop Champagne Stop – Hop on Pop2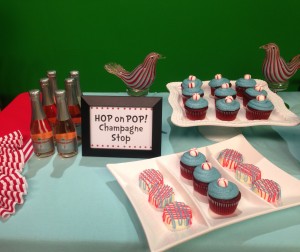 "Brown Cow" Milk and Cookies – You can find adorable individual vintage glass milk bottles, fill them with milk then add a delicious themed or chocolate chip cookie to the top, pop the straw through the middle of the cookie into the milk and it's an adorable "grab and go mingle" full of childhood nostalgia. I found my glass milk bottles at Old Time Pottery for just $1 each.  Here is the free downloadable sign from Dragonfly Custom Designs: Brown Cow Milk & Cookies – Brown Cow2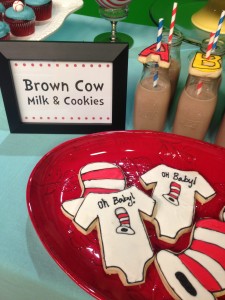 Make it Meaningful Activities: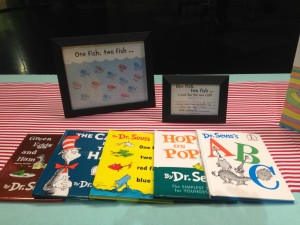 Red Fish, Blue Fish – What Is Your Wish? – I love the idea of writing a wish or note to the baby and then framing the individual notes to create a gallery wall of love in the nursery. It's a personal touch that can inspire happiness and an incredible keepsake for the Mom-to-Be.  Here is the free downloadable sign from Dragonfly Custom Designs: Red Fish, Blue Fish, A Wish for the New Fish – wish card2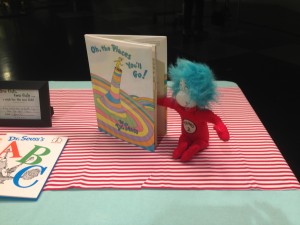 Oh The Places You'll Go Guest Book – I'm a huge bookworm. Books were always a big part of my life starting with my mom reading to me before bed each night when I was young. I loved the idea of having the book "Oh the Places You'll Go!" serve as a guest book where guests can again write a note to the baby of their wishes for their future or advice. What an incredible momento that they can keep throughout their life to remind them how loved they are and that their life is limitless in what they can do and accomplish! This is one of my favorite ideas!
Put Your Stamp On It! – As another interactive keepsake idea, print an 8.5 x 11 print of an outline of a heart or something themed into the party or nursery design. Put out some ink pads and invite guests to use their fingerprints to fill in the photo. Once it is complete you can frame it as a unique piece of loving art to hang in the nursery as well. In this Dr. Seuss themed shower I used a Red Fish, Blue Fish design with red and blue ink pads so guests could stamp their "fish" then draw in a tail and sign their name underneath for the Mom-to-Be to frame and hang in the nursery. It's always good to be surrounded by things that remind us of how much we are loved – especially during those late nights with a fussy baby when you need extra support and love the most!  Here is the free downloadable sign from Dragonfly Custom Designs: Put Your Stamp On It! – Sign2
Baby's Library – I am a huge bookworm so I love the idea of creating a theme around books and inviting guests to bring a book to create the baby's library. Books have always been a happy place for me and I still have some of my favorite books from childhood. It's the gift that keeps on giving and is filled with so many giggles and so much love!
Recommended