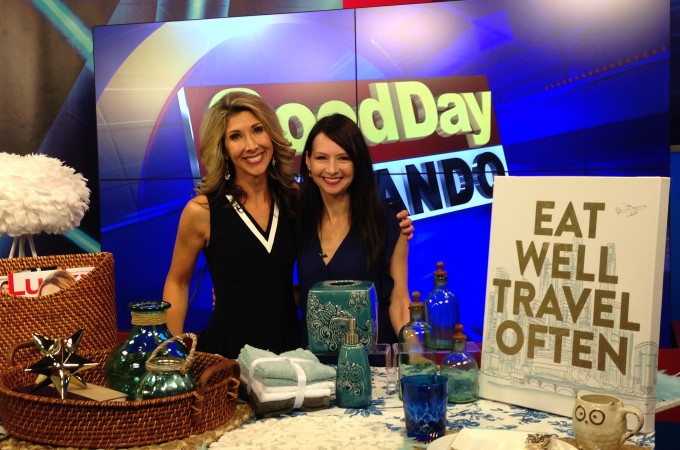 "Spring" into New Trends for Home!
Wondering how to give your home décor a refresh for Spring? Here are some easy and affordable tips and trends you can use to add some new life to your home this season!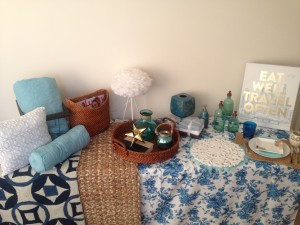 New Trends in Home Decor
Aqua and Indigo!
The best way to brighten your house and your mood in time for Spring is by adding the color of the season – Aqua and Indigo!
Quick and easy changes like these don't have to be expensive, you can get just a few new accessories or pillows for $10-25 and you'll feel like you walked into a whole new room
The key to home décor is being surrounded by things that you love and make you happy!
Naturally Beautiful and Industrial Chic
Natural Elements are so on trend right now so add in some woven baskets or serving trays to your living room or try a natural jute rug under your coffee table to bring some of the beauty of nature inside.
Add some aqua, indigo or even mint green accessories to your tray for a fresh new look that is super affordable. The tray I bought from

www.homegoods.com

was only $16 and the accessories were $3.99-$9.99
Add a new feather light to your living room or bedroom for some lux natural elements. I'm in love with this Esos light which can be a pendant light or a table or floor light from Vita Lighting for just $139!  Don't you love luxury looks for less? I do! 

www.vitalighting.com

or order at events@vitalighting.com
Try some new wood carved placemats for your kitchen or dining room table. I found some amazing white washed wood placemats crafted in India at Homegoods for just $9.99 each. Adds some visual interest and natural material to you space that really displays craftsmanship in design.  If you want a more affordable option, try some natural fiber woven placemats for just $2.99 each at Homegoods.  Now, if you are like me and want a more fashion-forward look, try these incredible aqua feather placemats from

www.zgallerie.com

for $29.99 to bring nature and fashion to the table in a very chic way!
Don't be afraid to mix in some industrial chic pieces into your home décor too, some great metals or deconstructed materials add a lot of character and visual interest.
Mix it up!
The whole look of the season is mixing traditional pieces with industrial chic pieces like a metal and wood basket. Things no longer have to match and I love that! It gives your space a unique personality with a lot more interest when you mix styles together.

Design Quick Tip:

The key to mixing styles is to make sure there is a thread of something in common in the pieces you are trying to bring together. Use similar base color tones like aqua or metallics or look for similar shapes or materials in the pieces you are mixing… Pieces with a common thread will work great together even if they are traditional mixed with industrial!
Note to Self
Typographic design is still big this season! So surround yourself with great "notes to yourself" in your pillows and artwork. It can be a great way to keep some positive reminders in your daily life or highlight words or places that make you happy!
Affordable "How-to" Design Tips:
Living Room or Master Bedroom
Use some new colorful pillows, throws and accessories to bring a renewed life to your living room or master bedroom in bright cheery colors like aqua, oranges, lime greens or buttery yellows
Add some new and fresh artwork.
Surround yourself with happy and positive messages on your decorative pillows or the artwork to keep you uplifted
Even change out your rugs seasonally as an affordable but impactful change to updating your room – $50-150
You can also easily swap out your curtains in any room for a brighter shade for Spring/Summer and then switch them back for Fall/Winter to a darker shade

Design Quick Tip:

Pick rugs or bedding with a neutral base color as foundation pieces that you don't have to switch out throughout the year so you can easily just update your spaces by adding color through inexpensive accessories
Kitchen
It's so easy to add some life to your kitchen in an extremely affordable way by changing your table linen to a brighter hue or add a great pattern for some chic style then add some wood-carved or natural-woven placemats, napkins or dishes to refresh the look.
These are easy and accessible changes that can literally range from just a couple of dollars for a canister in a bright color for your countertop to $10-40 for a set of four new placemats or linen napkins to update your table
Again, add some new artwork and voila you'll feel like you walked into an inviting new room that is cheery
DIY Tips
It's easier than you think to also update your décor by changing or updating pieces you currently have such as painting a side table another color or changing the fabric on your kitchen chair cushions to bring Aqua or Indigo into your space.
It's additionally easy to spray paint some serving trays or cover in a fabric you love to repurpose an item that you already have.
Switch out items from around your house and move them to different rooms to give yourself a new look without spending a dime
Final Tip
Don't be intimidated by change, go for it and you will love the results and have a brand new cheery environment to start the new season!
What are your favorite ways or DIYs to update your home for Spring?  I'd love to hear or see them!  Post your comments or photos in the comments section below or email me at jamie@jamieo.co!
Have a wonderful Spring season!
Recommended