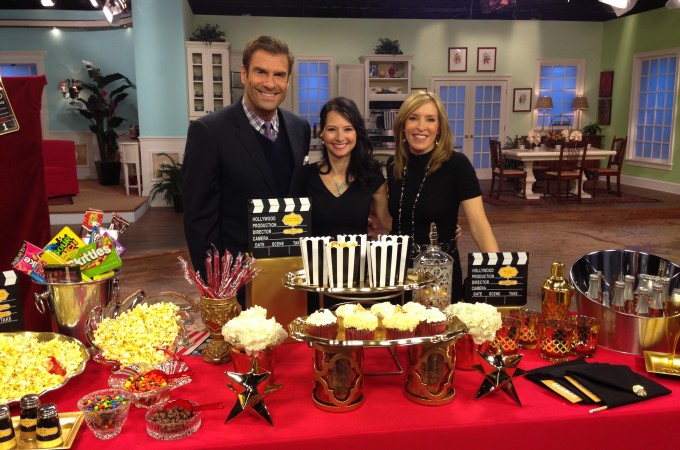 The Award Goes To… How to Host An Award-Winning Oscar Party!
Oscar Night is one of the very best nights to get together with friends and indulge in the fun, fashion and food!  So, I stopped by NBC's Daytime TV to share some tips with Cyndi Edwards and Jerry Penacoli on how to host an Award-Winning Oscar Party sure to make your guests feel like stars.  I've put those tips together below for an easy recipe to host an award-worthy party of your very own… And, the Award Goes To… 
Table Set-up and Theming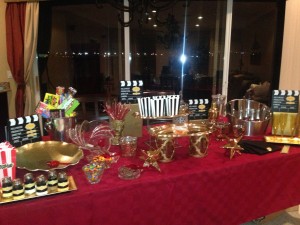 Key Tip:  Use what you have around the house to set up a super glam table your guests will love!
I am all about re-using and re-purposing items so bring your red tablecloth from the holidays back out for a stunning red carpet table design.

Use gold and silver metallic accent pieces to give the table that great glamour and shine of the Oscars And, use this party as a perfect excuse to dig out your crystal bowls and glasses that have long been sitting in your cabinet to add the glittery shine of diamonds to your table!

I always think it is fun to theme your table with nominated Best Picture Films so be creative and give it a try!  I found some great movie themed wooden clapboards at the party store for just $2.50 each and then made custom labels for the food and cocktails stations  below – Easy but elevates your table to one that looks like the pros!
Food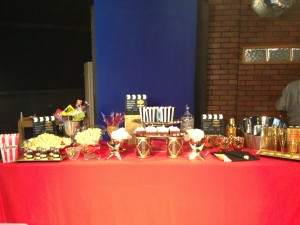 Key Tip: The Movies are all about indulgence to me – Indulging in 2-3 hours to yourself, Indulging in your favorite snacks and Indulging in escaping into another world for awhile so make Oscar Night a Night of Indulgent and Nostalgic Treats!
Theme your table in with some of the highlighted movies for the year that are nominated for Best Picture. It's easy and here is how I did it:
"American Hustle" – Hustle Up Some Popcorn and Candy: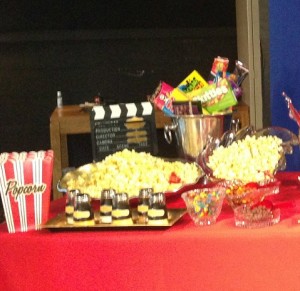 You can't see a movie without popcorn so set up a Gourmet Popcorn Station for your guests– You can easily order bags of fresh popped popcorn from most grocery stores so fill up several bowls on your table and set out popcorn bags for guests to fill themselves

Add a selection of popcorn flavor toppings for guests to choose from like Nacho Cheddar, Jalapeno Chedder, Ranch, Cinnamon Sugar, Caramel, Butter

Don't forget several crystal dishes of mini-m&ms, reeses pieces and hershey's crunch bites to add to their popcorn mix too

And, most importantly a huge selection of nostalgic movie theater boxes of candy – sold at any big box store for $1 each.  Guests will love it!
"Captain Phillips" – Captain Phillips Cupcakes and Crunch: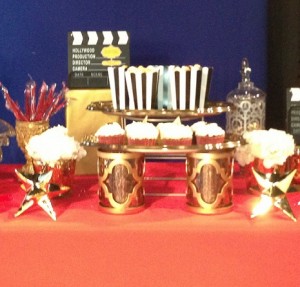 Don't forget some fun theater bags of crunchy caramel corn mix and some great sweet treat cupcakes for those with a sweet tooth!

You can buy these cute and inexpensive black and white striped popcorn holders that make a design impact on your table at the Party Store (5) for $1
Cocktails
"Gravity" – Defy Gravity Champagne Pops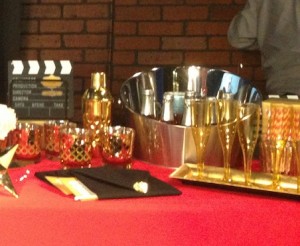 Oscars screams decadence to me so I love having individual champagne bottles (pops) for guests to either pour in a champagne flute or just open and pop in a straw – Easy for you and guests love it!
"Wolf of Wallstreet" – Lime Wolf Signature Cocktail
I do love adding in at least one easy and themed cocktail so look for something that fits with your theme and is easy to make or that you can make in advance.  I am serving the Lime "Wolf" Cocktail this year tying in with Wolf of Wall Street which is so incredibly simple to make!

Here is the

Recipe: Simply use 1 part Bacardi Wolfberry Rum and 3 parts chilled Lemon-Lime Soda over ice.  I like to sweeten my drinks so I also added a splash of pinapple juice and a squeeze of fresh lemon to balance it out

– Absolutely delicious and I think all of your guests will enjoy it!
DIY Photobooth and Hashtag
Key Tip: Everyone loves posting fun photos on Facebook and Instagram so why not create your own photobooth and hashtag to go with your event!
I simply used a rolling wardrobe rack and a pair of red velvet drapes I had in my storage closet to create a theater backdrop. (I used simple black binder clips from office depot to clip the drapery together behind)

I made a collection of photo props for guests to have fun with in their photos like:Custom Hashtag so all of your friends can find and connect their photos #DaytimeOscarParty

Award Winner Envelopes – Best Guest, Best Host, Best Supporting Friend

Film themed cutouts from the party store and added craft sticks to the bottom for handles

Gold Award Statue Props from the party store
Fun Party Activities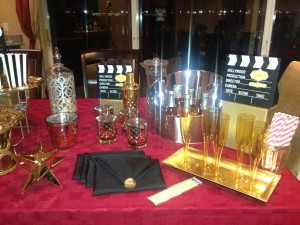 Key Tip: The speeches are always one of the best and most anticipated parts of watching the Oscars so print off some great Acceptance Speech Bingo Cards for your guests to keep the excitement high during the show!

Here are four different versions of the Bingo Cards for you to download and print for guests to play while they watch:

 

Acceptance Speech Bingo

Display them inside black linen napkins that are folded and closed with a gold seal to look like award envelopes.  Add a sparkly gold pencil and guests will have their own set to play throughout the show.

Pick up some fun Gold Award Statues at the Party Store to hand out to the winners or any prize of your choosing to add to the excitement!
Recommended
1 Comment