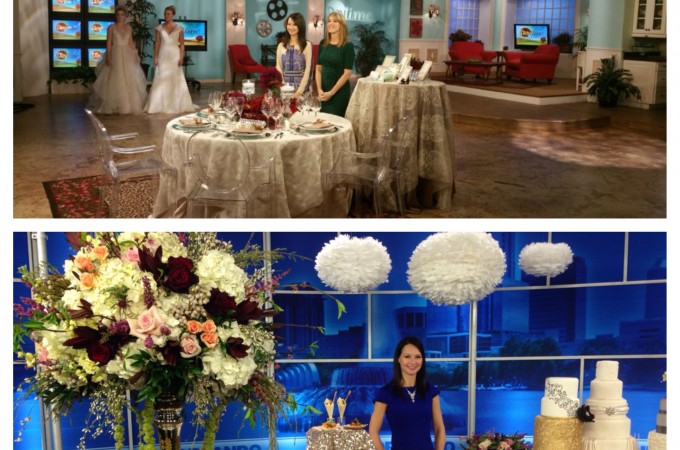 Wedding Trends 2015 – "True Romance and a Modern Princess"
2015 is going to be all about a Modern Princess with a throwback to the gorgeous and elegant icons like Princess Grace. It's going to be a romantic year of celebrating iconic style!
Part 1 – Gorgeous Decor, Couture Invitations and Dreamy Dresses

Part 2 – Delicious Decor, Cuisine and Cakes

Romance
We will see a lot of romantic colors of blush pinks, pistachio greens, light blues, lavender and champagne coupled with accents of Lace, Metallics, Mercury Glass and Crystal design elements.  Then gorgeous tables set with antique china and romantic florals either on round or long estate tables.
Beautiful tablescape with rich red flowers highlighting iconic glamour of the 40's and a take on the Pantone color of the year designed with Conceptbait Floral + Global Design Group in Tampa – www.conceptbait.com
Stunning tablescape with tall romantic arrangement with a pop of Pantone color in rich maroon and gorgeous table garland designed with Atmospheres Floral and Design in Orlando – atmospheresfloral.com
Feathers in a Different Way
Feathers have been in for a few years in the style of the Great Gatsby but I think we'll see feathers being used in a different and more understated way this year like in gorgeous feather lights that are a fantastic alternate option for traditional heavy and expensive chandeliers. I'm obsessed with these amazing Feather Chandeliers from Vita Lighting!  They are genius because they are so chic but they are built on a chinese lantern base so they are super light in weight and do not require rigging or a power source like a traditional chandelier.  You can literally use a string to hang them and battery operated LED lights to glow them in any color you want.  They are reusable and fold up into a box for storage – unless you want to hang them in your home after your event which I would absolutely do! They are perfect for Brides as well as Event Planners!  events@vitalighting.com
I think we will also see gorgeous Feather Placemats and Escort Card Designs in the Decor and then understated feather accessories and hairpieces in the bride's look.  Very glamorous!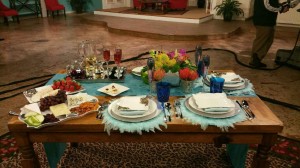 Invitations
Couture Invitations set the tone for your wedding and give guests a taste of what is to come. Some gorgeous trends will be:
Blush and Lace over Pink Suede
Lace and French Romance
Feather elements incorporated in coordinating pieces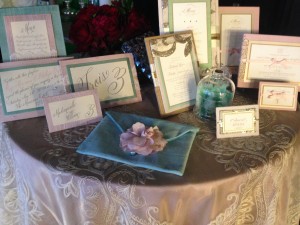 Invitations by Dragonfly Custom Designs – www.dragonflycustomdesign.com
Wedding Dresses – Lace and Color
Stunning dresses with tons of gorgeous lace reminiscent of classic icons like Princess Grace. Plus a modern twist for a Modern Princess with colored gowns in hues of pistachio/mint green, blue and light blush pink.  *Dresses from Malindy Elene Bridal in Tampa – Designers Augusta Jones and Alvina Valenta / The Collection in Winter Park (Orlando) – Designer Monique L'hullier in Pistachio Green Tulle
Wedding Cakes
We'll see a super glamorous trend of all Metallic Wedding Cakes this year because why not add some shine?  We'll see lace frosted elements and regal designs come back strong this year and of course a continued trend of dessert tables with tons of sweet variety and mini cakes.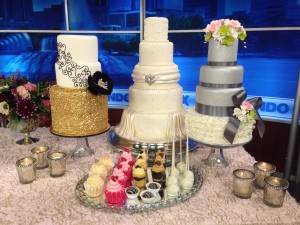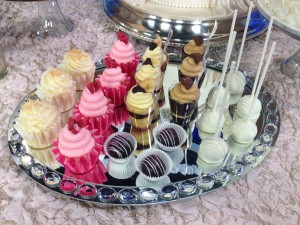 Cakes and desserts by The Cake Studio in Orlando
Delicious Bites and Entrees
"Just a Bite" amazing cocktail bites that bring in the stories of the couple with flavors and elements from where they grew up or where they had their first date plus elegantly rustic presented dishes that feel like you ordered at a restaurant versus a typical banquet plate and local sustainable foods and farm to table selections in their entrees for a delicious and fresh dinner.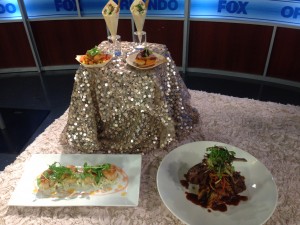 Food by FGF Catering in Orlando
Winter Park Bridal Stroll – Come see all the Orlando Vendors at The Alfond Inn in Winter Park as well as along Park Avenue on Sunday 2/8 from Noon to 4pm. Come see me at Park Plaza Gardens during the Stroll on Park Avenue with Atmospheres Floral and Design!  Tickets are available at http://winterparkbridalstroll.com/buy-tickets/
Planning a Wedding is about telling your story… I love a great love story so don't feel like you have to follow certain rules!  Tell your story in your unique way and it will be a wedding no one will ever forget!
I'd love to hear your favorite trends or questions.  Please feel free to share or ask me in the comments section below…
Happy Planning!
Recommended