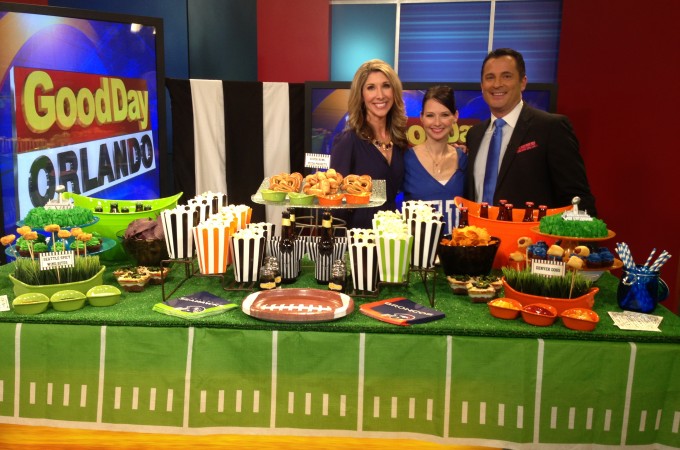 Ready for Some Football? – How to Host a Touchdown Super Bowl Party!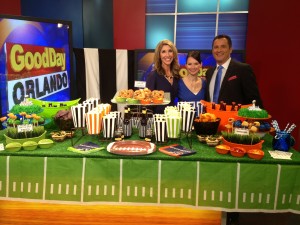 Are You Ready for Some Football? Super Bowl is almost like a National Holiday and it's a perfect day to invite some friends over and join the excitement of this championship game together. Whether you are invested in the teams or not, here are some tips on how to throw a touchdown super bowl bash!
Decor
Table Cover:  Use a new outdoor textured grass rug as a table cover for your table.  You can purchase a 6' x 8' rug at Lowes for just $18.  And, in the perspective of re-purposing and re-using items if you buy them, save it and then you can re-use it to set a gorgeous Spring Celebration or Easter table in just a couple of months!
Table Design: I always love to play up the theme on a Super Bowl table highlighting the teams who will be competing so I split the table and used blue and lime green on one half and blue and orange on the other to showcase the colors of the Seattle Seahawks and Denver Broncos
Menu  –  I always think half the fun of going to a sporting event is indulging in the concession treats that just seem to add to the atmosphere of the day so I designed the menu around the concession favorites everyone loves so much AND are super easy for you to make in advance!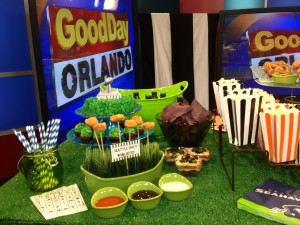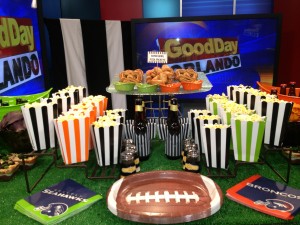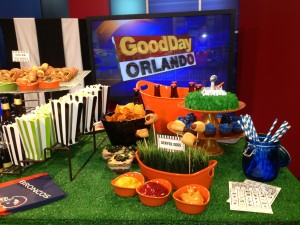 Food

Denver Dogs – mini-hotdogs wrapped in pastry with ketchup, mustard and nacho cheese dipping sauces.  You can make them in advance and then just pop them in the oven before your party.
Seattle Spicy Wing Bites – you can easily order boneless chicken wing bites and then pair them with great dipping sauces like blue cheese dressing, ranch dressing, barbeque sauce and spicy buffalo sauces
Super Bowl Pizza Pockets – again, super easy to make and prep in advance so all you have to do is pop them in the oven and then pair them with a bowl of warm pizza sauce for dipping.  Simply roll out some pillsbury pizza dough, cut it into squares, add a slice of pepperoni and some mozzarella cheese, roll and bake!
Gourmet Popcorn Bar – I loved the idea of decorating with the Referee Stripes so I found the greatest striped popcorn boxes in black and white and then also in the Seahawks Lime Green and the Broncos Orange.  Simply add the flavor seasonings and guests can grab their own box of popcorn and customize it with the seasonings they love!
Soft Pretzels – these are easy to make or you can buy a box in the frozen section and warm them up then pair them with mustard and nacho cheese dipping sauces
Individual 7-Layer Dips – super easy to make and guests will love being able to "double-dip" in their very own 7-layer dip!
Dessert – Don't forget something sweet!  I ordered the most adorable brownie bites frosted in team colors of lime green and navy blue for each side of the table.  I ordered them from Publix for just $10 a dozen and they made them in the colors I requested, what could be better?!
** Download Menu Table Cards by clicking: 

Table Cards
Drinks:

I think it is always fun to incorporate food or drinks from the cities of the teams if you can!  I suggest beers brewed in the team states such as:

Coors or Fat Tire which are brewed in Colorado
Red Hook which is brewed in Washington State
DIY Photobooth and Custom Hashtag:

Everyone loves posting fun photos on Facebook and Instagram so why not create your own photobooth and hashtag to go with your event!

I simply used a rolling wardrobe rack and a white and black drapery panels to create a Referee Backdrop.  Just simply layer the panels over each other to create the "stripes" and secure in the back with binder clips!  Place it up against a wall and voila – instant photobooth for guests to enjoy!
There are fun downloadables online to use as photo props for guests to have fun with in their photos like the following:

Football Helmet Cutout, Football Cutout
Game Time TV Cutout
Foam Finger Cutout
Download Cutouts and Table Card Designs: 

Table Cards

 

Create a Custom Hashtag so all of your friends can find and connect their photos #JamieOSuperBowl

Super Bowl Bingo:

The Super Bowl commercials are half the fun of the Super Bowl so here are some great Super Bowl Bingo Cards for you to handout to your guests to make watching even more fun!
Download these great cards from Studio DIY here:

super-bowl-bingo-2
I'd love to hear which ideas you may use for your party or what your favorite Super Bowl Party traditions are – Please send me a note and share below!  Here's to a great Super Bowl and a "Touchdown" Party for all…
Recommended